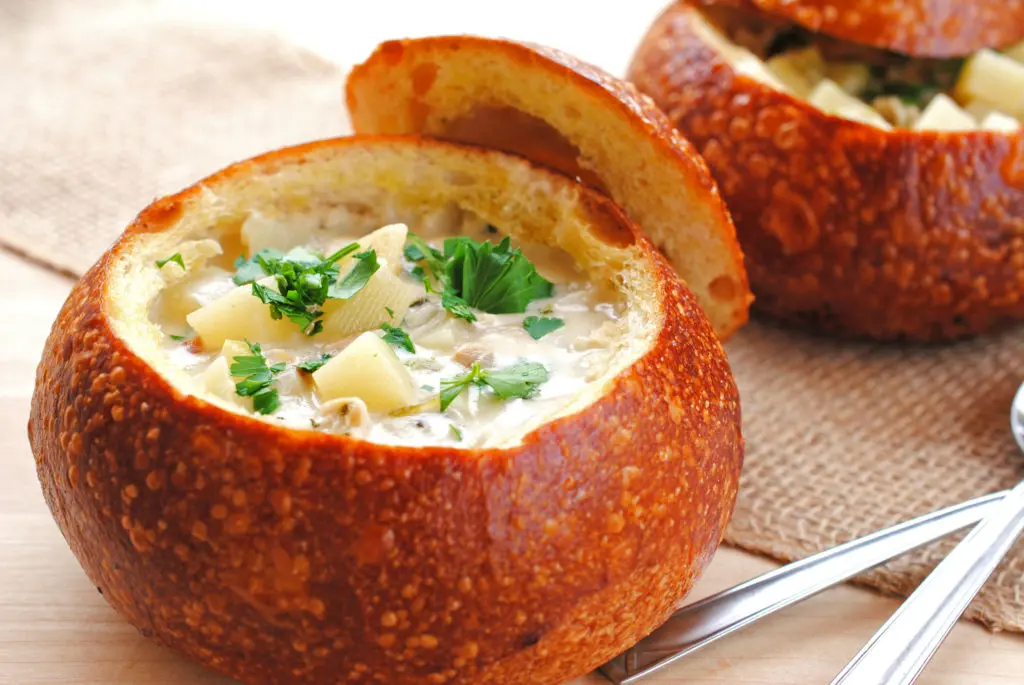 The year was 1994, I was 13 years old and on my summer vacation. My grandparents would always travel so they took me on one of their vacations that summer to San Francisco. Our means of travel was a van with a bed in the back, and we slept at rest stops and showered at camp sites. I went along on trips with my grandparents like this several times. At one time we even had about 10 people in that one van traveling the U.S. that was an experience but this trip was probably my favorite because it was just me and my grandparents and I could go anywhere I wanted to go all I had to do was ask. And well I asked to go to Hollywood LOL. But before we went there we went to San Francisco and I am glad we did. It was there that I had my first bowl of clam chowder. I had always been scared of it. Anything creamy and white I wouldn't eat as a kid. My mom would always have cans of New England clam chowder in the pantry and I just thought it was gross looking. Well, I still think canned soup is pretty gross, but thanks to San Francisco's Fishermans Warf I tried some clam chowder for the first time that year.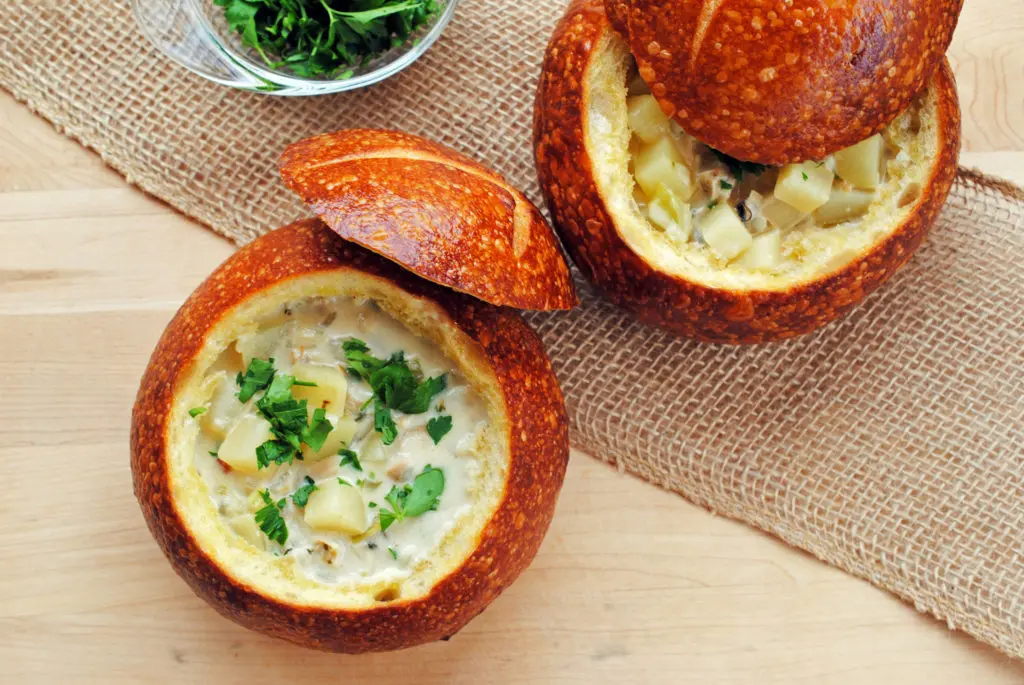 Some people were even getting some in these bread bowl things. I had never seen that before. It was a pretty awesome experience happening right there by the water. Ever since then I have been eating clam chowder and loving it. I couldn't wait to find a great homemade recipe to add to my recipe repertoire and this is what I found!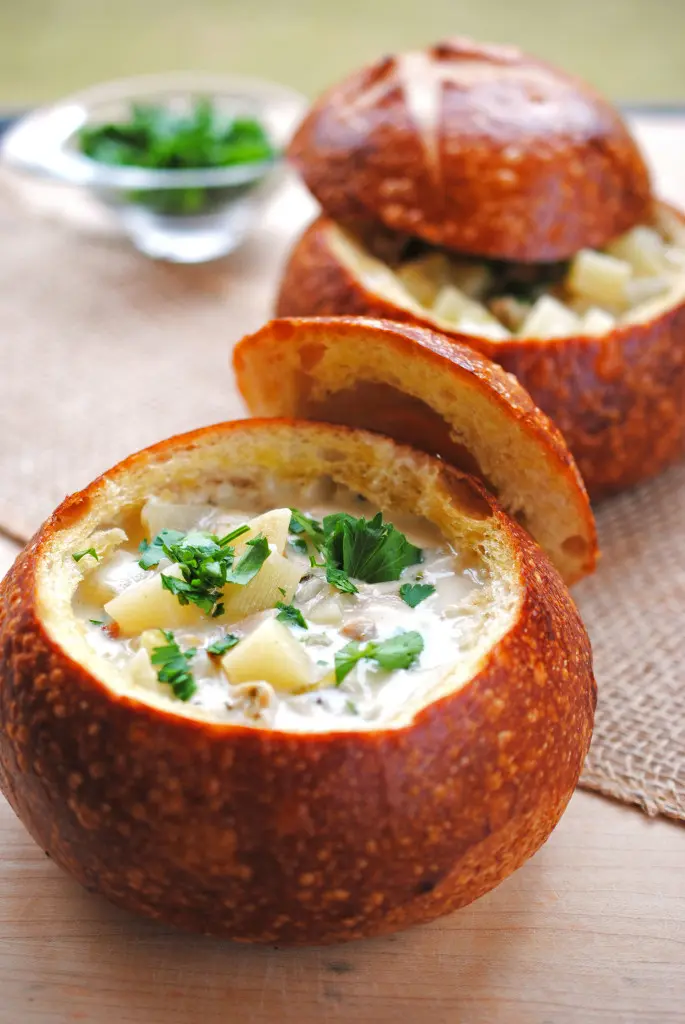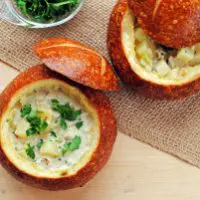 New England Clam Chowder
Ingredients
3 cups water
6 pounds medium hard-shell clams, scrubbed
4 slices bacon, chopped fine
2 onions, chopped fine
2 celery ribs, chopped fine
1 teaspoon minced fresh thyme or 1/4 teaspoon dried
1/3 cup all-purpose flour
3 8-ounce bottles clam juice
1 1/2 pounds Yukon Gold potatoes, peeled, cut into 1/2-inch dice
1 bay leaf
1 cup heavy cream
2 tablespoons minced fresh parsley
Salt and pepper
Instructions
Bring water to a boil in a Dutch oven. Add clams, cover and cook for 5 minutes. Stir clams, cover and continue to cook until they just begin to open, about 2 to 5 minutes. Once clams begin to open, transfer them to a large bowl and let cool slightly. Discard any unopened clams.
Measure out 2 cups clam steaming liquid, (avoiding any gritty sediment) and set aside. Using a paring knife, remove clam meat from shells and coarsely chop.
In a clean Dutch oven, cook bacon over medium heat until crisp, about 5 to 7 minutes. Stir in onions and celery and cook until vegetables are softened, about 5 to 7 minutes. Stir in thyme and cook until fragrant, about 30 seconds. Stir in flour and cook for 1 minute.
Slowly whisk in bottled clam juice and clam steaming liquid, scraping up any browned bits on the bottom of Dutch oven. Stir in potatoes and bay leaf and bring to a boil. Reduce heat to a simmer and cook until potatoes are soft, about 25 to 30 minutes.
Stir in cream and return to a simmer. Off heat, remove bay leaf and stir in parsley. Season with salt and pepper. Stir in clams, cover and let stand until clams are warmed, about 1 minute and serve.
Nutrition Information:
Serving Size:

1
Amount Per Serving:
Calories:

489
Total Fat:

27g
Saturated Fat:

15g
Cholesterol:

118mg
Sodium:

446mg
Carbohydrates:

43g
Fiber:

6g
Sugar:

5g
Protein:

21g
Adapted from Cook's Illustrated Cookbook