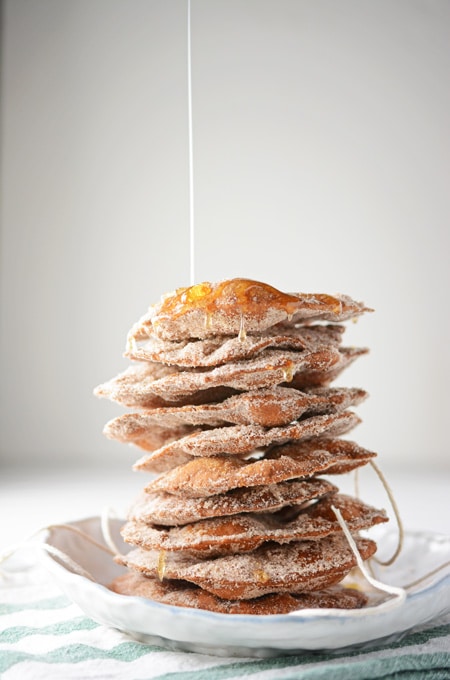 Disclosure: We are a participant in the Amazon Services LLC Associates Program, and affiliate advertising program designed to provide a means for us to earn fees by linking to Amazon.com and affiliated sites. Please note that some of the links in this post are affiliate links and I will earn a commission if you purchase through those links.
It's Christmas time and nothing says it better then Bunuelos…. well at least here in Texas. Something about them just makes me think happy thoughts. Like when I was little and I was at my grandma Mary's house, and she and my grandpa would go to Fiesta and get sweet bread sometimes.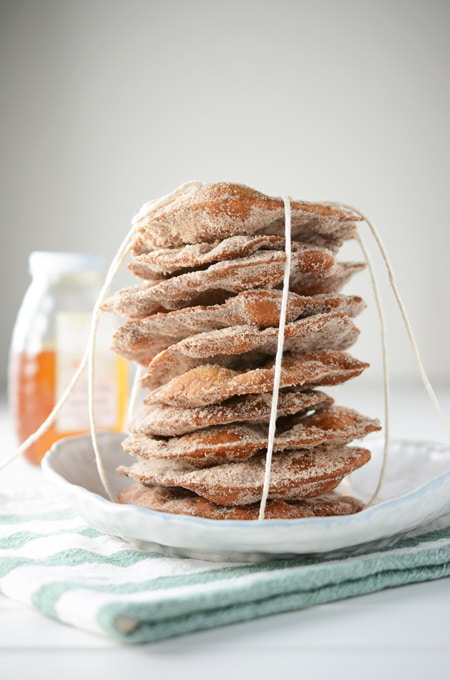 Fiesta is an international grocery store that has sort of hard to find ingredients other grocery stores may not sell. And lucky for me I have one nearby. Actually, it's right behind my day job. So on occasion I have picked up some lunch there, trying my hardest not to visit the bakery there because while some other grocery store bakeries are not up to par, Fiesta's always is! The intoxicating aroma in the bakery area is enough to knock even the toughest will powered person down. Trust me, it happened to me.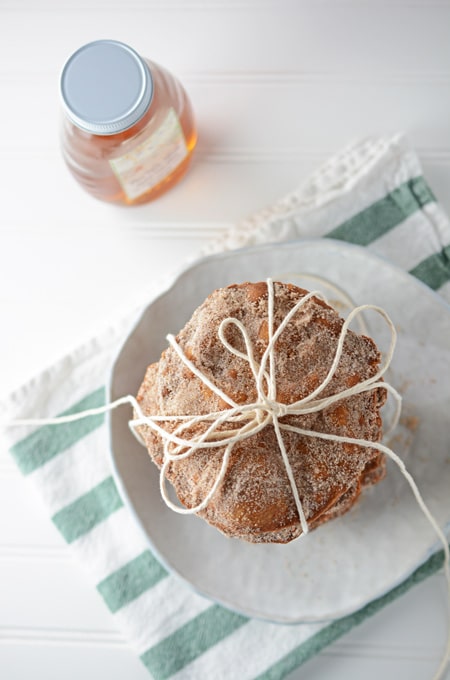 That year I was hosting a Christmas dinner party and I was already serving a Tres Leches cake, but when that sweet smell of the bakery called me over I had to go check it out. I saw they had some Bunuelos there and I though well maybe this might be good for an alternative dessert for those that don't want cake. So I made up an excuse about why I needed those Bunuelos and off I went. I paired them with vanilla ice cream and some Texas honey and we're good.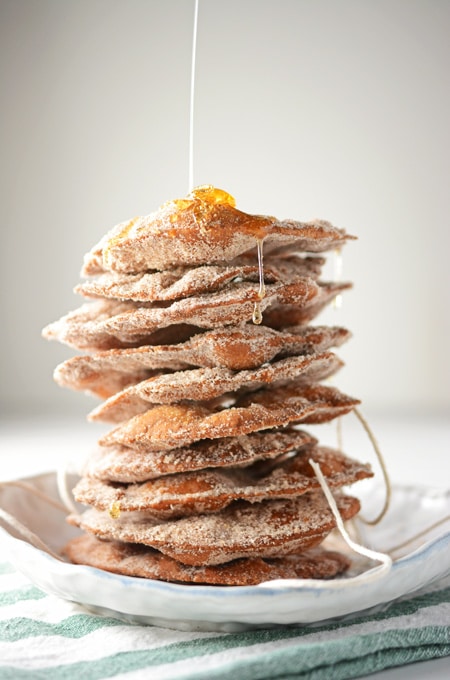 This year I wanted to see if I could make those Bunuelos at home. Absolutely! And so can you! The process is easy. You do need to prepare ahead of time since the Bunuelos have to sit out over night to dry out a bit. But other than that, they aren't complicated at all.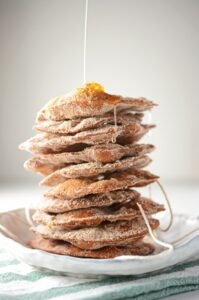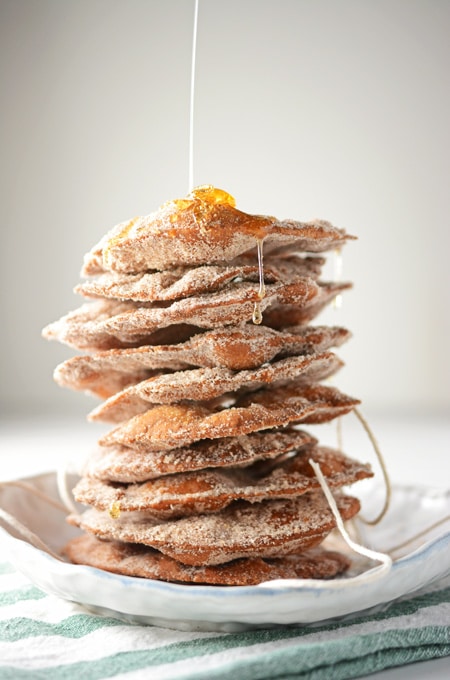 Print
Bunuelos
Yield 20
Ingredients
1 cup granulated sugar
1 teaspoon ground cinnamon
BUNUELOS
3 cups all-purpose flour
1 teaspoon baking powder
1 teaspoon table salt
1 teaspoon ground cinnamon
3/4 cup whole milk
4 tablespoons unsalted butter
1 teaspoon vanilla extract
2 eggs
Canola or vegetable oil for frying
Instructions
CINNAMON-SUGAR COATING
In a pie dish combine the sugar and cinnamon for coating. Reserve the coating for coating the Bunuelos.
BUNUELOS
In a large bowl combine the flour, baking powder, salt and cinnamon.
In a small saucepan heat the milk, butter and vanilla extract and bring to just a boil. Remove from the heat.
In a separate medium bowl, beat the eggs and add them slowly to the warm milk mixture while whisking very quickly.
Add the liquid mixture to the dry ingredients and mix well. Knead the dough on a lightly floured counter top for 2 to 4 minutes until smooth.
After kneading, divide the dough into 20 balls. With a rolling pin, roll out each ball to resemble a very thin tortilla. Layout the dough circles on a tablecloth and let dry overnight, turning over once to ensure drying on both sides. This helps remove most of the moisture before frying.
Prepare a large baking sheet lined with paper towels to place the Bunuelos after frying to drain.
Heat 1 inch of oil in a Dutch-oven to 350 degrees. Fry Bunuelos one at a time until golden brown, about 1 minute per side. Be sure to keep your oil temperature at 350 degrees. You may have to wait a few minutes between frying to adjust the temperature of your oil. (I typically could fry about 2 Bunuelos before I had to take a break and bring my oil back to temperature.)
Remove the Bunuelo from the Dutch-oven and place on paper towel lined baking sheet to drain most of the oil off. While the Bunuelo is still warm, dip the Bunuelo in the cinnamon-sugar coating on both sides. Set back on the paper towel lined baking sheet to cool completely. Continue this process until all Bunuelos have been fried. Serve with a little honey drizzled on top. Enjoy
Cuisine Mexican
Adapted from Muy Bueno