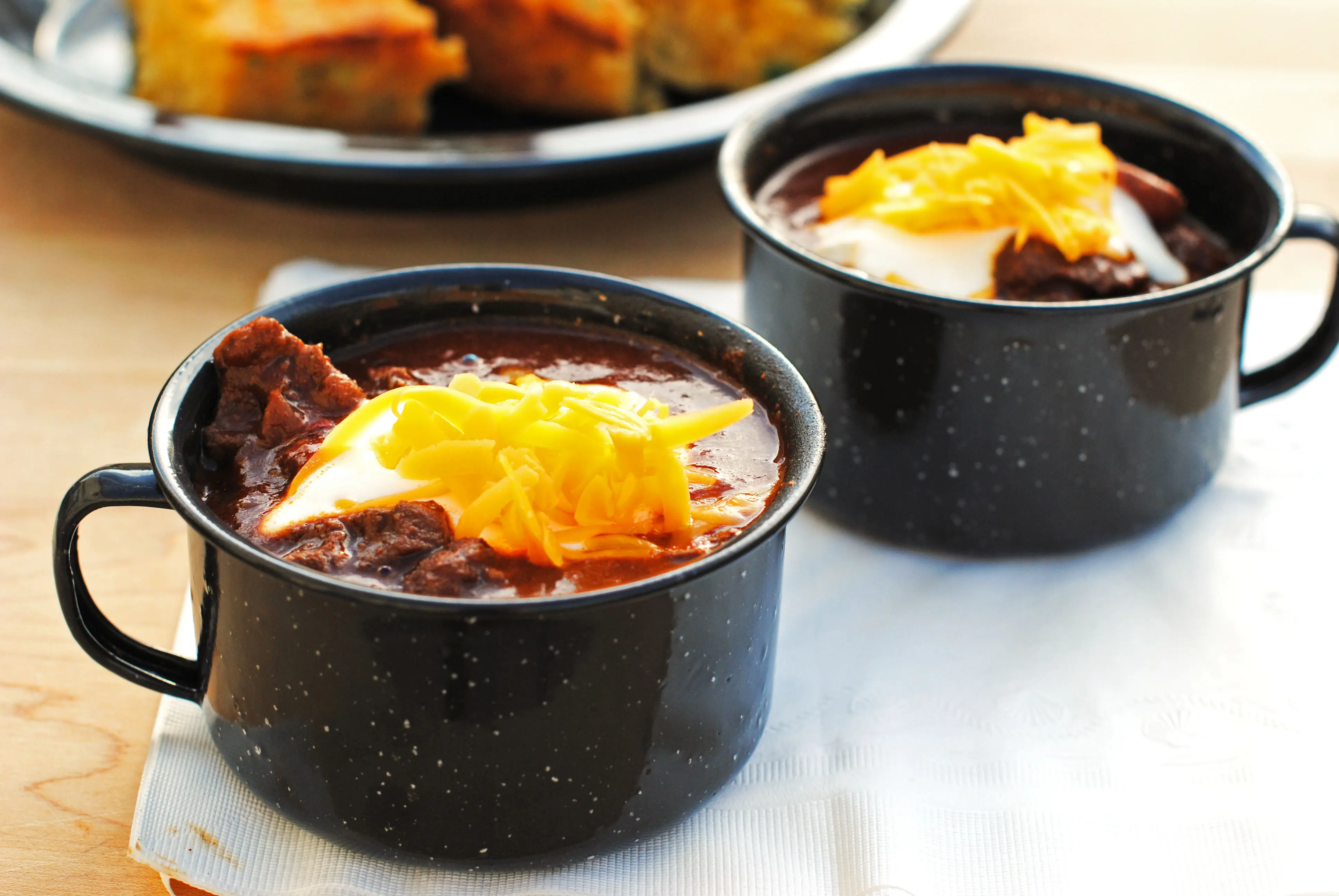 It's that time of year again. Time to get out your favorite soup, stew and chili recipes! And after having made this chili recipe, I'm pretty confident you would want this one in your recipe collection. Being born and raised in Texas, I've had some pretty good chili. But let's get one thing straight, this is NOT Texas chili. And I may be about to speak blasphemy on my state but I really like my chili with beans and tomatoes. Something Texas chili usually is not. But I made it in my kitchen which is in Texas, so in some convoluted sort of way, it is Texas chili!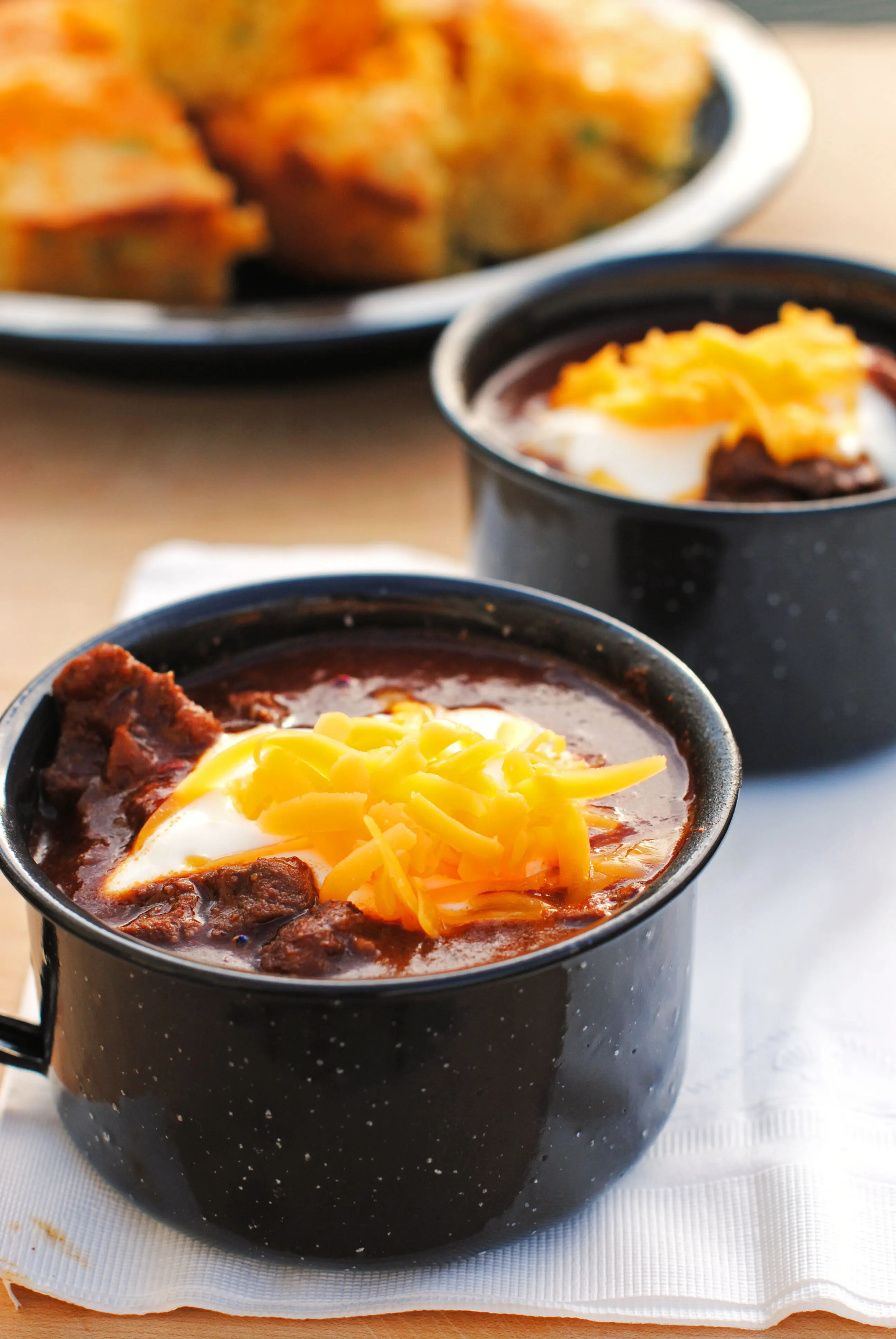 I wasn't entirely sure I wanted to post this recipe just yet. My employer is having a chili contest in about a week but unfortunately I can't participate. I work in our satellite office in Houston, Texas while our corporate office is in Spokane, Washington. How convenient to leave the Texas girl out of the chili competition right? Well good luck to all in Spokane next week and may the best chili win! And don't forget to check out this Cornbread recipe to pair with this awesome chili. Oh and don't forget the Tums.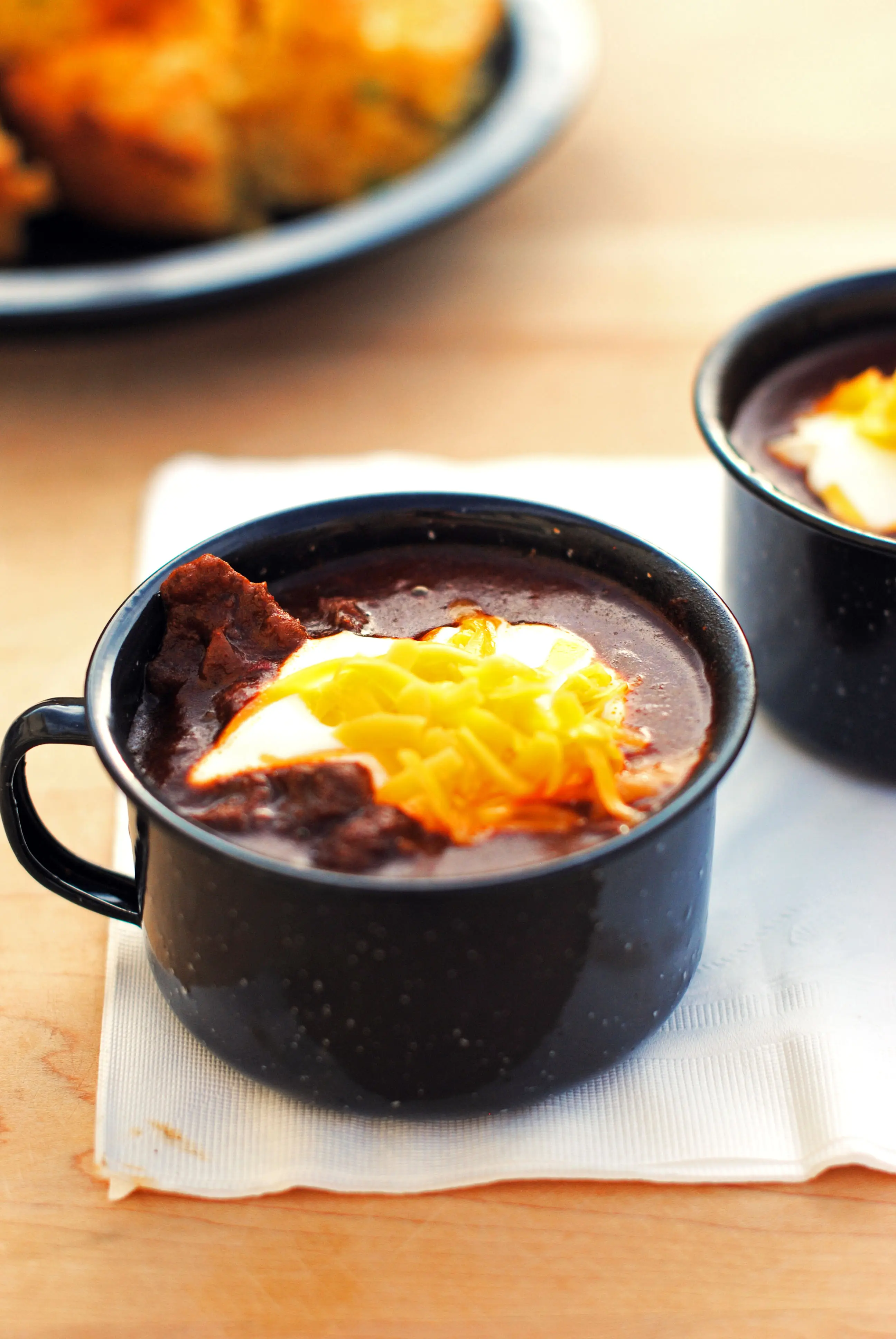 If you can't find ancho chiles, dried New Mexican or guajillo chiles make a good substitute. Each dried arbol chiles may be replaced with 1/8 teaspoon cayenne. Good choices of toppings include: diced avocado, finely chopped onion, chopped cilantro, lime wedges sour cream and shredded Monterrey Jack or cheddar cheese.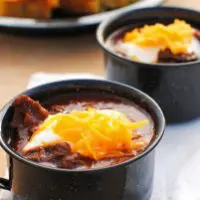 Ultimate Beef Chili
Ingredients
3 tablespoons kosher salt
4 quarts water
8 ounces dried pinto beans, picked over and rinsed
6 dried anchochiles, stemmed, seeded and torn into 1 inch pieces
2-4 dried arbolchiles, stemmed, seeded and split into 2 pieces
3 tablespoons cornmeal
2 teaspoons dried oregano
2 teaspoons ground cumin
2 teaspoons sweetened cocoa powder
1/2 teaspoon kosher salt
2 1/2 cups low sodium chicken broth, divided
2 onions, cut into 3/4 inch pieces
3 small jalapenos, stemmed, seeded and cut into half inch pieces
3 tablespoons vegetable oil, divided
4 garlic cloves, minced
1-14.5oz. canned diced tomatoes
2 teaspoons molasses
1 teaspoon salt
3 1/2 pounds chuck-eye roast, trimmed and cut into 3/4 –inch pieces
1 1/2 cups mild lager
Instructions
Combine 3 tablespoons salt, 4 quarts of water and beans in a Dutch oven and bring to a boil over high heat. Remove the pot from the heat and cover. Let stand for 1 hour. Drain, rinse well and set aside.
Adjust an oven rack to the lower-middle position and preheat the oven to 300 degrees. Place anchos in a 12-inch skillet, set over medium-high heat and toast, stirring frequently until fragrant, about 4-6 minutes. Reduce the heat if chiles begin to smoke. Transfer to a food processor and let cool before processing. Do not wash out the skillet.
Add arbols, cornmeal, oregano, cumin, cocoa, and 1/2 teaspoons salt to food processor with toasted anchos and process until finely ground, about 2 minutes. With the processor running, slowly add 1/2 cup broth until a smooth paste forms, about 45 seconds. Scrape down the sides of the bowl if necessary. Transfer paste to a small bowl and set aside. Place the onions in the empty food processor and pulse until coarsely chopped, about 4 pulses. Add jalapenos and pulse until it is the consistency of chunky salsa, about 4 pulses. Scrape down the sides of the bowl as necessary.
Heat 1 tablespoon of oil in the Dutch oven over medium-high heat. Add the onion mixture and cook stirring occasionally until the moisture has evaporated and the vegetable are softened, about 7 to 9 minutes. Add the garlic and cook until fragrant, about 1 minute. Add chile paste, tomatoes and molasses and stir to combine. Add 2 cups chicken broth and the drained beans and bring to a boil, then reduce to a simmer.
Meanwhile, heat 1 tablespoon of oil in the now empty skillet over medium-high heat until shimmering. Pat the beef dry with paper towels and sprinkle with 1 teaspoon of salt. Add half of the beef to the skillet and cook until it is browned on all sides, about 10 minutes. Transfer the beef to the Dutch oven. Add 3/4 cup of beer to the skillet and scrape up the browned bits from the bottom of your pan and bring to a simmer. Transfer the beer to the Dutch oven. Repeat this process with the remaining 1 tablespoon of oil, remaining beef and remaining 3/4 cup of beer. Stir and return the mixture to a simmer.
Cover the Dutch oven and transfer to the oven. Cook until the meat and beans are fully tender, about 1 1/2 -2 hours. Let the chili stand, uncovered for 10 minutes. Stir, season with salt if necessary and serve.
Nutrition Information:
Serving Size:

1
Amount Per Serving:
Calories:

944
Total Fat:

56g
Saturated Fat:

21g
Cholesterol:

205mg
Sodium:

668mg
Carbohydrates:

37g
Fiber:

10g
Sugar:

11g
Protein:

63g
Adapted from Cooks Illustrated