I made this burger on July 4th and I am now just getting around to posting it on the blog! My excuse……LIFE! It happens. But good food makes it worth living right? Okay enough corny lines. On to the burger!
I thought it would be a nice change to lighten up the usual beef burger for some turkey. But don't turn your nose up at this turkey burger just yet (like my husband usually does), it's moist, juicy and full of flavor just like a burger made with beef. I do recommend you use the ground turkey that's got some fat in it. After looking at this burger I thought this was really the perfect burger for July 4th. The red of the tomato jam (red stripes on the USA flag), then top the jam with a little feta cheese, (white stars and stripes) and then you can't forget the dark purple of the Kalamata olives. No, they may not be blue but the look pretty just like my beautiful USA flag does. And no burger is complete (yes, even a turkey burger) without some oven baked French fries.
The turkey burger may be the main star of this meal, but for me, it's the coriander oven fries. Before I came across this recipe I never used coriander seeds. They sat in my spice rack for quite awhile before I knew what to do with them. Now it's one of my go-to spices. When I started cracking the seeds, a pleasant aroma wafted my way. It was a beautiful citrus sort of smell that really whetted my appetite. I don't know why I hadn't experimented with this spice before but in any case I am glad we met! I used to use Italian seasoning for my roasted potatoes and veggies (which is still every bit delicious) but I now have started using cracked coriander seeds in its place.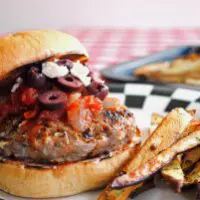 Turkey Burgers with Tomato Jam, Olives, and Feta with Coriander Oven Fries
Ingredients
FRIES
Nonstick vegetable oil spray
2 pounds unpeeled russet potatoes (about 3 large), scrubbed, cut lengthwise into 1/2 inch thick sticks
2 tablespoons olive oil
1 tablespoon coriander seeds, cracked
1 teaspoon dried thyme
TOMATO JAM
1 tablespoon olive oil
1/2 cup onion, finely chopped
1 garlic clove, minced
1 14-ounce canned no salt added diced tomatoes in juice
1 1/2 teaspoons sugar
1/4 teaspoon dried thyme
1/4 teaspoon kosher salt
Pinch of black pepper
BURGERS
1 pound (85% lean 15% fat) ground turkey
1/2 cup red onion, finely chopped
2 ounces crumbled feta cheese, (about 1/3 cup)
3 tablespoons Kalamata olives, coarsely chopped, (about 6)
3 teaspoons olive oil, divided, plus additional for brushing
1 small garlic clove, pressed
1/2 teaspoon fresh rosemary, chopped
1/2 teaspoon kosher salt
1/2 teaspoon ground black pepper
4 crusty rolls, halved horizontally
Instructions
OVEN FRIES
Preheat your oven to 450 degrees. Cover a rimmed baking sheet with foil (for easy clean up) and spray with nonstick spray. Toss potatoes with olive oil, coriander seeds and thyme on the baking sheet, spreading potatoes in a single layer. Place in your oven and bake until golden, occasionally turning with a spatula, about 40 minutes. Season with coarse salt and pepper and serve.
TOMATO JAM
Heat the oil in a medium saucepan over medium heat. Add the chopped onion and garlic and cook until the onion is soft and translucent, stirring often, about 4 minutes. Add the diced tomatoes with their juice, sugar, thyme, salt and black pepper. Cook over medium-high heat until almost all the liquid has evaporated and mixture is reduced to about 1 cup, stirring occasionally, about 10 minutes. Cool.
BURGERS
Prepare a grill pan over medium-high heat. Brush the grill pan with oil.
Gently mix turkey, onion, feta, chopped olives, 2 teaspoons olive oil, garlic, rosemary, salt, and pepper in a medium bowl and form into 4 patties, about 1 inch thick for each. Brush the patties with the remaining teaspoon of olive oil.
Grill burgers until charred on both sides and cooked through, about 5 minutes per side. Grill the cut sides of your rolls until toasted, about 2 minutes. Assemble your burgers with Tomato Jam and additional feta and chopped olives.
Nutrition Information:
Serving Size:

1
Amount Per Serving:
Calories:

711
Total Fat:

36g
Saturated Fat:

9g
Cholesterol:

95mg
Sodium:

1054mg
Carbohydrates:

70g
Fiber:

8g
Sugar:

12g
Protein:

34g
Adapted from Bon Appetit August 2008 Issue