I love cheese on my hamburgers. It's just not the same without it. I usually use Swiss cheese and always have some sliced Swiss cheese on hand but noticed that this time I was running pretty low and I wasn't sure I was going to have enough until I remembered…….hello the cheese is stuffed inside the burger and it was cheddar cheese I am using this time and I always have cheddar cheese on hand. I always have to top my egg whites off with some cheddar cheese. But not the kind in the pre-shredded bags, the good kind from the block that you shred yourself. OK so technically I didn't shred it myself but my food processor did and the cheese that comes from the block just tastes so much better and it's fresh. I prefer Tillmook cheese.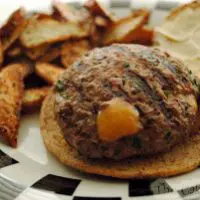 Cheddar Cheese Stuffed Burgers
Ingredients
2 pounds of lean ground beef
1/3 cup red onion, chopped
¼ cup fresh parsley, chopped
4 teaspoons Worcestershire sauce
½ teaspoon sea salt
½ teaspoon black pepper
1 cup shredded cheddar cheese, packed
6 Oroweat 100% Whole Wheat Sandwich Thins
Instructions
Prepare barbecue on medium-high heat. Combine the first 6 ingredients in a medium bowl; blend well. Divide the meat into 6 equal portions. Shape into balls. Poke deep holes in each ball and fill each with cheese. Mold the meat around the cheese to enclose. Flatten each filled burger to ¾ inch patty.
Grill burgers to desired doneness, about 5 minutes on each side for medium.
Toast the sandwich thins and place the burgers on one side of the sandwich thin. Cover with the top.
Nutrition Information:
Serving Size:

1
Amount Per Serving:
Calories:

509
Total Fat:

30g
Saturated Fat:

14g
Cholesterol:

120mg
Sodium:

597mg
Carbohydrates:

26g
Fiber:

6g
Sugar:

4g
Protein:

38g