I found this recipe in Food and Wine Magazine but just a heads up, this burger does not contain any Chianti. It just pairs well with it. I've made this a couple of times already and I just love it! It's a little fancy but still manly. And that's why I decided to make this for Father's Day for my step-father.
The original recipe calls for Focaccia bread but my local HEB didn't have any the day I went shopping for ingredients, so I opted for their organic Ciabatta bread instead. I have also had a tough time finding sliced Pecorino cheese, which is also requested in the original recipe, so I used Provolone cheese in it's place. However I have heard that Spec's Wine, Spirits and Finer Foods may have sliced Pecorino cheese, so if you have a nice Spec's around you that sells fine foods, then I recommend giving them a shot.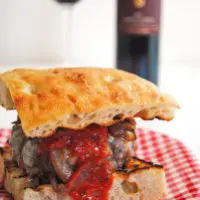 Chianti Burgers with Caramelized Onions
Ingredients
KETCHUP
1/2 cup white wine vinegar
1/4 cup granulated sugar
1 14 ounce can diced tomatoes
1 small red bell pepper, finely chopped
1 teaspoon fresh ginger, grated
1/4 teaspoon kosher salt
1/4 teaspoon black pepper
BURGERS
2 tablespoons extra virgin olive oil, plus more for brushing
2 medium onions, thinly sliced, about 1 pound
1 tablespoon fresh sage, minced
4 4-inch Focaccia or Ciabatta squares, split horizontally
1 1/2 pounds ground beef chuck
1/4 teaspoon kosher salt
1/4 teaspoon black pepper
4 slices Provolone cheese, about 4 ounces
Instructions
KETCHUP
In a small saucepan, combine the vinegar and sugar and cook over medium heat, stirring occasionally, until a medium amber caramel forms, about 8 to 10 minutes. Carefully add the tomatoes and red pepper and cook, stirring occasionally until the mixture is very thick, about 20 minutes. Transfer to a blender and puree. Strain the ketchup through a sieve over a bowl to remove any pieces that didn't get pureed in the blender and discard. Stir in the ginger, salt and pepper into the ketchup mixture, and set aside.
BURGERS
In a large skillet, heat the 2 tablespoons of olive oil. Add the onions and cook over medium-low heat, stirring until golden, about 15 minutes. Stir in the sage and keep warm.
Preheat the oven to 475 degrees. Heat a grill pan and brush with oil. Toast the Focaccia or Ciabatta on the grill pan until lightly toasted, about 1 to 2 minutes per side and transfer to plates.
Gently shape the ground beef into four 1/2 inch thick patties and season with salt and pepper. Grill the burgers on the grill pan over high heat until browned, about 1 minute per side. Transfer the patties to a baking sheet and top each one with a slice of cheese. Bake the patties for 5 minutes or until medium-rare. Set the burgers on the bread and top with onions and a dollop of homemade ketchup. Close the burgers and serve.
Nutrition Information:
Serving Size:

1
Amount Per Serving:
Calories:

899
Total Fat:

50g
Saturated Fat:

16g
Cholesterol:

128mg
Sodium:

1000mg
Carbohydrates:

73g
Fiber:

5g
Sugar:

23g
Protein:

40g
Adapted from Food and Wine Magazine April 2014 Issue