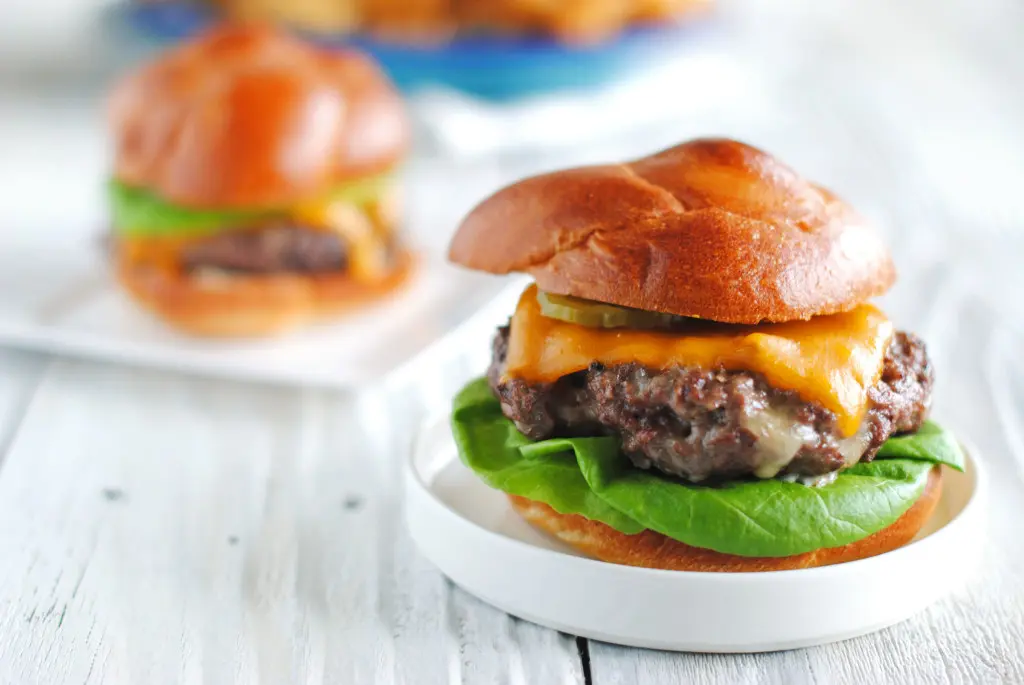 Hello everyone! This blog post is a little different. Today I have a special guest poster, he's my best friend, and I am so lucky to be married to him! My husband Craig is writing this blog post for these Grilled Cheeseburgers. I also put in a little "how to" on prepping the grill. A must if you live in Texas. This recipe for Grilled Cheeseburgers was seen first at CooksIllustrated.com, my favorite cooking and baking resource.
Nothing is quite as satisfying as biting into a juicy burger, hot off the grill. A great burger doesn't need fancy toppings, sloppy sauces, or grilled cheese buns. All you really need is a hot grill, some quality meat and the perfect side, like some amazing Beer Battered Onion Rings and maybe an ice-cold beer. Now, I know that popular opinions out there tell us that we should avoid meat, or breads, or fried foods. It is my opinion, though, that what is really needed is moderation and balance. Sure, people can sustain themselves on vegetables and beans if they want, but badass food is one of the things that make life more enjoyable. Obviously, it would be unwise to have fried foods and hamburgers as a significant portion or our diets, but the occasional splurge is nothing to feel guilty about. So, invite some friends over, fire up your grill and enjoy these burgers and onion rings.
GRILL PREPARATION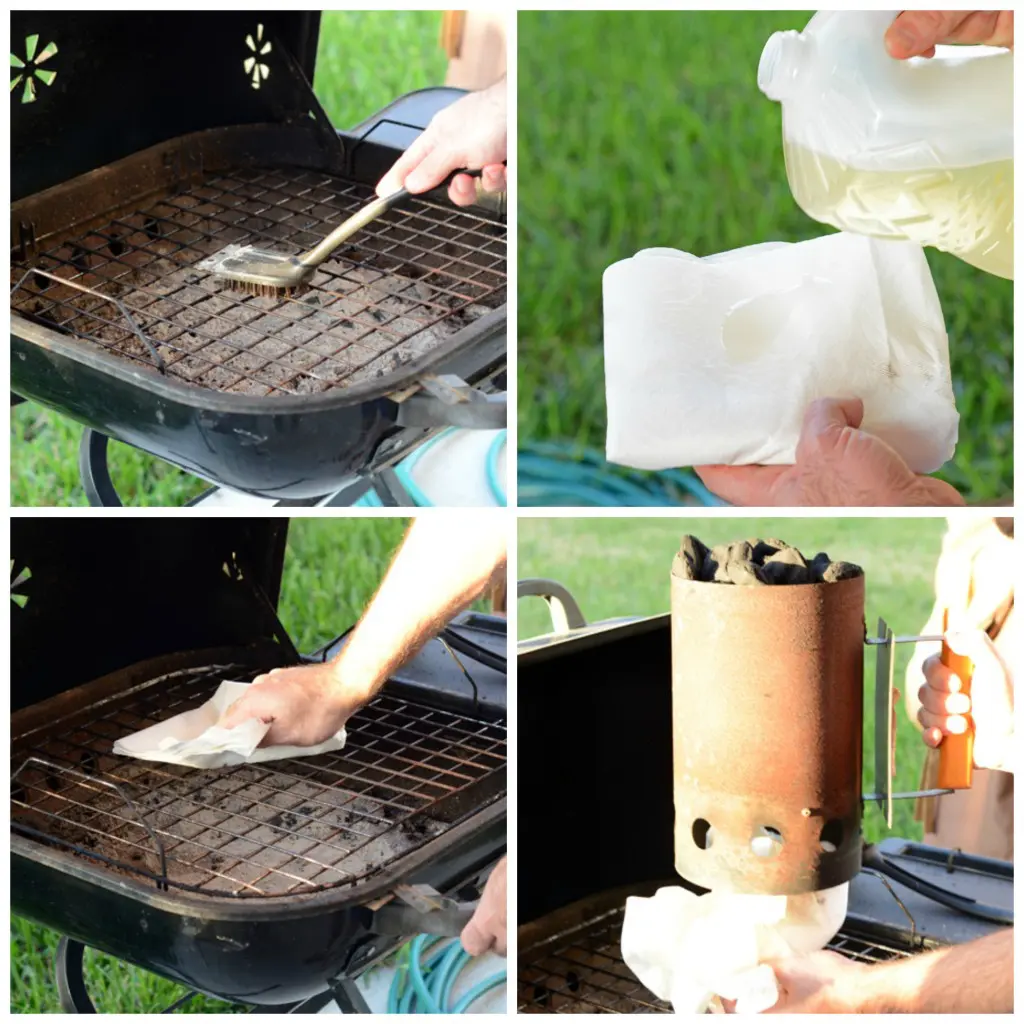 Clean grill grates with a wire brush. Using paper towels, with vegetable oil, wipe grill grates down. Fill charcoal chimney with charcoal and soak with lighter fluid or use Matchlight briquettes. Bunch up oiled paper towels and stuff in the base of the chimney.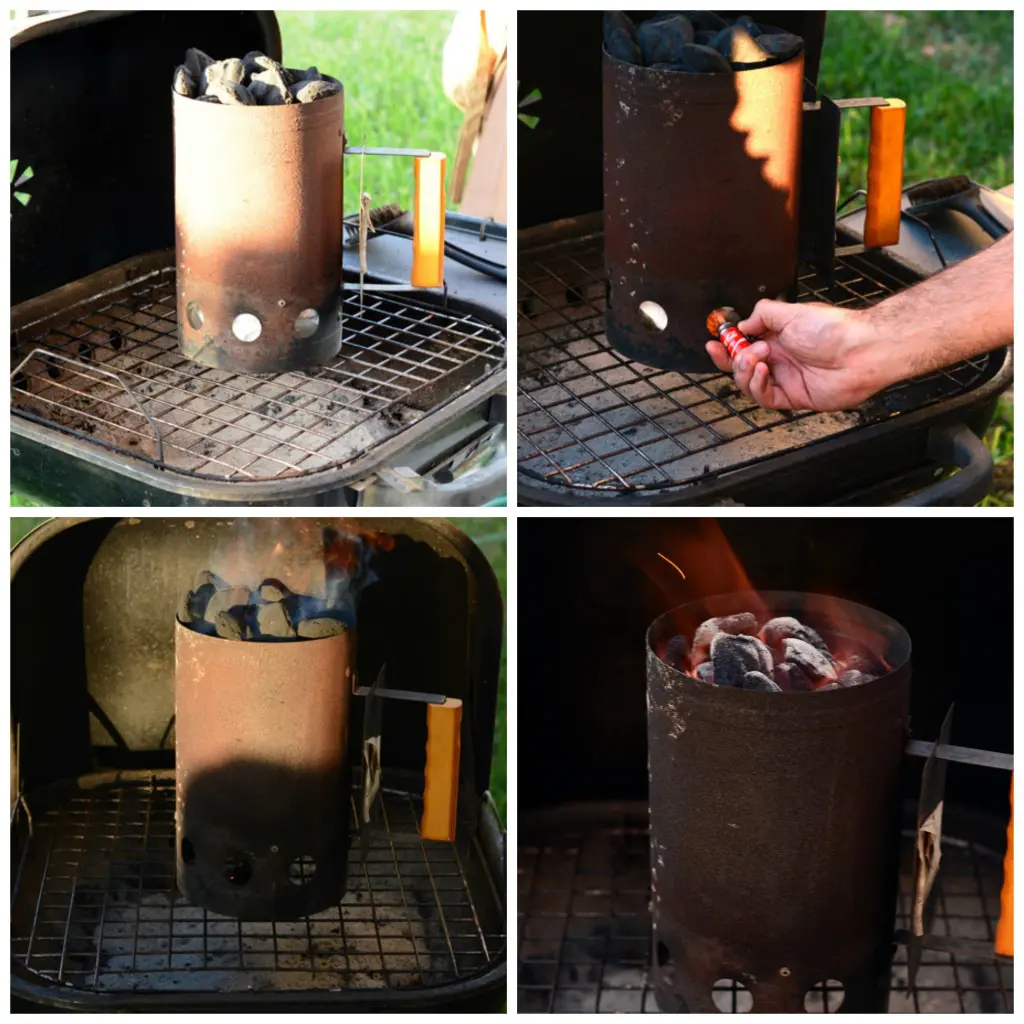 Place chimney on grate and light paper towels. Allow charcoal to burn until ash layer forms on top of the briquettes, about 20 to 30 minutes.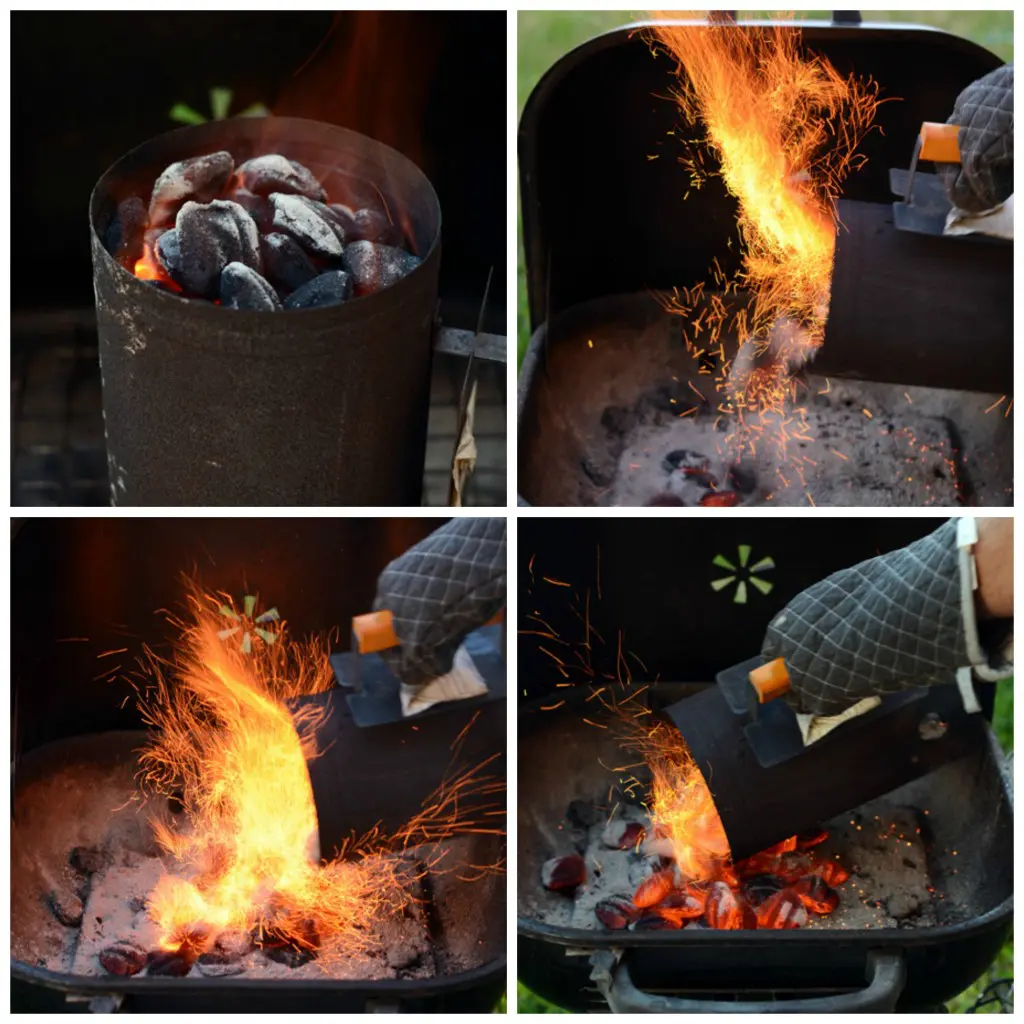 Remove grill grates and pour charcoal out in an even layer inside the grill.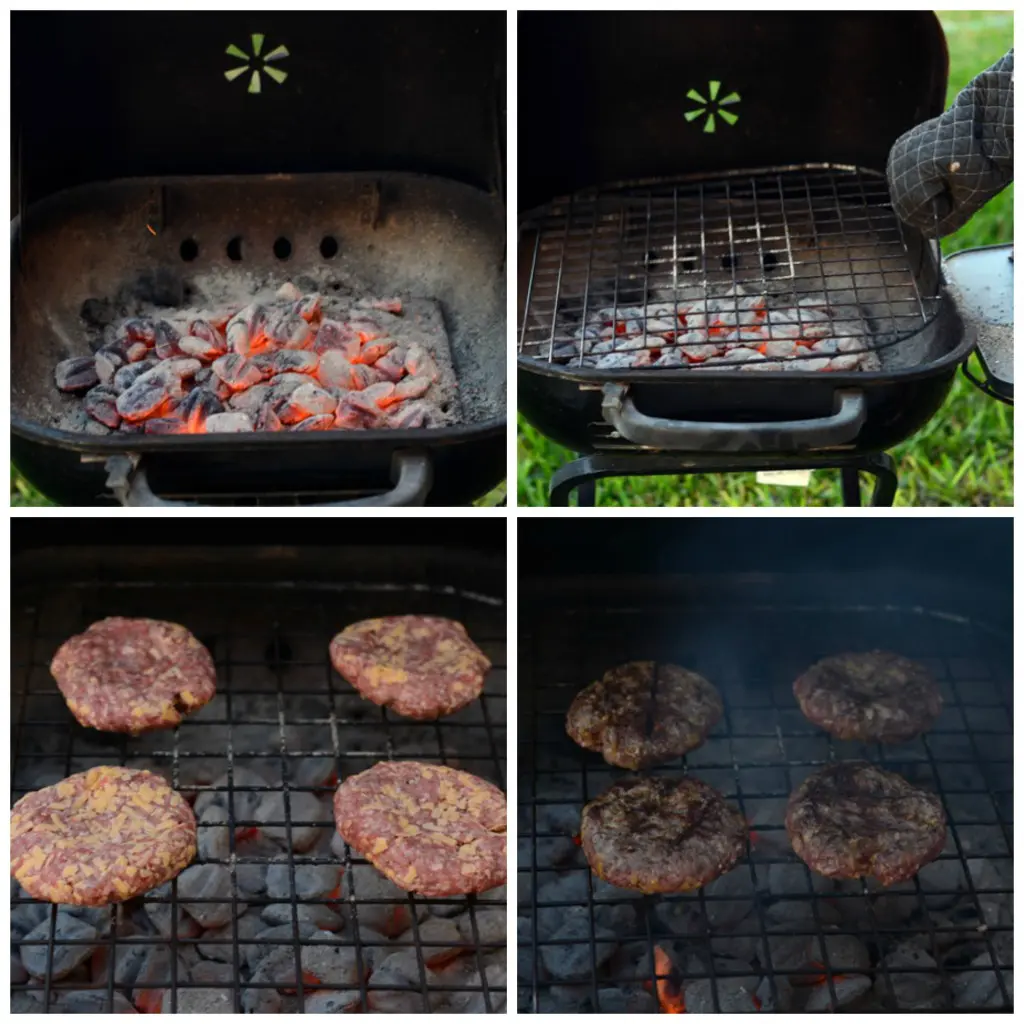 Replace grill grate. Evenly place burgers on the grill grate and grill for 3 to 4 minutes per side. Remove burgers and place on a platter. Top with your favorite toppings and serve.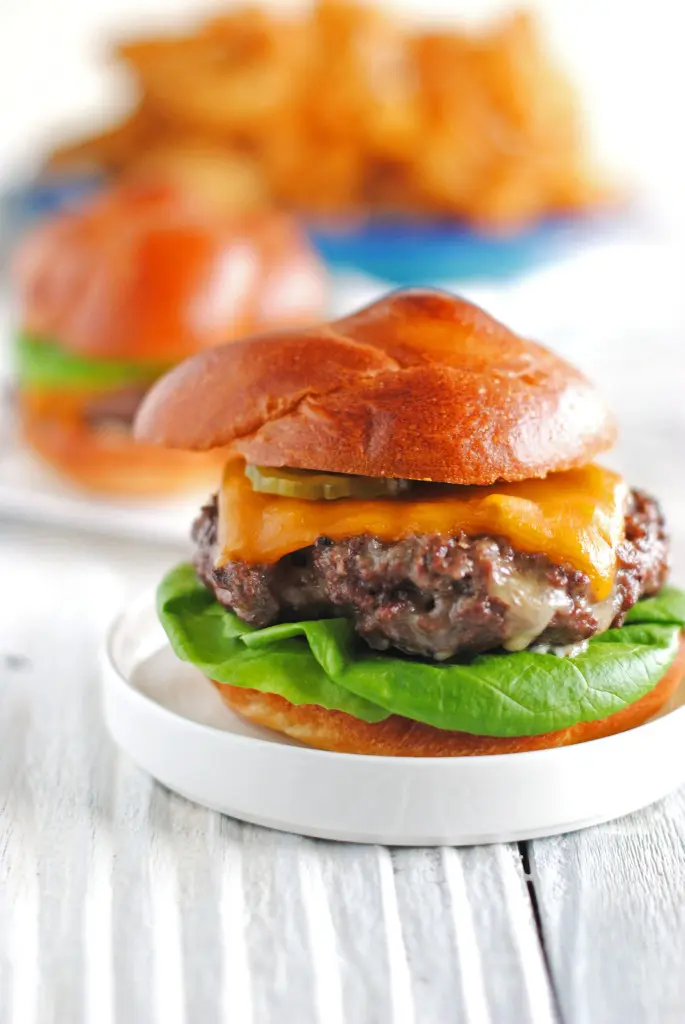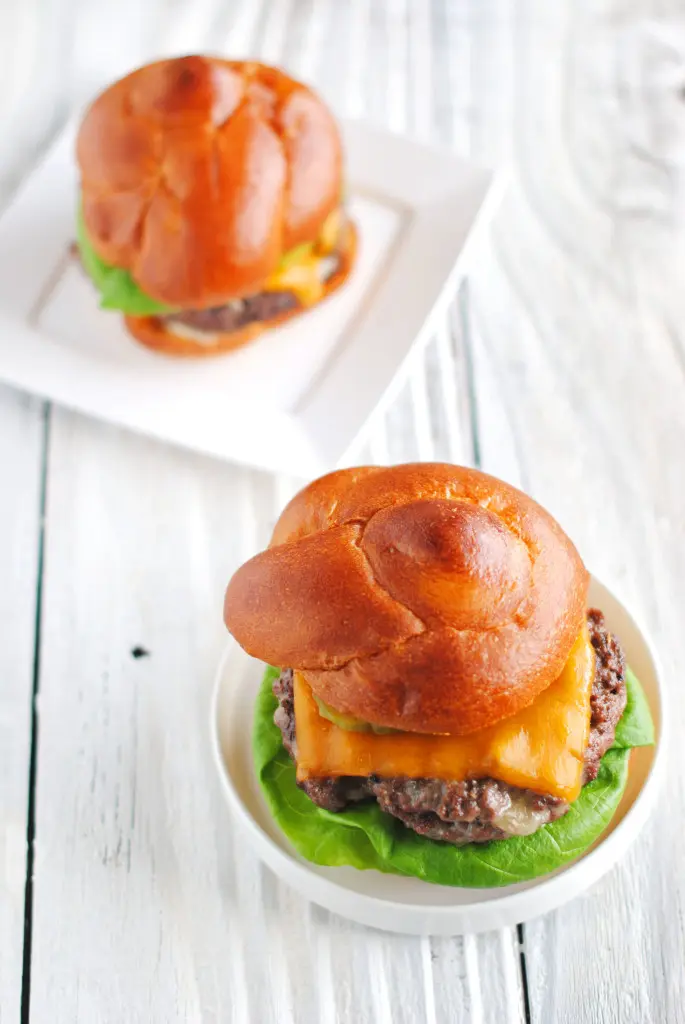 Disclosure: Please note that some of the links in this post are affiliate links and I will earn a commission if you purchase through those links. I have used all the products and recommend them because they are helpful and are companies I trust, not because of the commissions that I may earn from you using those products.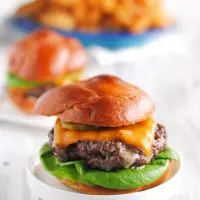 Grilled Cheeseburgers
Ingredients
1 ½ pounds 80% lean ground chuck
3/4 cup cheddar cheese, shredded
1 teaspoon kosher salt
½ teaspoon ground black pepper
Vegetable oil for grill rack
4 hamburger buns, toasted
Toppings of your choice
Instructions
Using hands, gently break up meat, add shredded cheese and season with salt and pepper. Toss lightly to incorporate. Divide meat into 4 portions and lightly toss 1 portion from hand to hand to form a ball, then lightly flatten ball with fingertips into ¾-inch thick patty. Press center of patty down with fingertips until it is about ½-inch thick, creating a slight depression in the center.

Open bottom vent completely. Light large chimney starter filled with charcoal briquettes (6 quarts). When top coals are partially covered with ash, pour the briquettes over the grill. Set cooking grate in place, cover and open lid vent completely. Heat grill until hot, about 5 minutes.

Clean and oil cooking grate. Place burgers on the grill and cook, without pressing on them, until well browned on first side, 2 to 3 minutes. Flip burgers and continue to grill, 2 to 3 minutes for medium-rare and 3 to 4 minutes for medium.

Transfer burgers to serving platter, tent loosely with aluminum foil, and let rest for 5 to 10 minutes before serving on buns.