I've got a recipe close to my heart to share today! Since it's the baking season the one dessert I would always look forward to this time of year was my step dad's Easy Cherry Pie. He also made apple pie but cherry pie is where it's at! 🍒
Here is our family cherry pie recipe with a few adaptations I made in the process. I'll leave it up to you if you want to make homemade pie dough or use store bought. For years I've prided myself on homemade pie dough always, but a few years ago I stumbled upon a premade pie dough that was worthy of a cheat. So, if you live in Texas and have an HEB near you I highly recommend Texas Pie Company's Dough Puck. Plus my step dad always used pre-made dough so I feel like I'm still keeping with the tradition.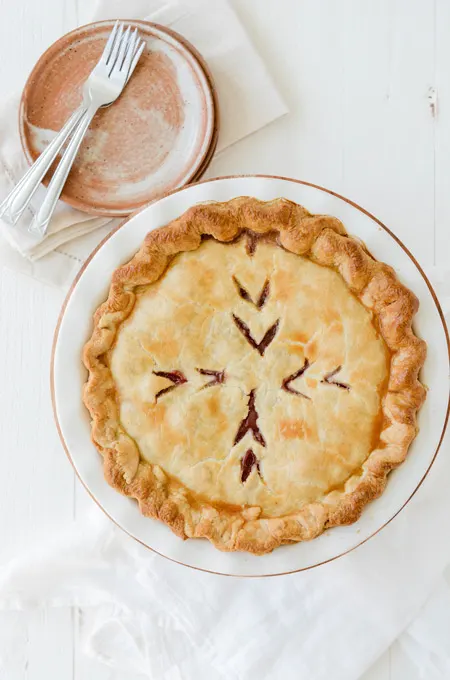 Pie Dough Tips
For this pie I used my favorite pre-made pie dough. But feel free to use your favorite from-scratch recipe. Here are a few tips to think about before rolling out your pie dough.
Make sure your dough is malleable enough to roll out. If your dough is stored in the refrigerator it should take about 10 minutes sitting on the counter before it's ready to roll out. If your dough is frozen it may take an hour or so at room temperature to be ready to roll out. Follow the package directions if you're using pre-made pie dough.
I prefer to roll out my pie dough in between parchment paper, but you can also use a well floured counter.
To help keep your dough in a circle, remember to rotate the dough 90 degrees with every roll and roll away from you as you go. If you're using the parchment paper method, you can just rotate the parchment paper.
Once the dough is rolled out, I gently roll it around a rolling pin to transfer it to the pie plate.
After the top crust is applied I like to use an egg wash to give it some color and sheen.
Keep an eye on your pie as it bakes. If the edges start browning too quickly you can cover them lightly with foil.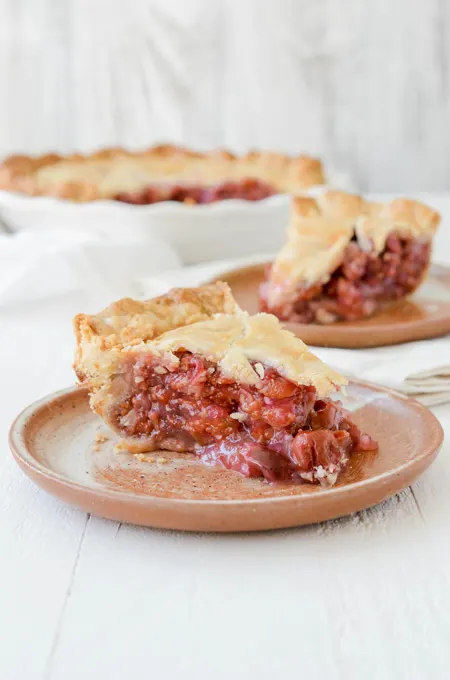 Easy Cherry Pie Filling
Canned Red Tart Cherries:

these cherries are perfect for pie filling because they are soft, bright, juicy and hold up well to sugar and heat.

Granulated sugar:

perfect for fillings because it dissolves quickly.

All-purpose flour:

a little flour helps thicken the filling.
Instant tapioca: this ingredient is a thickener and dissolves easily. Plus it helps lock in the fruit flavor of the cherries, unlike some other thickeners. And helps keep the filling from getting too gluey. (I added this ingredient in from my step-dad's original recipe. )

Cherry liqueur:

added for an extra punch of flavor, but optional.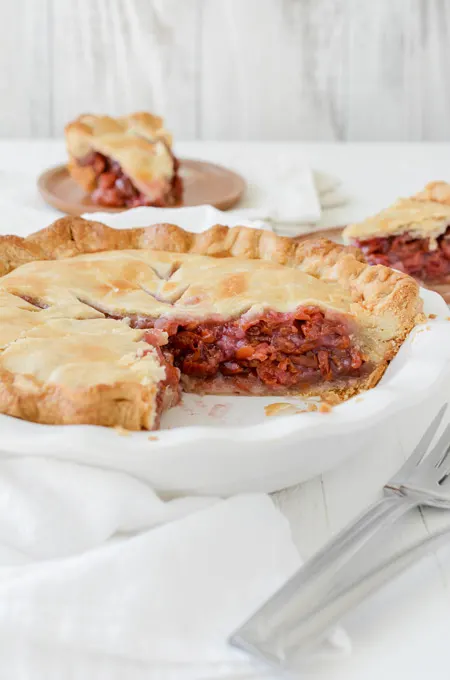 How To Get Your Pie Ready For Baking
Line a rimmed baking sheet with foil. This helps keep the bottom crust from over browning before the filling is finished baking. It also makes the pie easier to handle when rotating in the oven. And incase your filling bubbles over, it can keep messes to a minimum.
We bake the pie at a higher temperature at first to help set the crust which helps keep the filling from getting soggy.
Your pie is ready when the filling is bubbling and has thickened.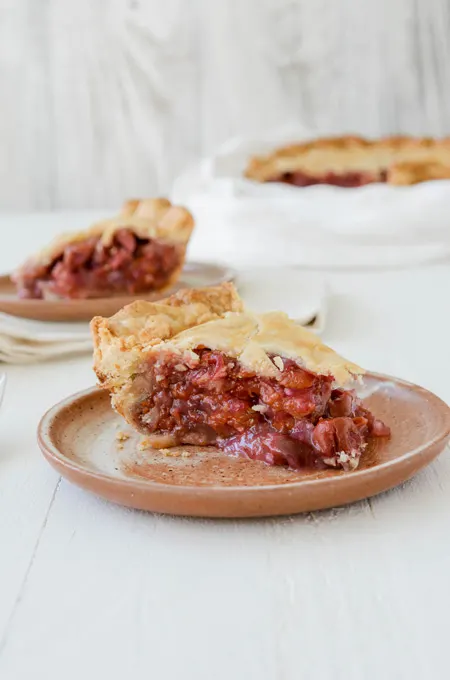 Easy Cherry Pie Cooling Time and Storage
Cooling:

Pies need at least 4 hours cooling time. Don't cut into the pie before 4 hours.❗️While the pie was baking the thickeners were activated, but as the pie cools the thickeners are still working to set up the pie filling. If you cut into the pie before it has set, the filling will pour out and not slice cleanly.

Storage:

Fruit pies can be stored at room temperature for up to 2 days because they have plenty of sugar and acid that delays the growth of bacteria.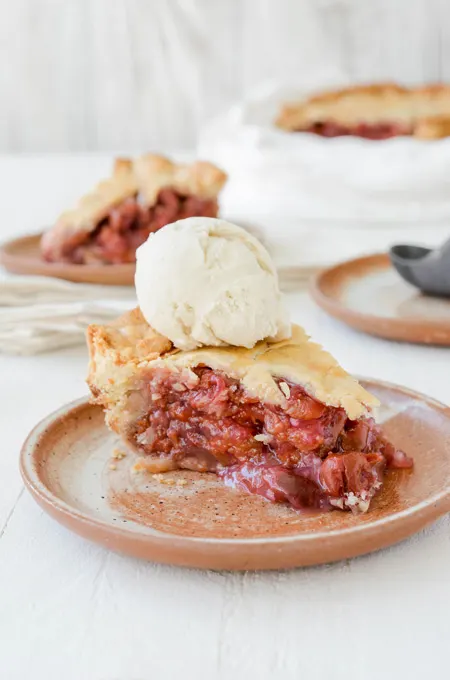 Let's Connect
The Cake Chica is on Facebook sharing sneak peeks of recipes to come, Instagram for your food porn desires and Pinterest for your board pinning needs.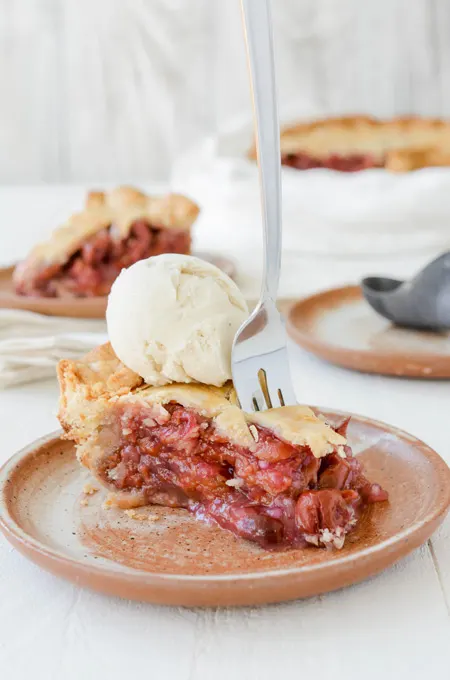 You May Also Like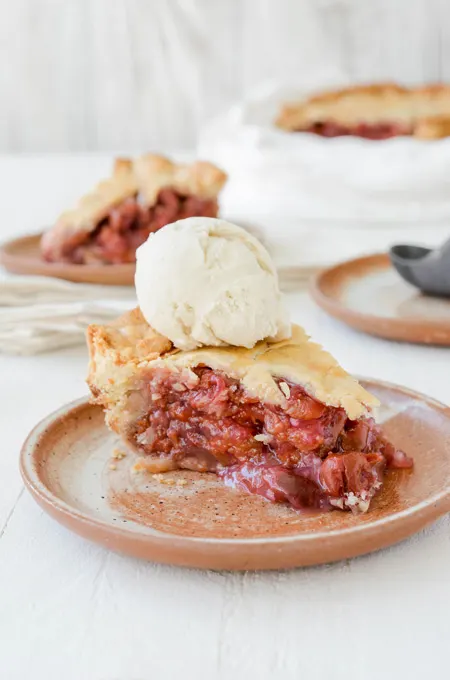 Easy Cherry Pie
Prep Time:
1 hour
30 minutes
Cook Time:
1 hour
30 minutes
Easy Cherry Pie made with canned Red Tart Cherries for a perfectly thickened filling.
Ingredients
SPECIAL TOOLS
Parchment paper
9-inch pie plate
Rimmed baking sheet
Silicone pastry brush
EGG WASH
1 large egg
1 tablespoon water
CHERRY PIE
2 packages pie dough
1 1/3 cups (9.6 ounces) granulated sugar
1/2 cup (2.5 ounces) all-purpose flour
2 tablespoons instant tapioca
1/4 teaspoon almond extract
2 tablespoons cherry herring (optional)
3 14.5 ounces cans of Red Tart Cherries, drained, rinsed, and dried with paper towels
2 tablespoons unsalted butter, cut into cubes
Instructions
EGG WASH

Combine the egg and water together in a small bowl and set aside.

PIE DOUGH
Roll out one pie dough until it measures 12 inch in diameter between 2 sheets of parchment paper. Loosely roll the disk of dough around a rolling pin and gently unroll it over a 9-inch pie plate, letting the excess dough hang over the edge. Ease the dough into the plate by gently lifting the edge of the dough with your hand and pressing the dough with your other hand. Loosely wrap the dough-lined pie plate with plastic wrap and refrigerate for 30 minutes.
Roll out the second pie dough between two sheets of parchment paper until it reaches 12 inches in diameter. Transfer the bottom sheet of parchment paper with the dough on top to a rimmed baking sheet and cover with plastic wrap and refrigerate until firm, about 30 minutes.

CHERRY PIE
Adjust an oven rack to the lowest position and heat oven to 400 degrees.
In a large bowl, combined the sugar, flour, and instant tapioca. Add the almond extract and cherry herring if using, cherries and mix well to combine.
Pour the cherry filling in the chilled pie dough lined pie plate and scatter butter on top. Loosely roll remaining pie dough around a rolling pin and gently unroll it onto the filling. Press the bottom and top layers of pie dough together and trim the overhand to 1/2 inch beyond the edge of the pie plate. Tuck the edges under and crimp the edges.
Cut slits on the top of the dough to let the steam vent, and brush the top of the pie with egg wash using a silicone pastry brush.
Place pie on a foil lined rimmed baking sheet and bake until the crust is lightly golden brown, about 30 minutes. Reduce the oven temperature to 350 degrees and rotate the pie and until the juices are bubbling and crust is deep golden brown, about 40 to 50 minutes longer.
Let pie cool on a wire rack until the filling has set, about 4 hours.



Notes
Storage: Pie can be stored at room temperature for up to 2 days.