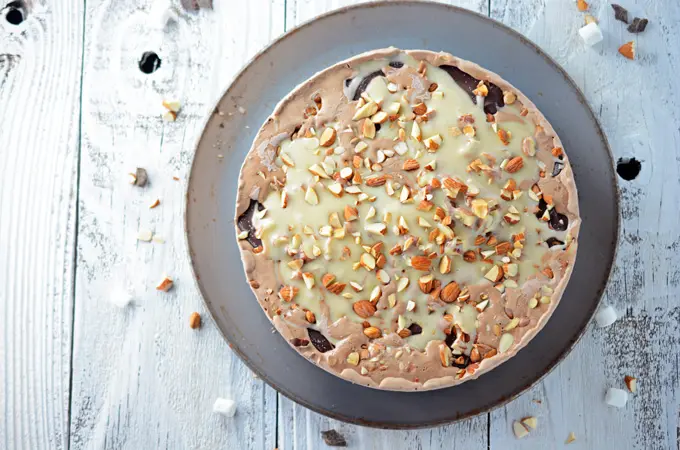 This Rocky Road Sundae Pie is great for summer entertaining. There is little baking required, it's easy to prepare and can be made in advance. This is guaranteed to be a crowd pleaser!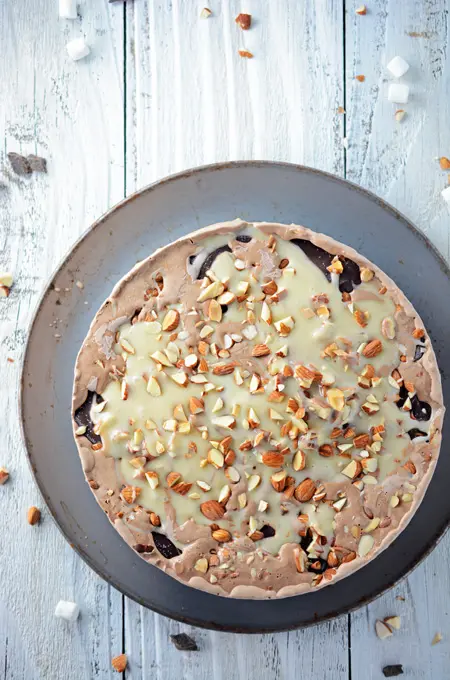 Rocky Road is my favorite ice cream flavor. This pie is basically a deconstructed version of Rocky Road ice cream. First, we make the Oreo cookie crust, then; we layer chocolate ice cream on top of the crust. Lastly, we top it off with the fudge sauce, marshmallow cream and toasted almonds! My mouth is watering already.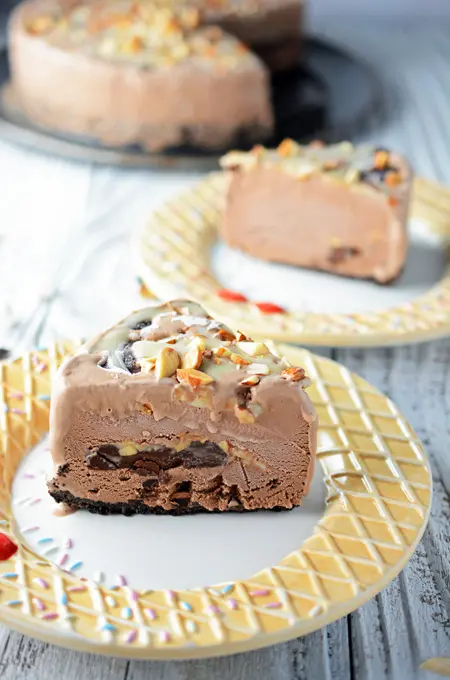 I don't have an ice cream maker so I just used my favorite brand of store-bought ice cream. If you have an ice cream maker (you lucky duck) then feel free to make your own homemade chocolate ice cream for this recipe.
My springform pan leaked while preparing this so I just put a baking sheet under it, and all was right again.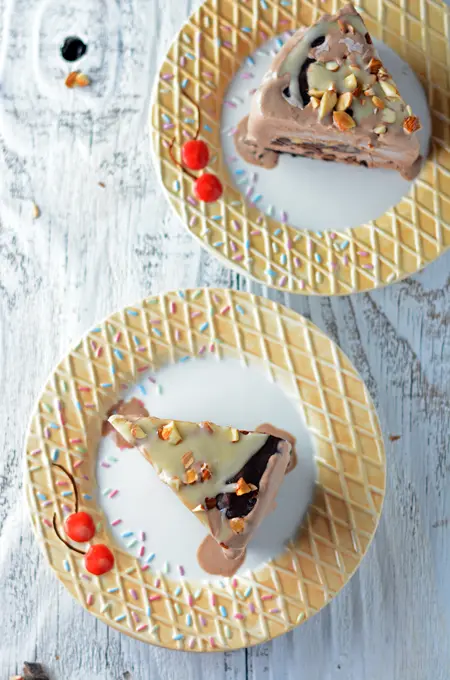 If you love all things Rocky Road like I do, don't forget to check out a couple of Rocky Road inspired sweet treats on my blog like these Espresso Rocky Road Oatmeal Cookies and these Rocky Road Protein Crisp. I also have another Rocky Road treat coming up soon, so be sure to sign up to my mailing list so you don't miss out on that one!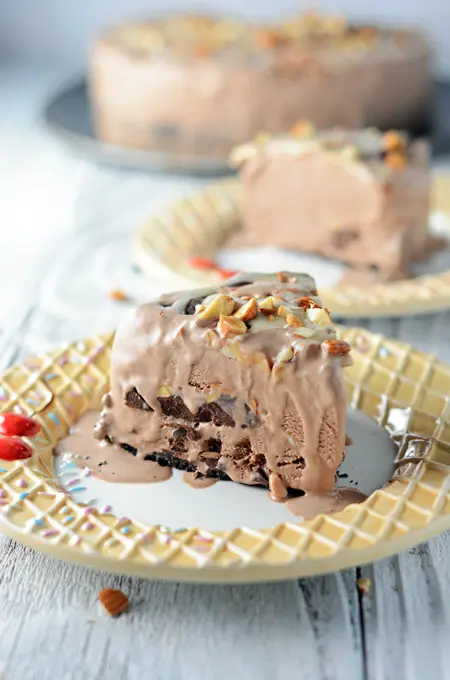 You can also follow me on Facebook, Instagram, and Pinterest.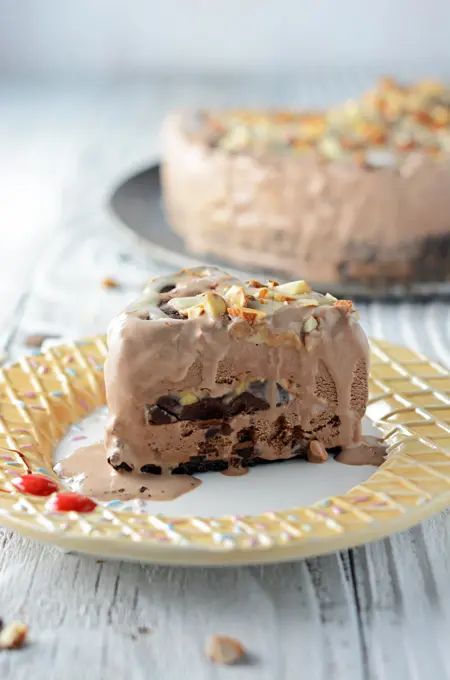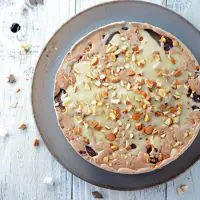 Rocky Road Sundae Pie
Ingredients
CRUST
16 Oreo cookies, broken into pieces
4 tablespoons unsalted butter, melted and cooled
FUDGE SAUCE
2/3 cup heavy cream
8 ounces bittersweet chocolate, chopped
½ teaspoon vanilla extract
MARSHMALLOW SAUCE
4 cups mini marshmallows (about 7 1/2 ounces)
1/3 cup heavy cream
1 teaspoon vanilla extract
PIE
Chocolate cookie crust
2 quarts chocolate ice cream, slightly softened, divided
1 cup almonds, toasted, coarsely chopped, divided
Instructions
CRUST
Adjust and oven rack to the center position and preheat oven to 350 degrees. Pulse cookies in a food processor until coarsely ground, about 15 pulses. Then continue to process until crumbs are fine, about 15 seconds. Sprinkle melted butter over crumbs and pulse to incorporate, about 5 pulses.
Sprinkle mixture into a 9-inch springform pan, pressing crumbs firmly onto the bottom and 1 inch up the sides of the pan. Bake until the crust is fragrant and looks set, about 10 to 15 minutes. Transfer pie crust to refrigerator to chill until ready to use.
FUDGE SAUCE
In a medium saucepan over medium heat, bring cream to a simmer. Remove from the heat. Add chocolate and let stand for 1 minute. Whisk chocolate until it has melted and is completely smooth. Whisk in vanilla. Let stand at room temperature to cool and to thicken slightly, stirring occasionally, about 20 minutes.
MARSHMALLOW SAUCE
In a large metal bowl, combine marshmallows and cream. Set bowl over a saucepan of barely simmering water. Stir until marshmallows have melted and sauce is smooth, about 3 minutes. Remove bowl form over the water and stir in vanilla extract. If you want the marshmallow cream to remain bright white, use clear vanilla or skip the vanilla all together.
PIE/ASSEMBLE
Place the springform pan with prepared crust on top of a baking sheet to catch any leaks. Spread 1 quart of softened ice cream evenly over prepared crust. If your ice cream is still not soft enough to spread, use a large off set cake spatula, warmed under hot water, wiped dry; and using the warm spatula press the ice cream into the pan. Repeat this process as needed. Drop half of the fudge sauce by 1 tablespoonfuls, leaving space between the drops. Sprinkle half of the almonds over sauce. Drizzle half of the marshmallow sauce over the almonds. Freeze until sauce sets, about 10 minutes. Spread second quart of ice cream evenly on top. Drop remaining fudge by 1 tablespoonfuls over ice cream. Drizzle remaining marshmallow sauce over, allowing some fudge to show through. Sprinkle with remaining almonds. Freeze pie until firm, about 4 hours.
Notes
TIP: Let pie soften slightly at room temperature, about 10 minutes. Cut around pan sides to loosen pie. Remove pan sides. Cut pie into wedges and serve.
Adapted from
Bon Appetit Desserts