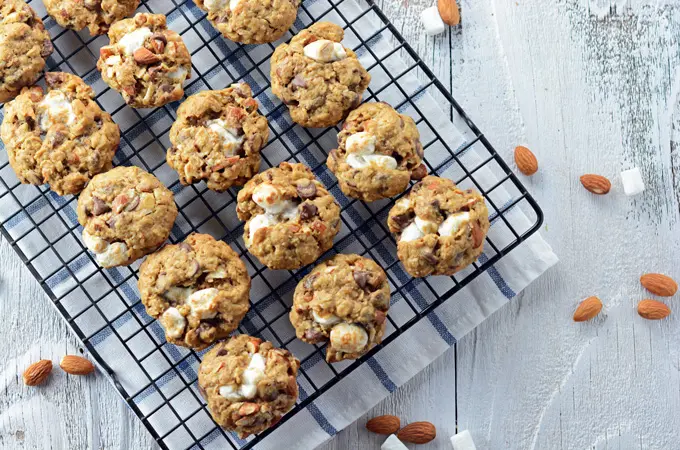 7/2016 UPDATE: Just wanted to update this amazing Espresso Rocky Road Oatmeal Cookies with a more deserving picture. As mentioned before in my original post I love all things rocky road. The combination of chocolate. marshmallows and almonds is pure perfection for me! And the oatmeal makes it healthy right? Okay I wouldn't go that far but this cookie truly has the best of everything.
Also, I am now a publisher on Yummly. Yummly puts every recipe in the world in your pocket. The most powerful recipe search, the recipe sites you love, your digital recipe box, recipe recommendations just for you, and a smart shopping list – all with you wherever you go. Yummly has the #1 iPhone, iPad and Android apps in addition to millions of website visitors.
So don't forget to head over to my Yummly page and Yum all the recipes from The Cake Chica!
My favorite ice cream flavor is Rocky Road, it doesn't matter what brand of ice cream it is, it's safe to say I'll eat it. I do prefer some brands over the other but you'll never see me roll my eyes at Rocky Road ice cream no matter what brand it is.
In celebration of oatmeal cookie day I wanted to bring something different than a regular oatmeal raisin or oatmeal cookie. And here it is.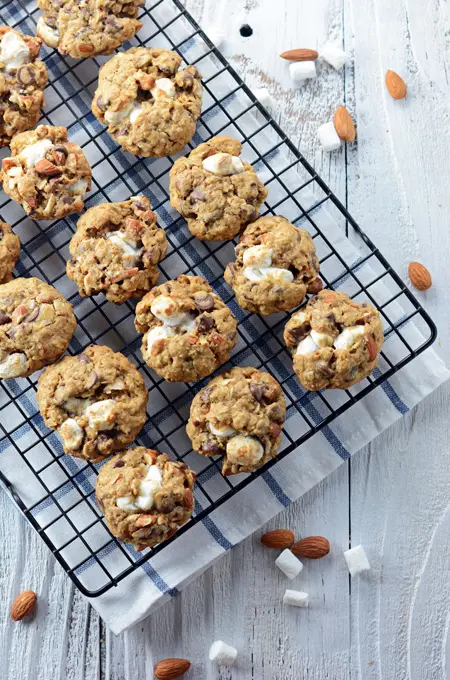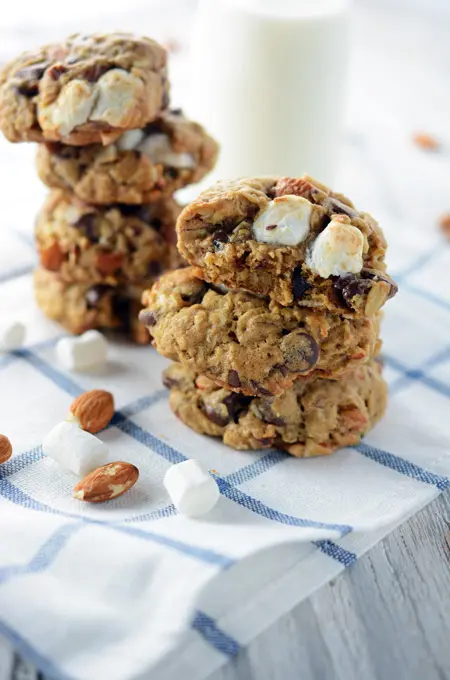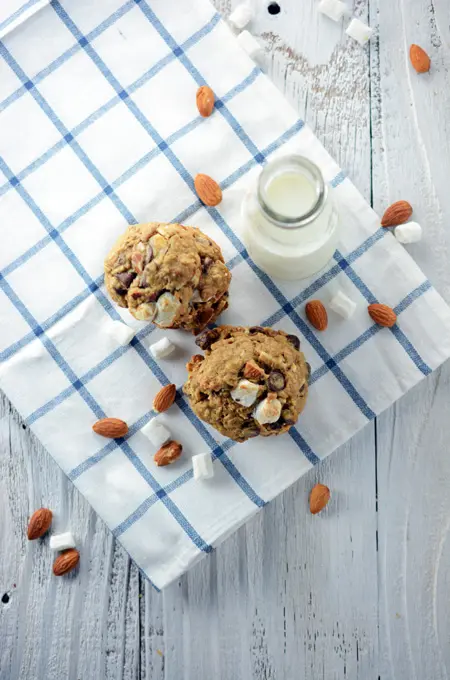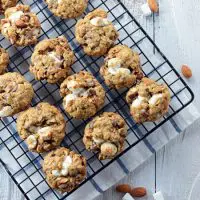 Espresso Rocky Road Oatmeal Cookies
Ingredients
1 cup unsalted butter, softened
½ cup firmly packed light brown sugar
½ cup granulated sugar
2 large eggs
1 ½ teaspoons vanilla extract
1 tablespoon instant espresso powder
1 tablespoon hot water
1 ¾ cups all purpose flour
1 teaspoon baking soda
½ teaspoon salt
2 ½ old fashion oats (uncooked)
2 cups semi-sweet chocolate chips
1 ½ cups toasted almonds, chopped
1 ½ cups mini marshmallows
Instructions
Preheat oven to 350 F. Line a baking sheet with a silicon mat or line with parchment paper.
Beat butter and sugars in a large bowl with electric mixer until creamy, about 3 minutes. Add eggs and vanilla extract; beat well. Dissolve espresso powder in hot water. Add to the butter mixture and mix well. Combine flour, baking soda and salt in a separate bowl, and add to the batter. With a wooden spoon, stir in oats, chocolate chips and almonds.
Chill dough about 10 minutes in the refrigerator.
Grab about 2 tablespoons worth of cookie dough, arrange about 3 mini marshmallows and place them in the middle of the dough. Roll into balls and place on the baking sheet. Repeat with remaining dough and marshmallows. Space cookies 2 inches apart on a baking sheet.
Bake for 12 to 14 minutes or until golden brown. Cool for 2 minutes on baking sheet; remove to wire racks. Cool completely. Store tightly covered.