Now you don't have to feel guilty eating blueberry muffins anymore! This recipe is light on sugar and heavy on flavor.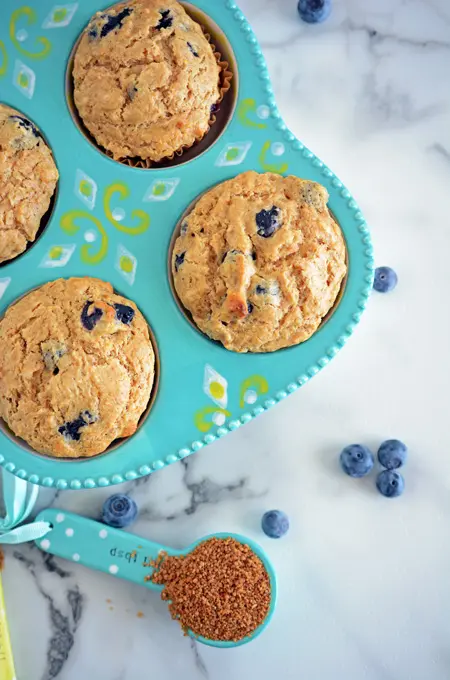 Naturally Sweet is a cookbook from America's Test Kitchen, and when they sent out an email asking for help testing recipes for their upcoming book, I jumped at the chance. Guess which recipe I got? Yep, Blueberry Muffins!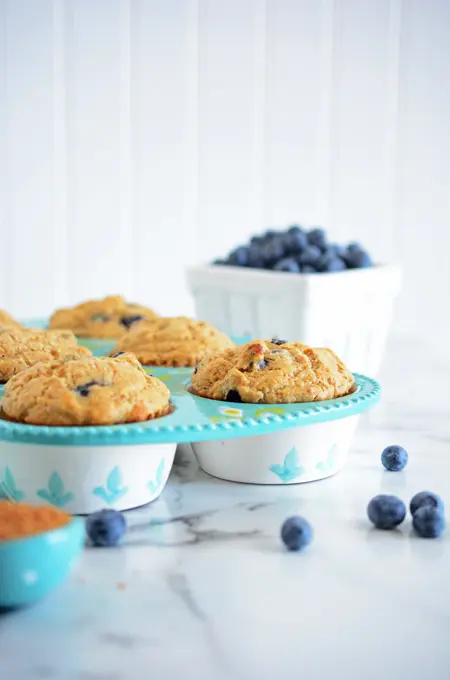 I was super excited to help test recipes for this book because the focus is not just on reducing sugar but replacing it with natural sugars like Sucanat
, coconut sugar
, date sugar
, honey
and maple syrup
. No artificial sugars here!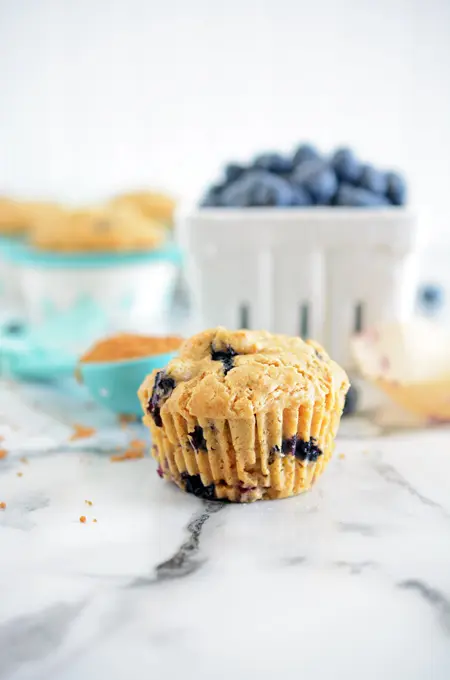 When I made the draft version of these Blueberry Muffins I didn't think they were anything special, until I noticed my husband and I kept going back for more. Thinking we just weren't used to the reduced sugar but the blueberry flavor was there and I think that's what kept us going back for more.
Finally a muffin that wasn't overly sweet and didn't mask the blueberry flavor. I am crazy excited to share the perfected, reduced sugar recipe with you now! A typical blueberry muffin recipe has about 20 grams of sugar, while this version has only about 11 grams of sugar.
Some tips to keep in mind:
You do not have to grind up the Sucanat, but the granules will leave marks on the top of your muffins as they melt during baking. They will taste the same, just look a little speckled.
Low-fat yogurt can be substituted for the whole-milk yogurt, but the muffins will be slightly drier.
Frozen blueberries can be substituted for fresh.
Sweetener Substitutions:
Coconut sugar: ½ cup plus 2 tablespoons (3 ounces) Muffins will taste slightly sweeter using this sweetener substitute. Grind sugar in step 1.
Granulated sugar: 7 tablespoons (3 ounces) Muffins will be slightly less sweet and lighter in color; do not grind sugar in step 1.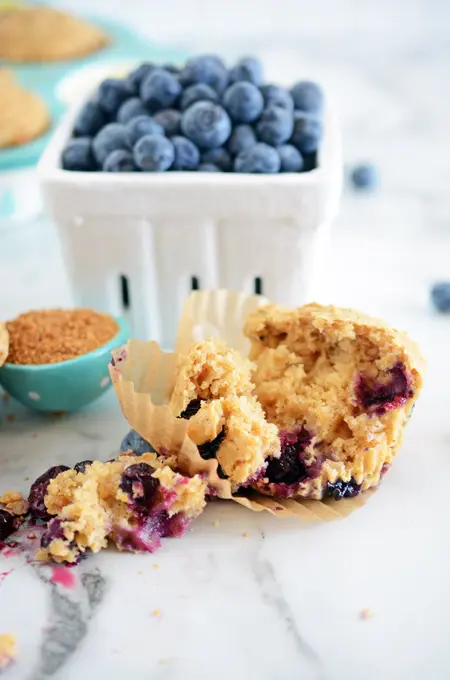 If you're looking for reduced sugar recipes but want to stay away from artificial sweeteners I highly recommend America's Test Kitchen's "Naturally Sweet
". I personally made this recipe using Sucanat in the test batch and the final version and love it as a sweetener. Let me know how yours come out if you use the other available sweeteners.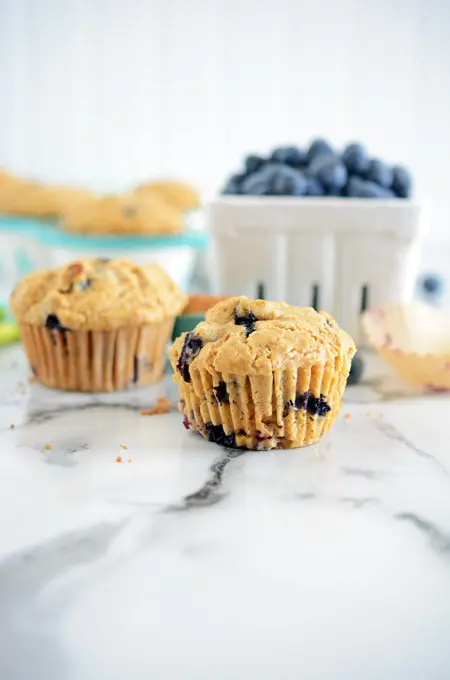 Be sure to follow me on social media: Facebook, Instagram, and Pinterest.
You May Also Like: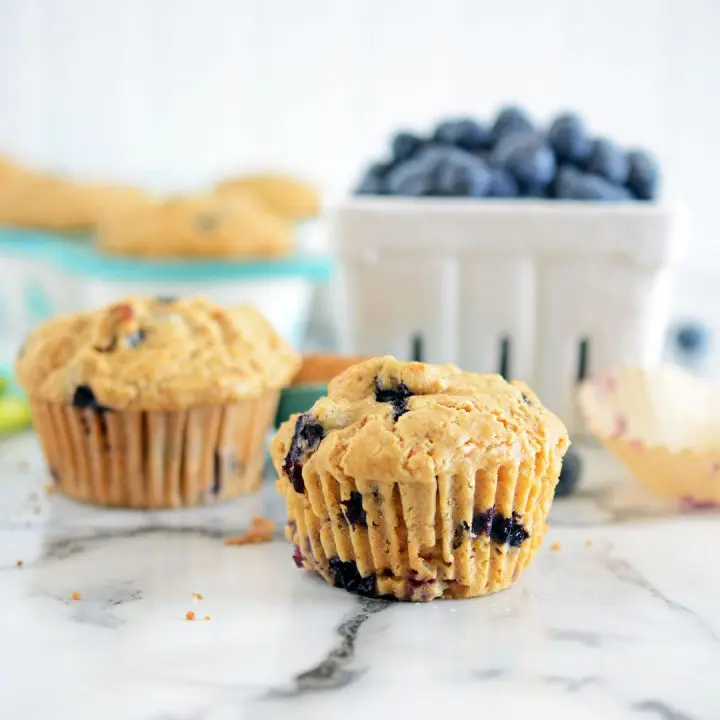 Reduced Sugar Blueberry Muffins
Additional Time:
20 minutes
Reduced sugar blueberry muffins made with Sucanat and fresh blueberries.
Ingredients
1/3 cup, plus ¼ cup (3 ounces) Sucanat
8 tablespoons organic unsalted butter, cut into 8 pieces
1 ½ cups organic plain whole-milk yogurt
2 large organic eggs
1 tablespoon vanilla extract
1 teaspoon grated orange zest
2 ¾ cups (11 ounces) cake flour
2 teaspoons baking powder
½ teaspoon baking soda
1 teaspoon ground cinnamon
¾ teaspoon salt
¼ teaspoon ground cloves
1 ½ cups (7 ½ ounces) fresh organic blueberries
Instructions
Adjust an oven rack to the center position and heat oven to 375 degrees. Line a cupcake pan with cupcakes liners and set aside. In a spice grinder, grind up the Sucanat in batches until finely ground into a powder, about 1 minute (this step is optional and for appearance only)
In a 10-inch stainless steel skillet, melt 6 tablespoons butter until it starts to turn golden brown, about 2 minutes. Continue to cook swirling the pan constantly until the butter turns golden brown and you start to smell a nutty fragrance, about 1 to 3 minutes. Pour the browned butter in a large bowl and stir the remaining 2 tablespoon butter until melted and let cool slightly.
Add the yogurt, eggs, vanilla and orange zest into the browned butter and whisk until smooth. In a large bowl, whisk together the Sucanat, flour, baking powder, baking soda, cinnamon, salt and cloves. With a rubber spatula, stir in yogurt mixture until combined and fold in the blueberries.
Divide batter evenly into the prepared cupcake pan. Bake until golden brown and toothpick inserted in the center of the muffin comes out clean or with a few moist crumbs attached, about 22 to 27 minutes, rotating the pan halfway through baking.
Let muffins cool in the pan for 20 minutes, then transfer to a wire rack to let cool for 10 minutes before serving.
Nutrition Information:
Yield:

12
Serving Size:

1
Amount Per Serving:
Calories:

207
Total Fat:

10g
Saturated Fat:

6g
Trans Fat:

0g
Unsaturated Fat:

3g
Cholesterol:

55mg
Sodium:

294mg
Carbohydrates:

24g
Fiber:

1g
Sugar:

2g
Protein:

5g
*Nutrition information is an estimate and will vary.*