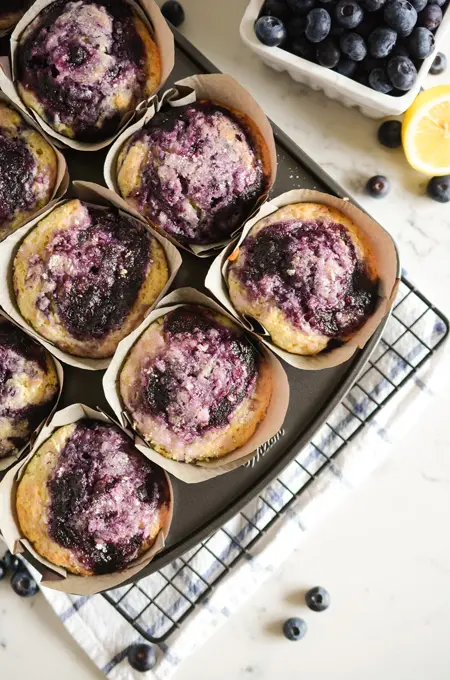 Everyone needs a go-to Blueberry Muffin recipe in their repertoire. And this is mine. It's got the best of everything! I always like to refer to my Cook's Illustrated cookbook for the classics such as these Blueberry Swirl Muffins.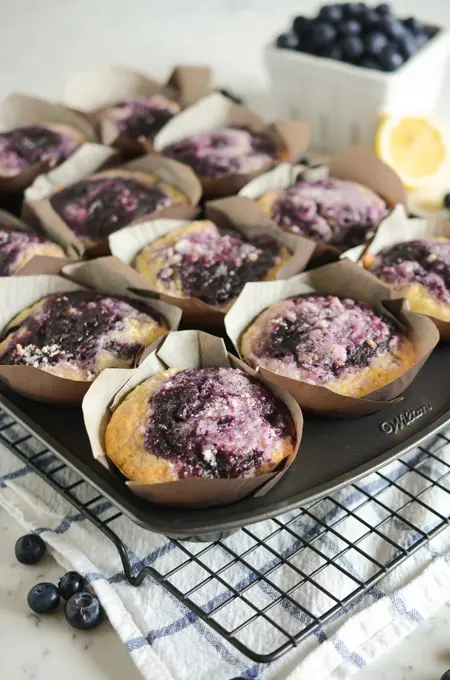 As I mentioned before this recipe has the best of everything. A muffin that is full of fresh blueberries; a homemade blueberry jam to help take the blueberry flavor up a notch, and a lemony-sugar topping for that extra crunch.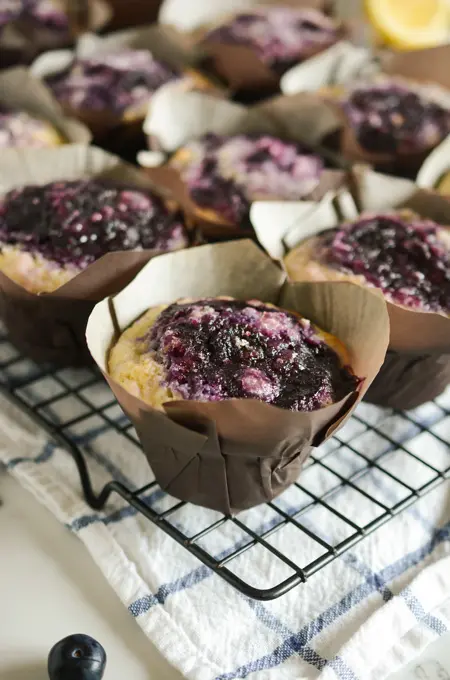 The lemon-sugar topping is best the same day the Blueberry Swirl Muffins are made, but the sweet lemony flavor will remain after that. They just won't have the same texture the following day.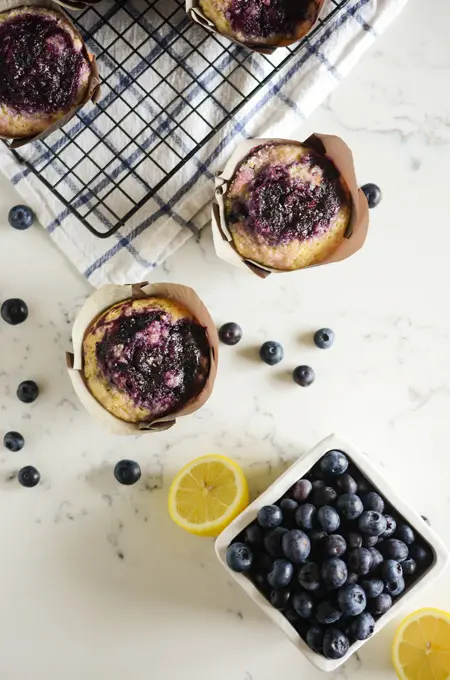 You'll notice this recipe calls for buttermilk. If you don't have any on hand you can add 1 tablespoon of lemon juice or white vinegar to 1 cup milk and let sit for a few minutes and viola….buttermilk!
Adapted from Cook's Illustrated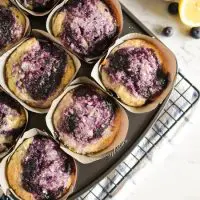 Blueberry Swirl Muffins
Additional Time:
10 minutes
Blueberry Swirl Muffins made with fresh blueberries, a homemade blueberry jam swirl and a lemon-sugar topping.
Ingredients
SPECIAL TOOLS
LEMON SUGAR TOPPING
1/3 cup granulated sugar
1 1/2 teaspoons grated lemon zest
MUFFINS
2 cups blueberries, divided
1 teaspoon granulated sugar
2 1/2 cups all-purpose flour
2 1/2 teaspoons baking powder
1 teaspoon table salt
1 1/8 cups granulated sugar
2 large eggs
4 tablespoons unsalted butter, melted and cooled
1/4 cup vegetable oil
1 cup buttermilk
1 1/2 teaspoon vanilla extract
Instructions
LEMON SUGAR TOPPING
In a small bowl, stir together sugar and lemon zest and set aside.
MUFFINS
Adjust an oven rack to the upper middle position and heat oven to 425 degrees. Line a 12 cup cupcake pan with cupcake liners or spray pan with baking spray and set aside.
In a small saucepan add 1 cup blueberries and 1 teaspoon sugar to a simmer over medium heat. Cook smashing the blueberries with a spoon until the blueberries have broken down and thickened and has reduced to about ¼ cup, about 6 minutes. Transfer to a small bowl and let cool for about 15 minutes.
In a large bowl whisk together the flour, baking powder, and salt together. In a medium bowl, whisk remaining 1 1/8 cups sugar and eggs together until thick and combined. Slowly whisk in butter and oil until combined. Whisk in buttermilk and vanilla until combined.
With a rubber spatula, fold in the egg mixture and remaining 1 cup blueberries into the flour mixture until moistened. Don't over mix. The batter should be lumpy with a few spots of dry flour remaining.
Using an ice cream scoop or a large spoon, divide batter evenly among the prepared cupcake pan. The batter should completely fill the cups and mound slightly. Spoon 1 teaspoon of cooked berry mixture into the center of each mound of batter. Using a skewer or toothpick, gently swirl the berry filling into the batter using a figure eight motion. Sprinkle lemon sugar topping evenly over muffins.
Bake for about 17 to 19 minutes, or until the muffins are golden brown and a toothpick inserted in the center comes out with a few moist crumbs attached. Rotate the pan halfway through baking. Let muffins cool in the pan for about 5 minutes. Invert muffins onto a wire rack to cool for 5 more minutes before serving.
Notes
*Nutrition information is an estimate and will vary.*
Nutrition Information:
Yield:

12
Serving Size:

1
Amount Per Serving:
Calories:

293
Total Fat:

9g
Saturated Fat:

3g
Cholesterol:

40mg
Sodium:

467mg
Carbohydrates:

49g
Fiber:

1g
Sugar:

29g
Protein:

4g
You May Also Like: