Craig and I usually do a big dinner menu for Valentine's Day (I know I am a little late) but since my birthday is just 4 days later, and we usually do a big dinner for that as well, that's just too much food in such a short period of time. So this year we wanted to keep it simple. Just my favorite cut of steak, filet mignon and a side salad.
My favorite thing about this recipe is the texture of the peppercorns on the steak as well as the little kick of heat the peppercorns provide. Cooking the peppercorns helps to remove a lot of the pungency from the pepper, but it still has a bit of spice so if you prefer a little less spice, drain the cooled peppercorns in a fine-mesh strainer in step 1. And then toss them in 5 tablespoons of fresh oil, add the salt and proceed.
Adapted from Cook's Illustrated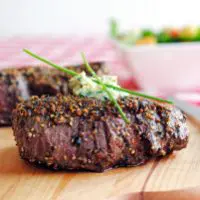 Pepper-Crusted Filet Mignons with Blue Cheese-Chive Butter
Ingredients
STEAK
5 tablespoons black peppercorns, crushed
6 tablespoons olive oil, divided
1 tablespoon kosher salt
4 7-to 8-ounce center cut filets mignon, 1 1/2 to 2 inches thick
BUTTER
1 1/2 ounces mild blue cheese, room temperature
4 tablespoons unsalted butter, softened
1/8 teaspoon table salt
2 tablespoons minced chives
Instructions
STEAK
Heat peppercorns and 5 tablespoons oil in a small saucepan over low heat until faint bubbles appear. Continue to simmer, swirling the pan occasionally until the pepper is fragrant, about 7 to 10 minutes. Remove from the heat and set aside to cool. When the peppercorns are at room temperature, add the salt and stir to combine. Rub steaks with the pepper mixture coating the top and bottom with peppercorns. Gently press to secure peppercorns and let stand at room temperature for 1 hour.
Meanwhile, adjust an oven rack to the middle position and place a baking sheet on the oven rack, and preheat oven to 450 degrees. When oven reaches 450 degrees, heat the remaining 1 tablespoon oil in a 12 inch skillet over medium-high heat until just smoking. Place steaks in the skillet and cook without moving until a dark brown crust has formed, about 3 to 4 minutes. Using tongs, turn steaks and cook until well browned on the second side, about 3 minutes. Turn off the heat and transfer steaks to the hot baking sheet in the oven. Roast until the meat registers 115 to 120 degrees for rare, 120 to 125 degrees for medium-rare, or 130 to 135 degrees for medium. Transfer steaks to a wire rack and let rest for 5 minutes, tented loosely with foil before serving.
BUTTER
Combine blue cheese, butter and salt in a medium bowl and mix with a rubber spatula until smooth. Fold in chives. While steaks are resting, spoon 1 to 2 tablespoons butter onto each steak.
Nutrition Information:
Serving Size:

1
Amount Per Serving:
Calories:

782
Total Fat:

51g
Saturated Fat:

20g
Cholesterol:

230mg
Sodium:

1770mg
Protein:

66g