I know I am a few days behind for National Pasta Day, but better late than never! This sauce is sweet and salty with acidic flavors in the background. But just a heads up… this sauce has to simmer for about 3 hours! Make it a family affair, and get your family to join in on the prep work. Pair this with a side salad and garlic bread and you have a family-style meal.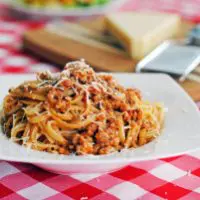 Pasta with Classic Bolognese Sauce
Ingredients
5 tablespoons unsalted butter
2 tablespoons finely chopped onion
2 tablespoons minced carrot
2 tablespoons minced celery
1 pound 80% lean ground beef
1 pound ground pork
1/2 teaspoon kosher salt
1 cup whole milk
1 cup dry white wine
1 28-ounce canned whole tomatoes, drained with juice reserved, and tomatoes chopped fine
1 pound linguine or fettuccine
Grated Parmesan cheese for garnish
Instructions
Melt 3 tablespoons of butter in a Dutch oven over medium heat. Add the onion, carrot, and celery and cook until softened, about 5 to 7 minutes. Stir in your ground beef, pork and 1/2 teaspoon salt and cook, breaking up any large pieces with a wooden spoon, until no longer pink, about 5 minutes.
Stir in the milk and bring to a simmer and cook until the milk has evaporated, and only rendered fat remains, about 10 to 15 minutes. Stir in the wine and then bring to a simmer until the wine evaporates, about 10 to 15 minutes. Stir in tomatoes and the reserved tomato juice and bring to a simmer. Reduce the heat to low so that the sauce is just barely simmering. Simmer until liquid has evaporated, about 3 hours.
Right before the sauce is complete, bring about 4 quarts of water to a boil in a large pot. Add pasta and 1 tablespoon kosher salt and cook, stirring frequently until the pasta is al dente. Reserve ½ cup of the cooking, then drain the pasta and return to the pot. Add the sauce and the remaining 2 tablespoons butter to the pasta and toss to combine. Add the reserved cooking water as needed to adjust the consistency. Garnish with Parmesan cheese.
Notes
Sauce can be refrigerated for up to 2 days or frozen for up to 1 month.
Nutrition Information:
Serving Size:

1
Amount Per Serving:
Calories:

784
Total Fat:

38g
Saturated Fat:

17g
Cholesterol:

134mg
Sodium:

484mg
Carbohydrates:

65g
Fiber:

4g
Sugar:

7g
Protein:

30g
Adapted from Cooks Illustrated Cookbook