So I hear there are some people who can't eat soup unless it's cold out. Well, I am not one of those people. Around here in Houston, Texas we don't get cold weather, usually, and I love soup so much I can eat it all year round! Yes, this mushroom soup is hearty with an earthy flavor, and it reminds me of sitting next to a roaring fire on a cold winters' day, but let's face it, that's not going to happen in my house, for one, I have no fire place and for two, it rarely ever gets cold enough to warrant a roaring fire. And maybe if I had a fireplace I might use it in the winter, of course I'd have the AC on full blast, but whatever works right?
Moving on…..I was pretty thrilled to find this recipe. Years ago when I started teaching myself to cook I came across a mushroom soup recipe that was very appetizing, but it was made with lots of cream and just some plain button mushrooms. Perfect for the novice I was. But since then, I am happy to say my cooking skills have grown tremendously. And I've experienced more than just the button variety of mushroom. This recipe permits you to try an assortment of different mushrooms of your choosing. And back then, I never would have thought to add toasted hazelnuts in my soup, but it really adds an enormous amount of flavor and texture. Okay enough talk, see the recipe below.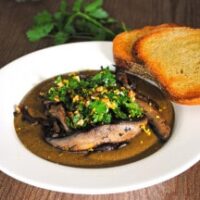 Mushroom Soup with Hazelnut Gremolata
Ingredients
1 1-ounce package dried porcini mushrooms
2 cups hot water
4 tablespoons unsalted butter, divided
1 large onion, chopped (about 1 cup)
1 large carrot, peeled, sliced
1 pound crimini (baby bella) mushrooms, sliced (about 6 cups)
3 cups vegetable broth
1/2 cup fresh parsley, coarsely chopped
1/3 cup olive oil
1/4 cup hazelnuts, toasted and finely chopped
2 teaspoons orange finely grated orange peel
1 garlic clove, chopped
12 ounces assorted fresh wild mushrooms (such as chanterelle, crimini, and stemmed shiitake) sliced (about 5 cups)
Instructions
SOUP
Place porcini mushrooms in 2 cups hot water. Let soak until soft, about 20 minutes. Strain the mushrooms over a bowl, reserving 1 cup of the soaking liquid. Coarsely chop the porcini mushrooms.
Melt 2 tablespoons of butter in a large pot over medium-high heat. Add the onion and carrot and sauté until soft, about 5 minutes. Add your 1 pound of crimini mushrooms and sprinkle with salt. Saute until the mushrooms are soft and browned, about 5 minutes. Add 3 cups vegetable broth and reserved porcini soaking liquid and bring to a boil. Reduce the heat to medium-low, cover and simmer until mushrooms are soft and all the flavors are blended, about 20 minutes. Cool slightly and working in batches, puree the soup in a blender until smooth, adding more broth if necessary. Return the soup to the pot.
GREMOLATA
Mix the parsley, oil, hazelnuts, orange peel, and garlic in a small bowl. Set gremolata aside.
MUSHROOM TOPPING
Melt the remaining 2 tablespoons of butter in a heavy large sauce pan over medium-high heat. Add 12 ounces assorted mushrooms and sauté until soft and browned, about 10 minutes. Divide among soup among bowls and top with gremolata.
Nutrition Information:
Serving Size:

1
Amount Per Serving:
Calories:

444
Total Fat:

26g
Saturated Fat:

7g
Cholesterol:

20mg
Sodium:

488mg
Carbohydrates:

55g
Fiber:

3g
Sugar:

4g
Protein:

5g
Adapted from Bon Appetit October 2008 Issue