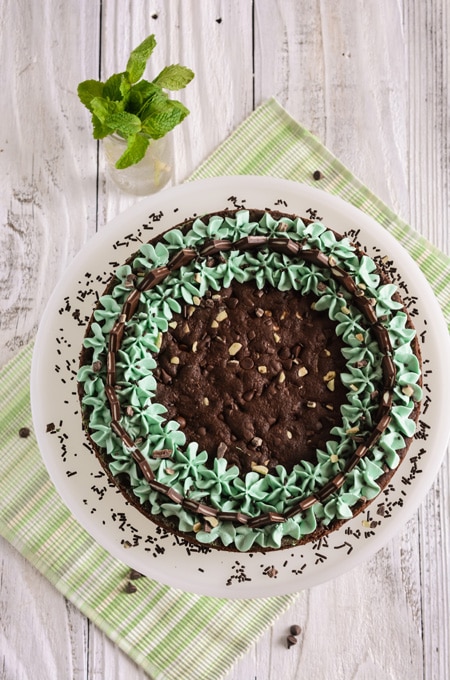 ***Please note that some of the links in this post are affiliate links and I will earn a commission if you purchase through those links.***
St. Patrick's Day is right around the corner! And for the occasion I made a Mint Chocolate Chip Cookie Cake with Andes Mints! I absolutely love Andes Mints! Does anyone remember when Luby's used to give those away to you for free? (Am I showing my age?) And then when they started charging for them later? And now they don't have them at all??? Luckily Andes Mints are pretty easy to find.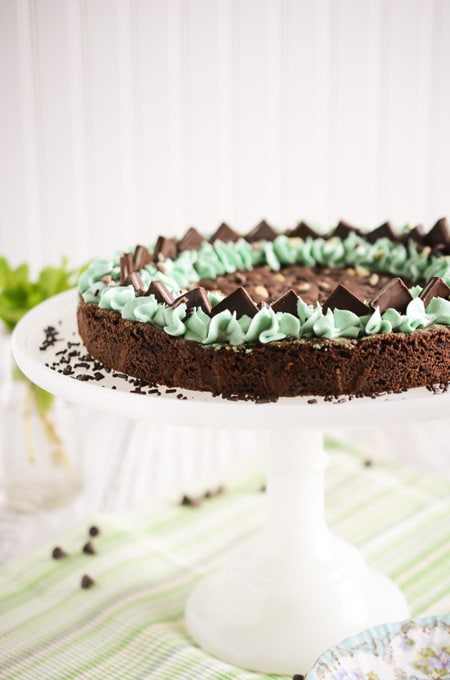 Cookie cakes are easy and fun to make and can be customized for any special occasion by using different color sprinkles, candies and chocolate chips. The possibilities are endless! So if you can't get your hands on those famous Thin Mint cookies, try this Mint Chocolate Chip Cookie Cake. I bet it will not only satisfy your craving but exceed it as well!

Mint Chocolate Chip Cookie Cake Tips:
I used a small amount of Wilton's Willow Green gel color to get the perfect hue of green I was looking for. (I was going for the green of the middle of the Andes Mint.)

Which ever color you choose, be sure to use gel colors and in small amounts first. You can always add more color, but it gets very difficult to take out if you add too much.

To easily invert cookie cake onto a platter, be sure to spray cake pan evenly with baking spray. Once the cookie cake is completely cooled, place a cake board or large plate on top of the cake pan and flip the cake pan over and give the bottom a gently tap. Next, find the cake platter you would like to serve the cookie cake on and place that on top of the cookie cake and carefully flip over.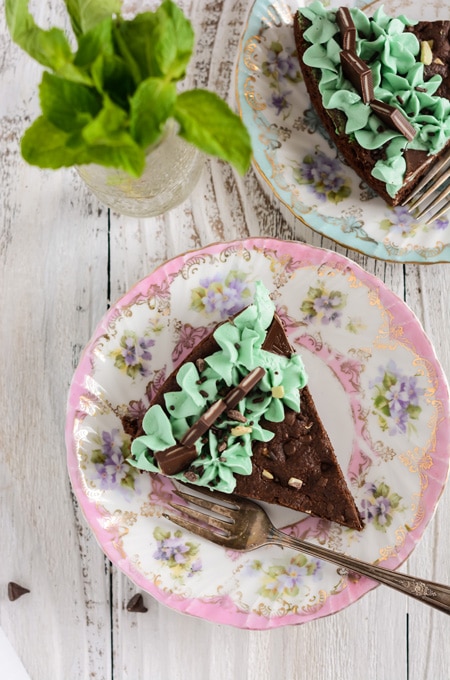 Be sure to follow The Cake Chica on these social media platforms: Facebook, Instagram, Twitter, and Pinterest.
You May Also Like: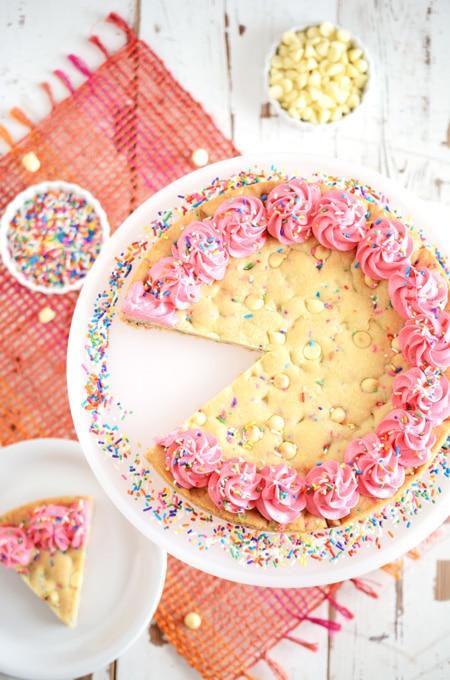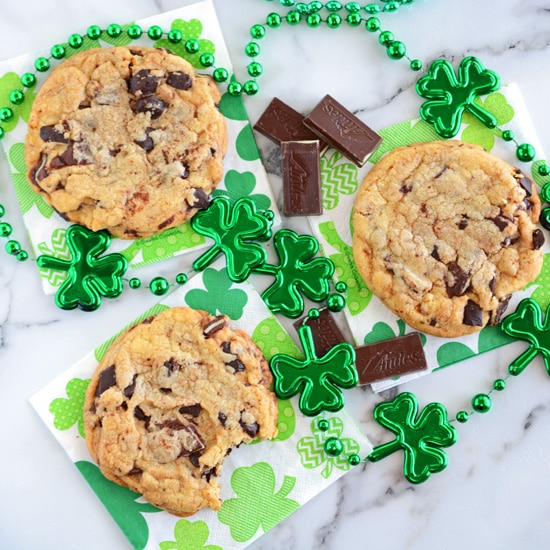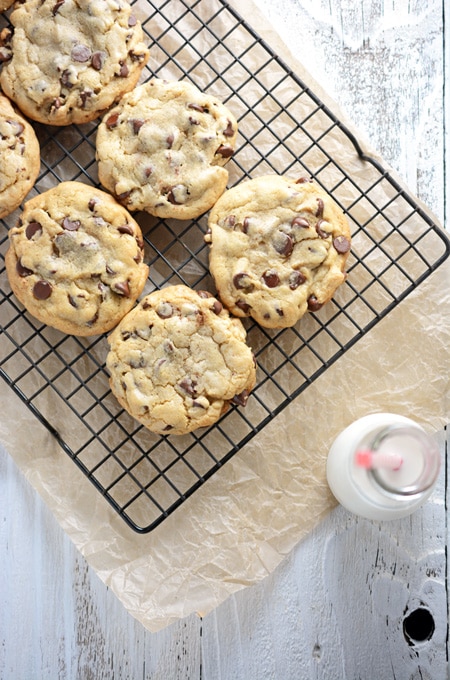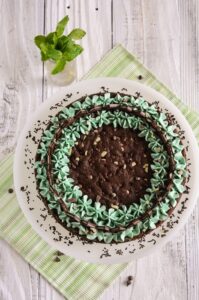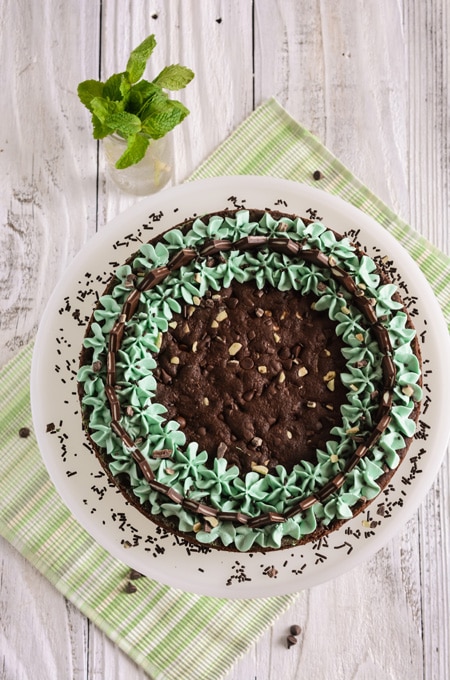 Print
Mint Chocolate Chip Cookie Cake
Yield 12 slices
Ingredients
COOKIE CAKE
BUTTERCREAM
Instructions
COOKIE
Heat oven to 350 degrees.  Spray a 9 inch round cake pan with non-stick baking spray and set aside.
In a large bowl, cream the butter, brown sugar, and sugar together on medium speed until light and fluffy, about 3 to 4 minutes.  Add the egg and vanilla extract and mix until combined. Whisk together the flour, cocoa powder, baking soda and salt in a large bowl. Add the butter mixture to the dry ingredients and mix with a wooden spoon until combined. Stir in the Andes mints and chocolate chips. Dough will be thick.
Spread dough evenly in the prepared cake pan, then sprinkle and press a few extra chocolate chips and Andes mints on top. Bake for 18 to 20 minutes or until the edges are done. The center may jiggle but will firm up as it cools.
Remove cookie cake from the oven and let cool in the pan. Once the cookie cake has cooled, remove it from the pan and place on a serving platter.
FROSTING
In a large bowl beat the butter and shortening until smooth on medium-high speed. Add 1 cup of the powdered sugar and beat until combined. Add the mint, vanilla extract and water and beat until smooth. Add remaining powdered sugar and beat to combine.
Color frosting with Leaf Green and Royal Blue gel colors, using mostly Leaf Green with just a touch of Royal Blue. Pipe frosting on the edges of the cookie cake and garnish with left over Andes mints and chocolate sprinkles.
Courses Dessert
Cuisine American