As an Amazon Associate, I earn from qualifying purchases.
Andes Mints are one of my favorite chocolate candies. So I decided to combine it with one of my favorite cookies! These Andes Mint Chocolate Chip Cookies are everything you'd imagine they'd be. Sweet and chocolatey with a hint of mint chocolate.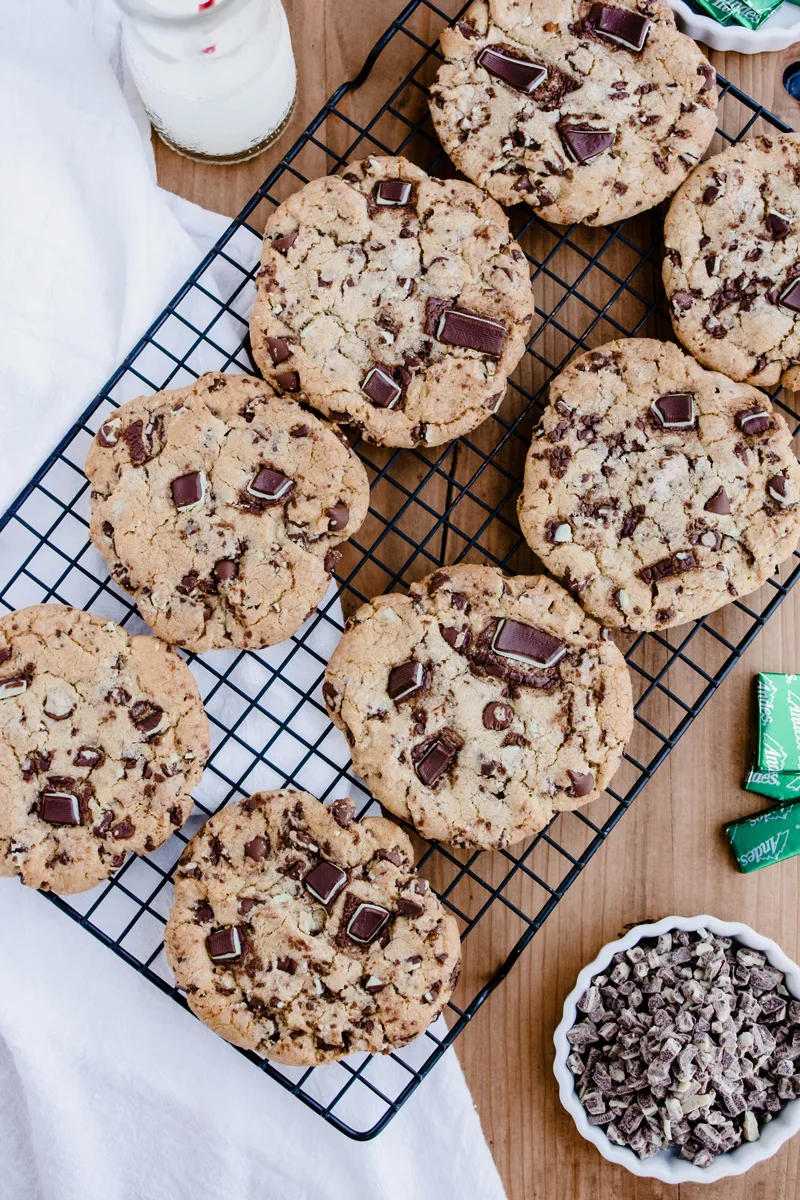 Cookie Ingredients
All-purpose flour: helps build structure in the cookie.
Baking soda: is a leavener that is activated when it comes into contact with liquid and acid, such as the brown sugar in this recipe. You must have an acidic ingredient like buttermilk, sour cream, yogurt, vinegar etc. for the baking soda to do its thing.
Salt: brings out the sweetness in baking.
Unsalted butter: gives the cookies flavor. I go for unsalted butter because different brands of butter have different salt content. This way I can control the salt in the recipe.
Light brown sugar: is an acidic ingredient which reacts with the baking soda and helps create a more complex flavor.
Granulated sugar: gives the cookie its sweetness and gives the cookies color and texture.
Vanilla extract: helps with flavor.
Mint extract: is super strong. A little goes a long way. I used just shy of 1/4 teaspoon in this recipe.
Eggs: provide structure, flavor and color.
Egg yolks: provide lots of fat which translates into flavor.
Andes Mints: gives the cookies a mint chocolate flavor.
Semi-sweet chocolate chips: it wouldn't be a chocolate chip cookie without the chocolate chips.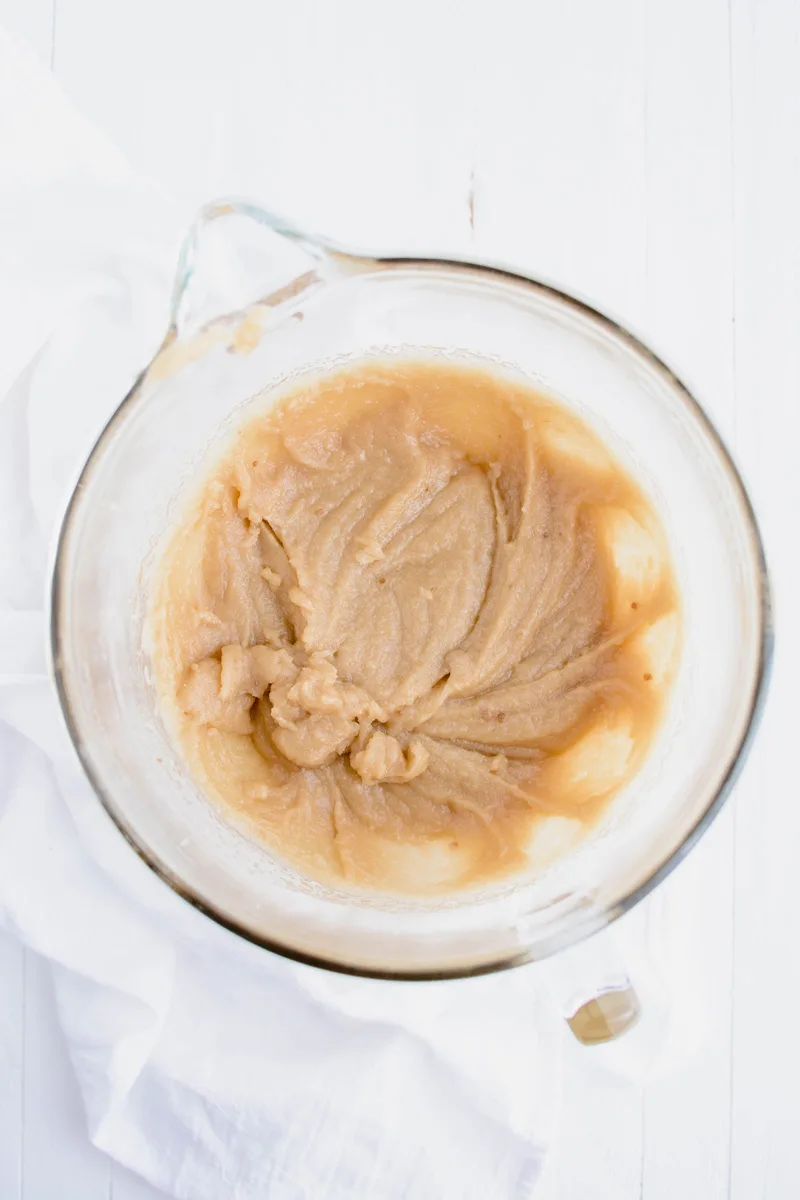 Cookie Dough Storage
The cookie dough can be stored in the refrigerator covered for up to 3 days or stored in the freezer for 6 weeks. Let the dough sit at room temperature until the dough is easy enough to scoop and roll into balls.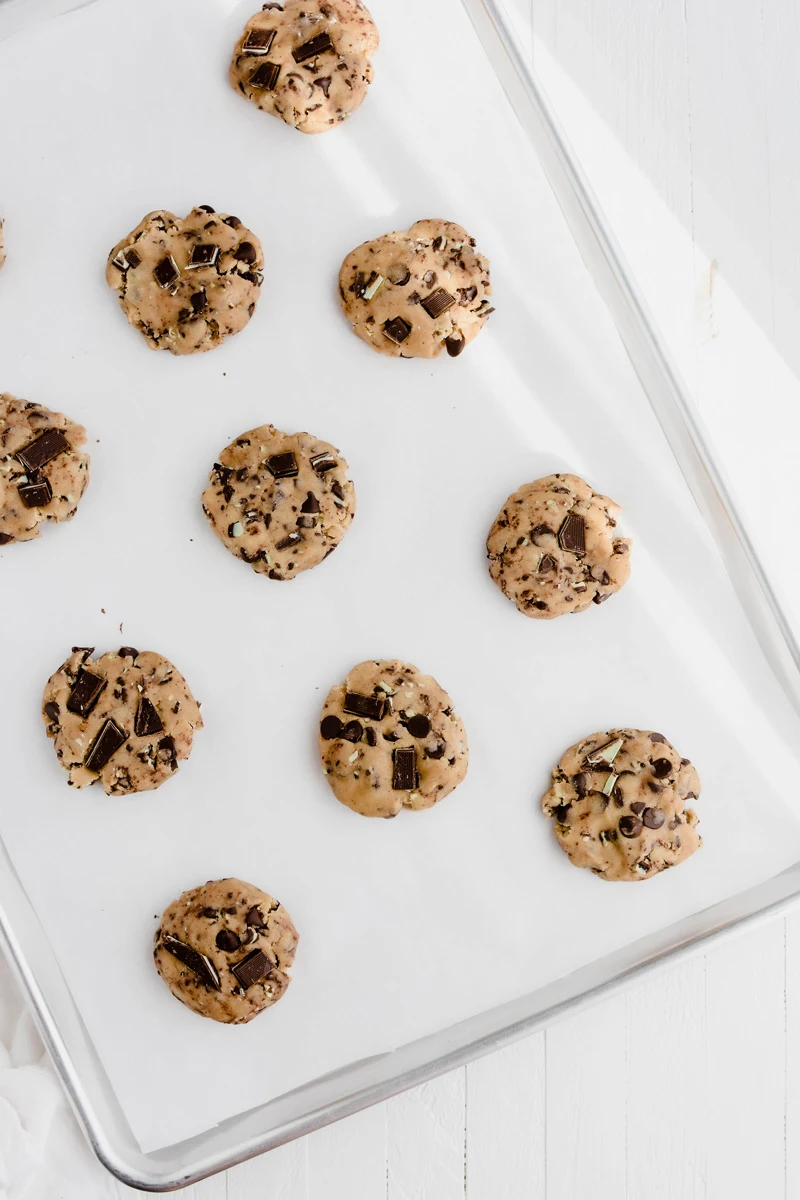 Andes Mint Chocolate Chip Cookie Garnish
This is an optional step but I always find that adding a bit of garnish to the top of the cookies makes them picture perfect. Roughly chop a few Andes Mint candies and push them on top of the cookies right before baking.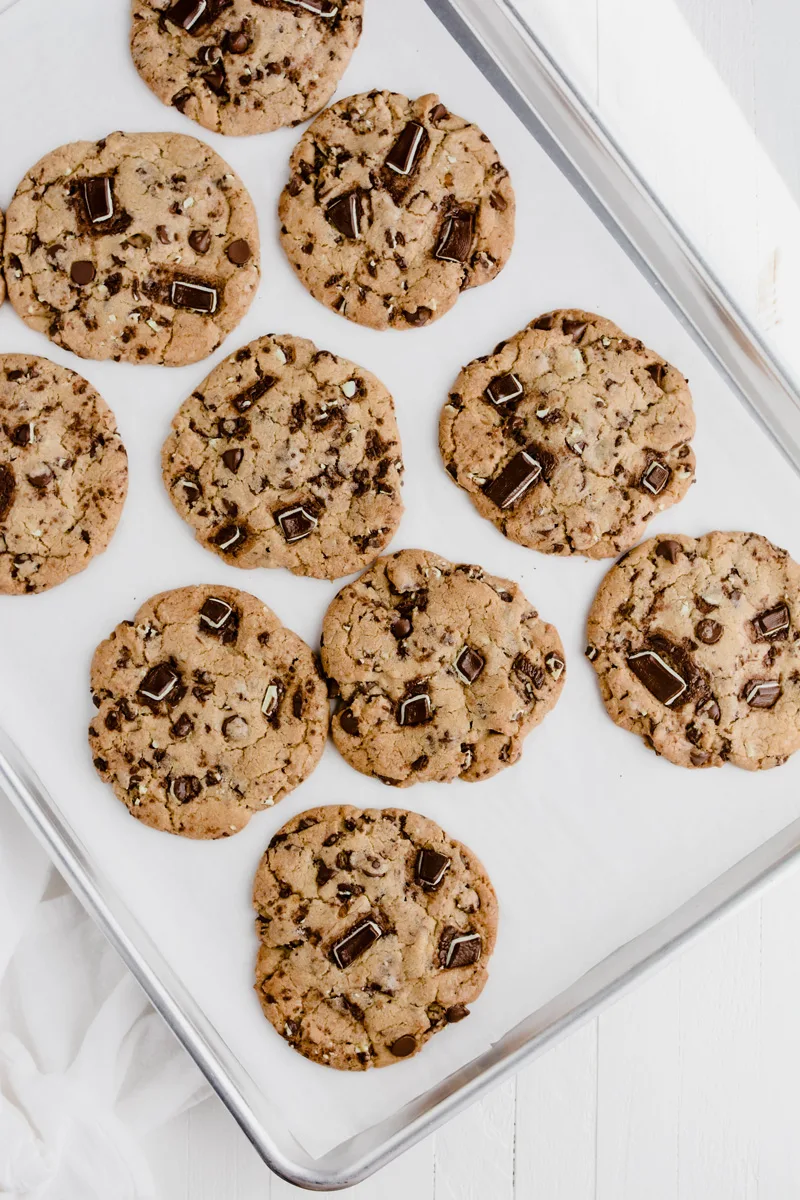 Cookie Storage
Baked cookies can be stored in an airtight container at room temperature for up to 3 to 5 days. Feel free to reheat the cookies in the microwave for 20 seconds or in a 350 degree oven for 3 to 5 minutes for a fresh-out-of-the-oven taste.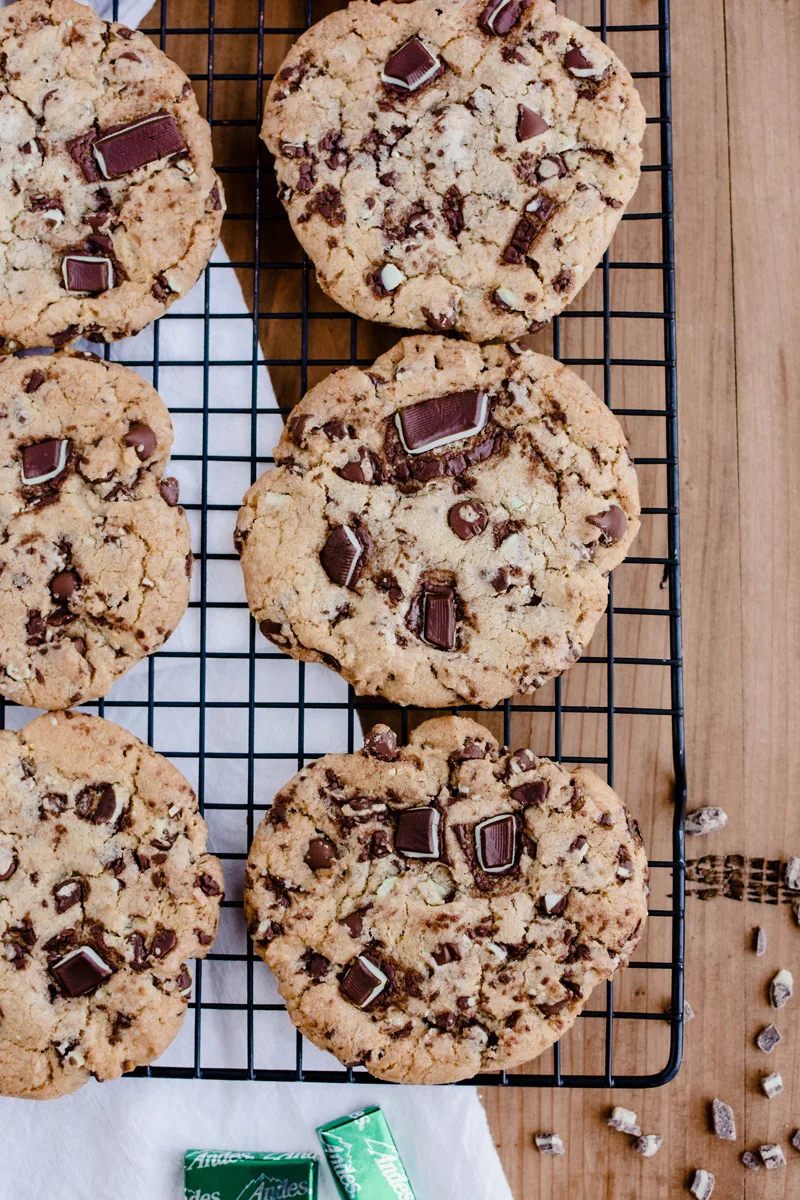 Cookie Tools
Full sized rimmed baking sheet (or 2 half rimmed baking sheets)
Parchment paper
1/4 cup measuring cup or ice cream scoop
1 pack Andes Mints, chopped (optional)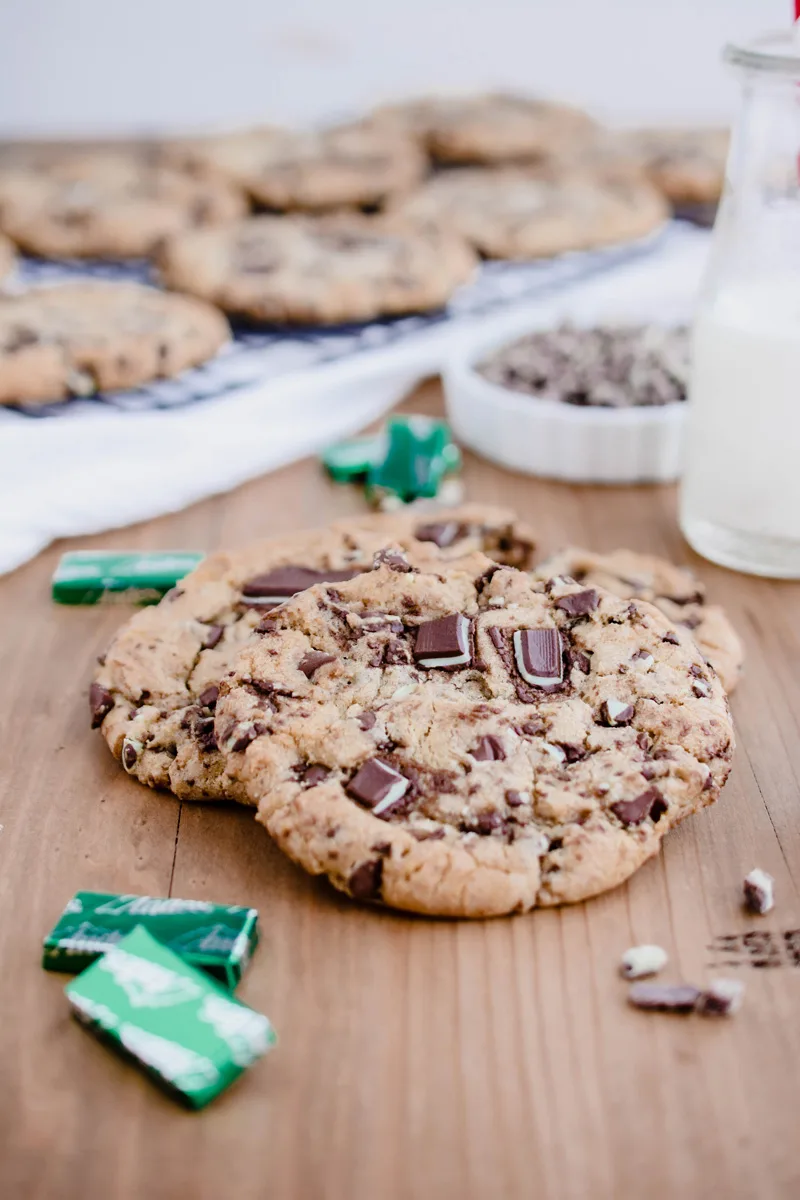 Baking Schedule
Day 1: Prepare cookie dough and bake (or store in the refrigerator).
Day 2: Bake.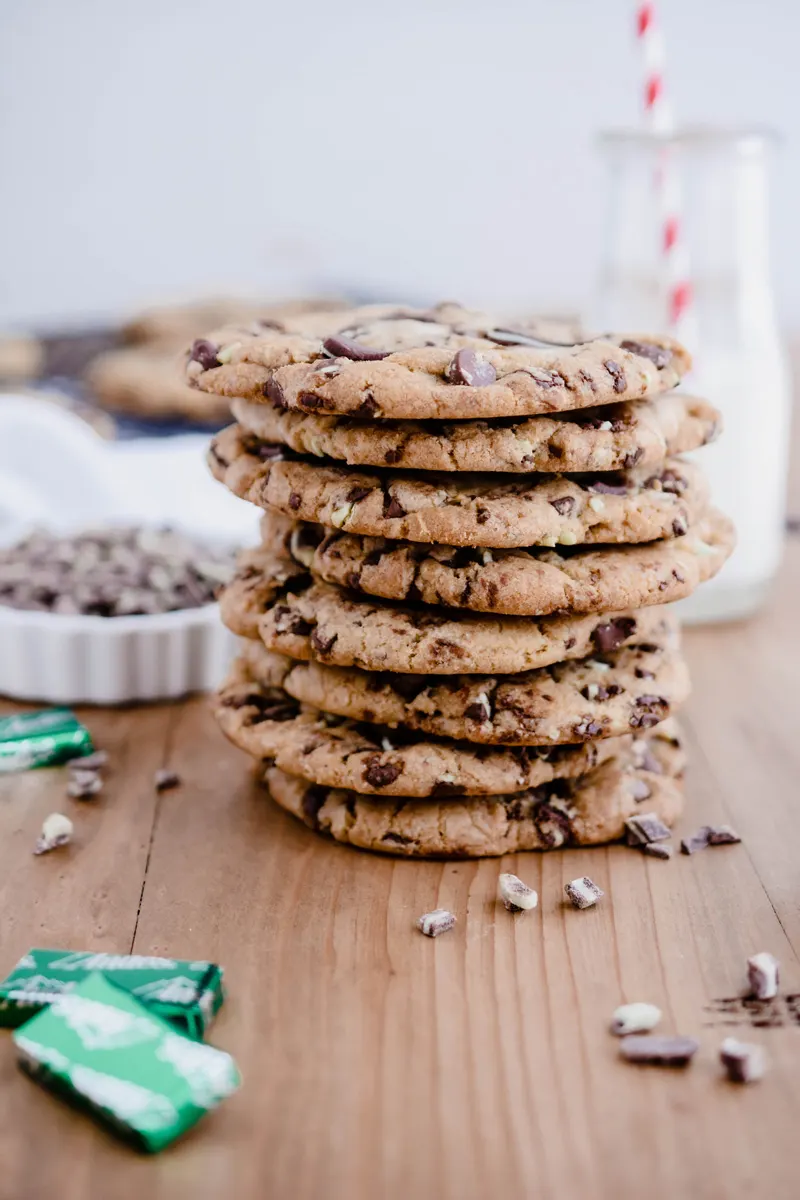 Let's Connect
The Cake Chica is on the following social media platforms below. Click subscribe, like and follow! We would love to have you over!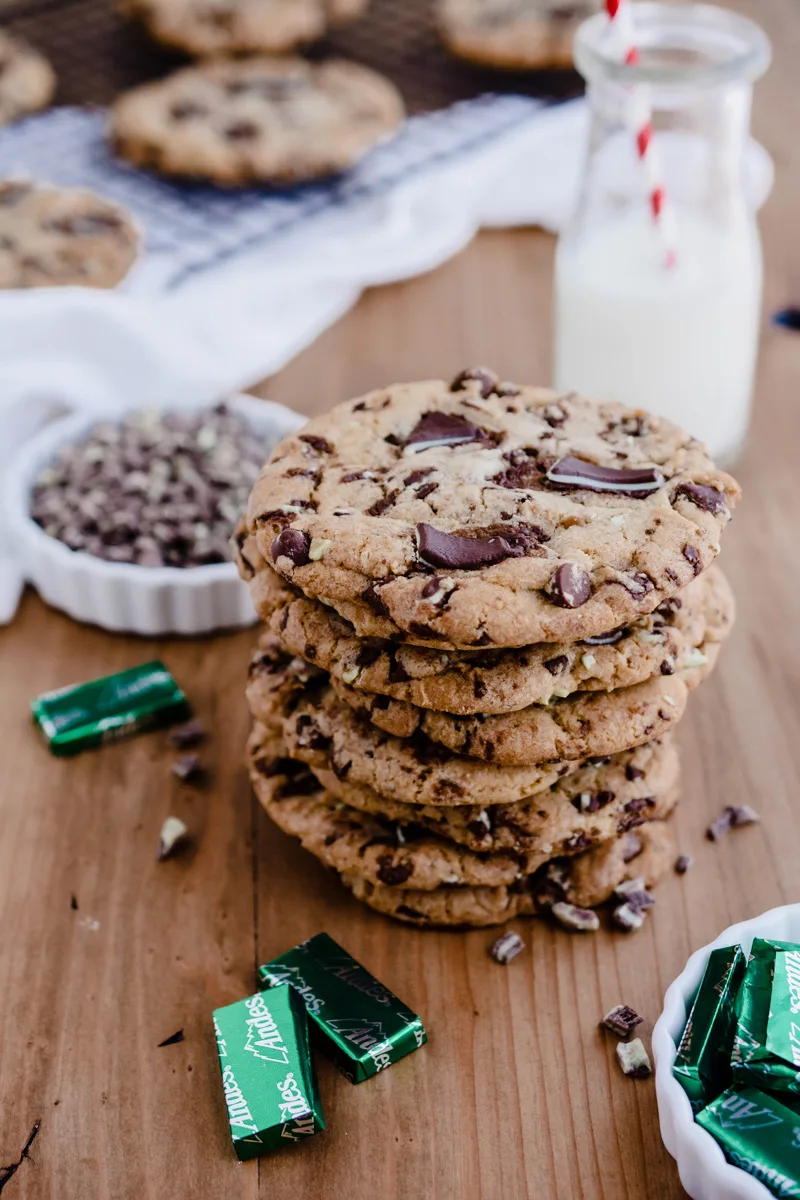 Suggested Recipes
Adapted from Best, Big, Fat Chewy Chocolate Chip Cookie
Andes Mint Chocolate Chip Cookies
Crisp and chewy chocolate chip cookies baked with Andes Mint chocolate chunks inside.
Ingredients
SPECIAL TOOLS
Full sized rimmed baking sheet (or 2 half rimmed baking sheets)
Parchment paper
Stand mixer
1/4 cup measuring cup or ice cream scoop
1 pack Andes Mints, chopped (optional)
Cooling racks
COOKIES
4 cups (20 ounces) all-purpose flour
1 teaspoon baking soda
1 teaspoon salt
1 ½ cups unsalted butter, melted and cooled
2 cups (14 ounces) packed light brown sugar
1 cup (7 ounces) granulated sugar
1 tablespoon vanilla extract
1/8 - 1/4 teaspoon mint extract
2 large eggs
2 large egg yolk
10 ounces Andes Mint Chips
12 ounces semi sweet chocolate chips
Instructions
Adjust an oven rack to the center portion and heat oven to 325 degrees. Line a baking sheet with parchment paper. Whisk together flour, baking soda and salt in a bowl and set aside.

In the bowl of a stand mixer fitted with the paddle attachment, combine cooled melted butter, brown sugar and granulated sugar and beat on medium speed until blended. Beat in extracts, eggs and egg yolks until light and creamy. Mix in the dry ingredients until blended.

Stir in the chocolate chips and Andes Mints by hand using a wooden spoon until well blended. Place batter in the refrigerator for 10 to 15 minutes to chill the dough or overnight. If the dough is chilled overnight, let it sit at room temperature for about an hour to soften up a bit.

Roll up 1/4 cup of cookie dough and place on the prepared baking sheet. Cookies should be placed about 3 inches apart. Flatten each ball of dough with the palm of your hand. Place a few chopped Andes mints on top and bake for 15 to 17 minutes, or until the edges are lightly toasted, rotating half way through baking.

Cool on the baking sheet for 4 minutes to set cookies and then remove cookies and set on a cooling rack to cool completely. Repeat with remaining cookie dough. Enjoy.

Nutrition Information:
Yield:

30
Serving Size:

1
Amount Per Serving:
Calories:

262
Total Fat:

14g
Saturated Fat:

8g
Trans Fat:

0g
Unsaturated Fat:

5g
Cholesterol:

57mg
Sodium:

137mg
Carbohydrates:

31g
Fiber:

1g
Sugar:

14g
Protein:

3g
*Nutrition information is an estimate and will vary.*