You won't find this in one of those frozen TV dinners. You'll love this fresh version of the classic dish so much more than that frozen food crap.
The sauce in this dish is based on another classic, French onion soup, using the Cheese Toasts as a big crouton.
Enjoy!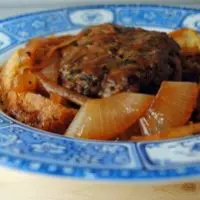 French Onion Salisbury Steak
Ingredients
FOR THE STEAK
1 ¼ pounds ground chuck
¼ cup minced fresh parsley
2 tablespoons minced scallions
1 teaspoon sea salt
½ teaspoon black pepper
2 tablespoons non-bleached all purpose flour
FOR THE SAUCE
1 tablespoon olive oil
2 cups sliced onions
1 teaspoon sugar
1 tablespoon minced garlic
1 tablespoon tomato paste
2 cups low sodium beef broth
¼ cup dry red wine
¾ teaspoon kosher salt
½ teaspoon dried thyme
Cheese Toasts
Minced fresh parsley
Shredded Parmesan
FOR THE CHEESE TOASTS
4 slices Italian baguette, cut diagonally (1/2 inch thick)
2 tablespoons unsalted butter, room temperature
½ teaspoon minced garlic
Pinch of paprika
¼ cup shredded Swiss cheese
1 tablespoon shredded Parmesan cheese
Instructions
FOR THE STEAK
Combine ground chuck, ¼ cup parsley, scallions, salt and pepper. Divide evenly into four portions and shape each into ¾ to 1 inch thick oval patties. Place 2 tablespoons flour in a shallow dish, dredge each patty in flour. Reserve 1 teaspoon flour.
Heat oil in a sauté pan over medium-high heat. Add patties and sauté 3 minutes on each side, or until browned. Remove from pan.
SAUCE
Add onions and sugar to pan; sauté 5 minutes. Stir in garlic and tomato paste; sauté until paste begins to brown 1 minute. Sprinkle mixture with reserved flour; cook 1 minute. Stir in broth, wine, salt and thyme.
Return meat to pan; bring sauce to a boil. Reduce heat to medium-low and simmer for 10 minutes.
Serve steaks on Cheese Toasts with onion parsley and Parmesan.
FOR THE CHEESE TOASTS
Preheat oven to 400 F.
Place bread on a baking sheet.
Combine butter, garlic, and paprika; spread on one side of each slice of bread. Combine cheeses and sprinkle evenly over butter. Bake until bread is crisp and cheese is bubbly, 10-15 minutes.
Nutrition Information:
Serving Size:

1
Amount Per Serving:
Calories:

614
Total Fat:

42g
Saturated Fat:

18g
Cholesterol:

129mg
Sodium:

1479mg
Carbohydrates:

21g
Fiber:

2g
Sugar:

4g
Protein:

32g