Easy Seafood Stew
The name says it all! This is a quick and Easy Seafood Stew you can make on a weeknight. And it's the perfect soup for dipping crusty bread into.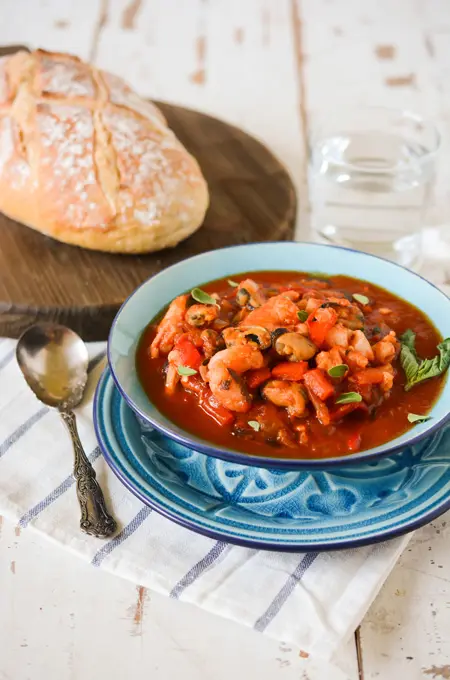 Seafood Mix
The original recipe for this stew called for calamari, but I was having a hard time finding it. I did find calamari steak but it didn't give the stew any texture, I also tried bay scallops which actually worked pretty well. But, I felt like it was still missing some substance.
So when I stumbled upon a seafood mix, which was a blend of mussels, shrimp, octopus and squid I had to try it! It was the perfect texture and blend of seafood in every bite.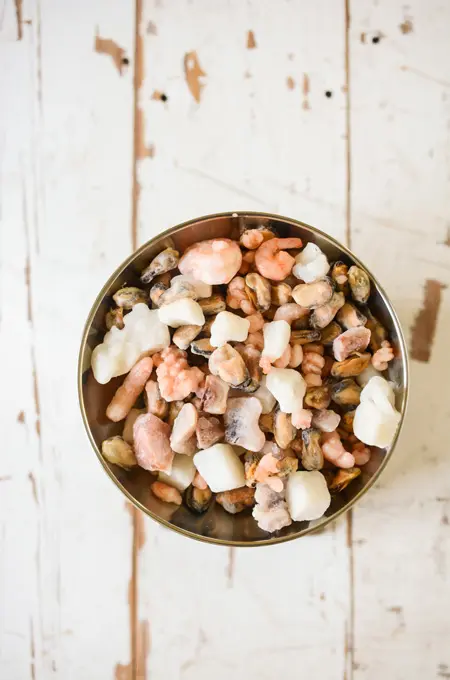 How To Roast Bell Pepper
Adjust and oven rack about 5 inches away from the broiler. Heat the broiler on high. Cut the bell pepper in half lengthwise and remove seeds and stem. Place cut side down on a rimmed baking sheet and broil until the skin blisters, about 6 minutes.
Remove from the broiler and lightly cover with foil to steam for about 10 minutes and peel skin.
This recipe uses freshly roasted bell pepper, but as a substitute you can use jarred roasted bell peppers in a pinch.
Online casino players love seafood, and it's not hard to see why. From succulent crab legs to juicy shrimp, seafood is a culinary delight that appeals to many. But what is it about seafood that makes it such a hit with casino players Seafood is widely available in many of the world's top casino destinations. Whether it's the luxurious casinos of Las Vegas or the vibrant gaming scene of Macau, seafood is a staple on many menus. And with online casinos now offering a vast selection of games and promotions to players around the world, it's no surprise that seafood has become a popular choice for those enjoying a night of gaming from the comfort of their own homes. One reason why seafood is so popular with casino https://topcasinosuisse.com/en/ players is its versatility. From sushi rolls to lobster tails, there's a seafood dish to suit every taste and budget. For those looking to indulge, high-end casino restaurants offer decadent seafood platters, while more budget-conscious players can opt for a simple plate of fish and chips. This variety makes seafood an attractive option for casino-goers of all kinds.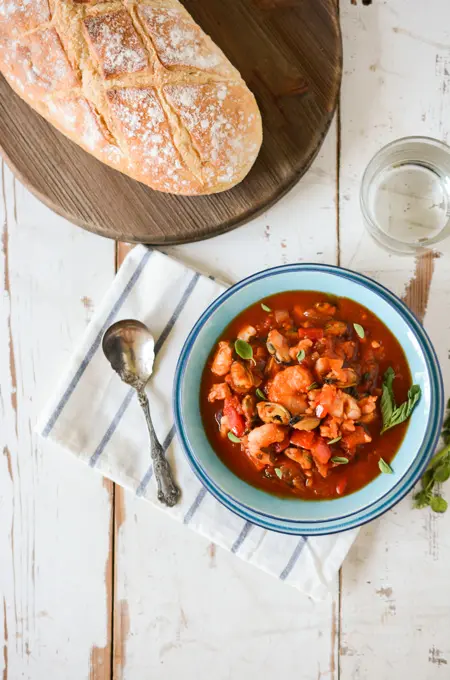 Make Ahead
Not only is this easy to make, but another advantage about this stew is you can freeze it! Just add the seafood mix right before serving because the seafood mix only takes a few minutes to cook and if the seafood gets over cooked it becomes rubbery.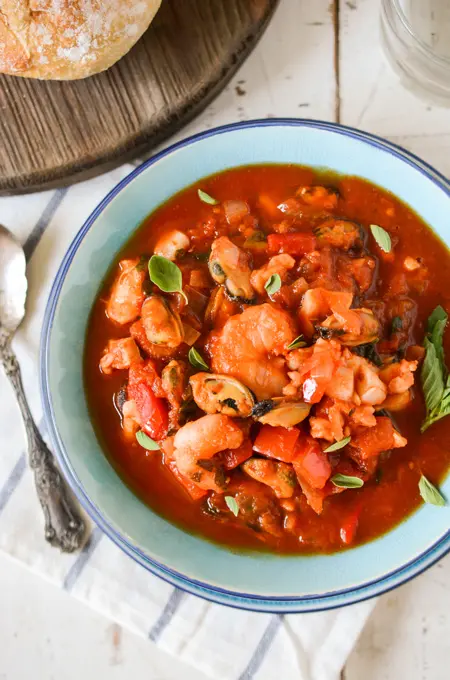 Variations
Using the seafood mix is my favorite, but you can also use calamari, mussels, shrimp and clams in place of the frozen seafood mix. You can also use canned seafood as well, a mix of clams, oysters and shrimp would be a great substitute if you can't find frozen seafood mix.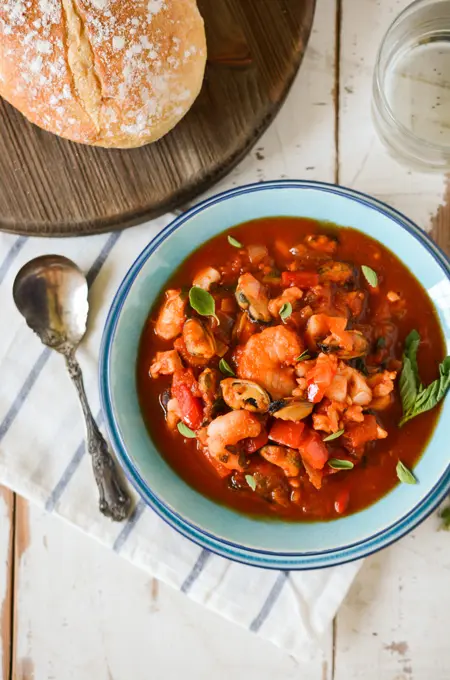 I usually post sneak peek photos on upcoming recipes on my Facebook page so be sure to go and follow! I'm also active on Instagram and Pinterest, so catch me over there!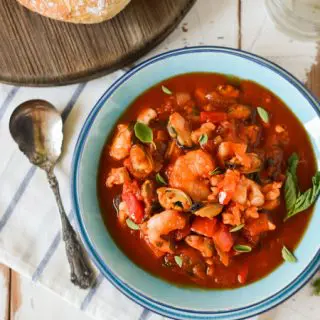 Easy Seafood Stew
Easy Seafood Stew made with a seafood mix and tomatoes, served with crusty bread.
Ingredients
SPECIAL TOOLS
SOUP
2 tablespoons olive oil
1 organic onion, chopped
4 organic garlic cloves, chopped
½ teaspoon red pepper flakes
1 28-ounce can organic crushed tomatoes
2 cups organic chicken broth
1 bell pepper, roasted, peeled, seed and chopped
¼ cup chopped organic basil
2 tablespoons chopped organic oregano
1 teaspoon kosher salt
Pinch black pepper
1 pound frozen seafood mix
Instructions
In a Dutch oven, heat the olive oil over medium-high heat. When the oil shimmers, add the onion and sauté for 4 to 5 minutes. Add the garlic and red pepper flakes and cook for 2 minutes, stirring constantly. Add the tomatoes, broth, and bell pepper and bring to a boil. Reduce the heat to low and simmer for 30 minutes.
Stir in the basil and oregano and cook for 5 minutes. Season with salt and pepper and increase the heat to medium-high. Add the seafood mix and stir to combine. Cook for 3 to 5 minutes and serve with crusty bread.
Notes
How To Roast a Bell Pepper: adjust an oven rack 5 inch from broiler and heat broiler on high. Cut the pepper in half lengthwise and remove seeds and stem. Place cut side down on a rimmed baking sheet and heat until the skin blackens, about 6 minutes. Remove from the broiler and cover loosely with foil and let steam and cool for 10 minutes. Peel skin.
Nutrition Information:
Yield:

4
Serving Size:

1
Amount Per Serving:
Calories:

315
Total Fat:

12g
Saturated Fat:

2g
Trans Fat:

0g
Unsaturated Fat:

9g
Cholesterol:

94mg
Sodium:

1615mg
Carbohydrates:

25g
Fiber:

5g
Sugar:

11g
Protein:

30g
*Nutrition information is an estimate and will vary.*
You May Also Like: