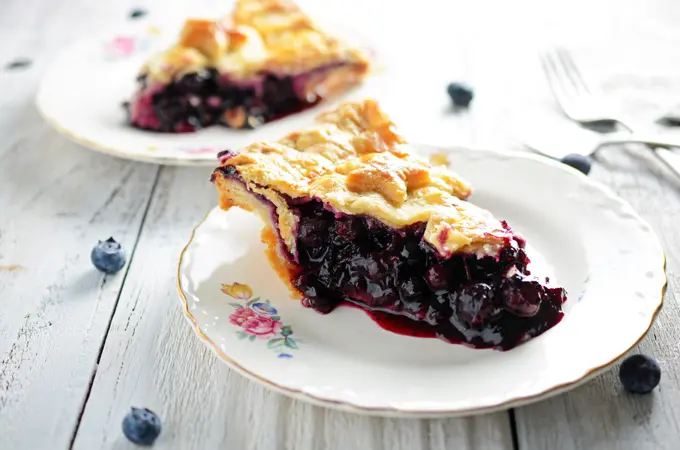 This recipe was reprinted with permission from America's Test Kitchen
Have you ever had a pie that was like eating a bowl of soup? Or a pie that looks pretty, but had the texture of paste? Yeah, I think we have all been there, but don't fear. I have the best Blueberry Pie recipe right here!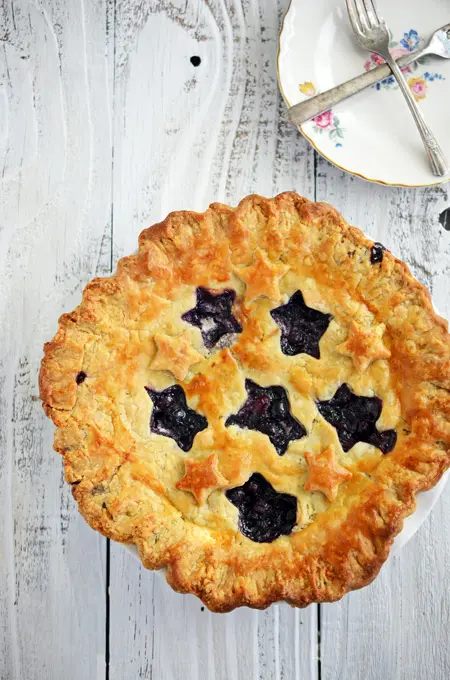 First we start with an amazing, foolproof pie dough. This pie dough is a little different than what you might be used to. We use a processor for this pie dough. The best way to incorporate the fat into the flour is by processing (not pulsing)the fat into the flour to ensure all the flour is coated in fat. By adding dry flour to the wet flour and pulsing, it will give you some flour that is coated and some flour that remains dry. This creates a layer of heavy fat, then light fat then heavy fat, giving you a flaky, foolproof pie dough.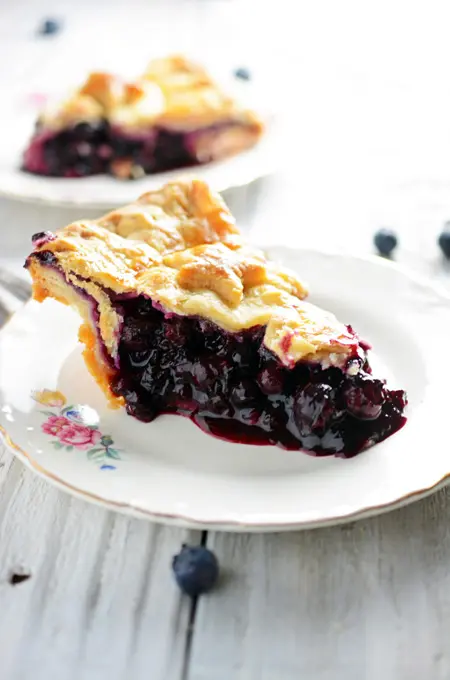 Most people are shocked when I tell them I use vodka in my pie dough. Like WHAT?!?!? VODKA?!?!? You mean you don't drink it? Well yeah I drink it but that's for another post. Vodka is the key to creating the perfect pie dough. You see too little water in a pie dough can make the dough dry and hard to work with. Too much water and that will cause the dough to create too much gluten, creating a tough pie dough. But vodka is the solution to all our pie dough problems! And other problems too but we won't get into that here. With the use of water and vodka, you will have enough liquid to easily roll out the pie dough, and have most of the alcohol evaporate during the baking process, so moisture levels are kept in check! One more thing to note, the dough will be wet. It's supposed to be that way, DO NOT add more flour.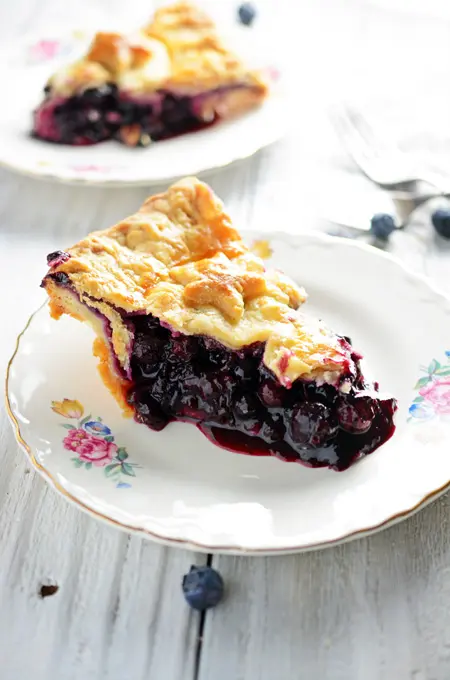 You may have noticed an apple in the list of ingredients for this Blueberry Pie. That wasn't a mistake. It has a purpose. Apples have natural pectin in them which helps to thicken things up a little. And tart apples have even more pectin. Enter the Granny Smith apple! If you were to add more thickener to the filling you would get a pretty pasty pie. Not what you want. In addition to the apple, this recipe also uses instant tapioca to help thicken the filling as well. Unfortunately I wasn't able to find instant tapioca, so I used tapioca flour. Mine came out slightly runnier then I would have liked so be sure you find instant tapioca in your grocery store or order it online. Once your pie is all ready to go in the oven, place it on the hot baking sheet and bake baby bake! The hot baking sheet will help the bottom crust bake to perfection!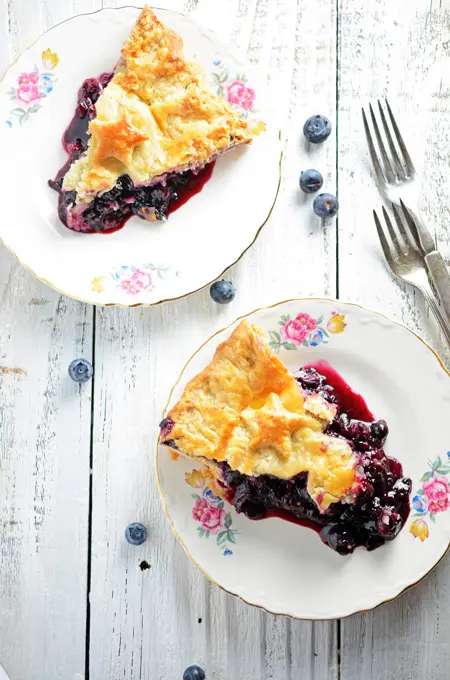 So today we've learned the secret to baking a great Blueberry Pie is: cooking half the blueberries down, using instant tapioca, and grating a Granny Smith apple, which helps to thicken but also gives the pie a nice zippy flavor.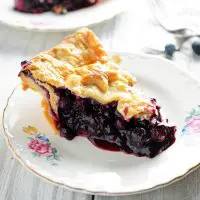 Blueberry Pie
Ingredients
PIE DOUGH
2 ½ cups all-purpose flour, plus more for work surface
1 teaspoon table salt
2 tablespoons granulated sugar
12 tablespoons cold unsalted butter (1 ½ sticks), cut into ¼-inch slices
½ cup vegetable shortening, cold, cut into 4 pieces
¼ cup vodka
¼ cup water
BLUEBERRY FILLING
6 cups fresh blueberries (30 ounces)
1 Granny Smith apple, peeled, cored and shredded
¾ cup (5 ¼ ounces) granulated sugar
2 tablespoons instant tapioca, ground in a clean spice grinder
2 teaspoons grated lemon zest plus 2 teaspoons lemon juice
Pinch of salt
2 tablespoons unsalted butter, cut into ¼-inch pieces
1 large egg, lightly beaten with 1 teaspoon water
Instructions
PIE DOUGH
Process 1 1/2 cups flour, salt, and sugar in food processor until combined, about two 1-second pulses. Add butter and shortening and process until homogenous dough just starts to collect in uneven clumps, about 15 seconds; dough will resemble cottage cheese curds and there should be no uncoated flour. Scrape bowl with rubber spatula and redistribute dough evenly around processor blade. Add remaining cup flour and pulse until mixture is evenly distributed around bowl and mass of dough has been broken up, 4 to 6 quick pulses. Empty mixture into medium bowl.
Sprinkle vodka and water over mixture. With rubber spatula, use folding motion to mix, pressing down on dough until dough is slightly tacky and sticks together. Divide dough into 2 even balls and flatten each into 4-inch disk. Wrap each in plastic wrap and refrigerate at least 45 minutes or up to 2 days.
Remove 1 disk of dough from refrigerator and roll out on generously floured (up to 1/4 cup) work surface to 12-inch circle, about 1/8 inch thick. Roll dough loosely around rolling pin and unroll into pie plate, leaving at least 1-inch overhang on each side. Working around circumference, ease dough into plate by gently lifting edge of dough with one hand while pressing into plate bottom with other hand. Leave dough that overhangs plate in place; refrigerate while preparing filling until dough is firm, about 30 minutes.
BLUEBERRY FILLING
Adjust oven rack to lowest position, place rimmed baking sheet on oven rack, and heat oven to 400 degrees. Place 3 cups berries in medium saucepan and set over medium heat. Using potato masher, mash berries several times to release juices. Continue to cook, stirring frequently and mashing occasionally, until about half of berries have broken down and mixture is thickened and reduced to 1 1/2 cups, about 8 minutes. Let cool slightly.
Place grated apple in clean kitchen towel and wring dry. Transfer apple to large bowl. Add cooked berries, remaining 3 cups uncooked berries, lemon zest, juice, sugar, tapioca, and salt; toss to combine. Transfer mixture to dough-lined pie plate and scatter butter pieces over filling.
Roll out second disk of dough on generously floured (up to 1/4 cup) work surface to 11-inch circle, about 1/8 inch thick. Using 1 1/4-inch round biscuit cutter, cut round from center of dough. Cut another 6 rounds from dough, 1 1/2 inches from edge of center hole and equally spaced around center hole. Roll dough loosely around rolling pin and unroll over pie, leaving at least 1/2-inch overhang on each side.
Using kitchen shears, trim bottom layer of overhanging dough, leaving 1/2-inch overhang. Fold dough under itself so that edge of fold is flush with outer rim of pie plate. Flute edges using thumb and forefinger or press with tines of fork to seal. Brush top and edges of pie with egg mixture. If dough is very soft, chill in freezer for 10 minutes.
Place pie on heated baking sheet and bake 30 minutes. Reduce oven temperature to 350 degrees and continue to bake until juices bubble and crust is deep golden brown, 30 to 40 minutes longer. Transfer pie to wire rack; cool to room temperature, at least 4 hours. Cut into wedges and serve.
For more recipes like this one, see
Chocolate Cream Pie
,
Grilled Cheeseburgers
and
Beer Battered Onion Rings
. Or go straight to the source at
America's Test Kitchen
,
Cook's Illustrated
and
Cook's Country
. America's Test Kitchen is my number one source for all things cooking and baking. Many of my family favorite recipes come straight from them. You won't be disappointed.