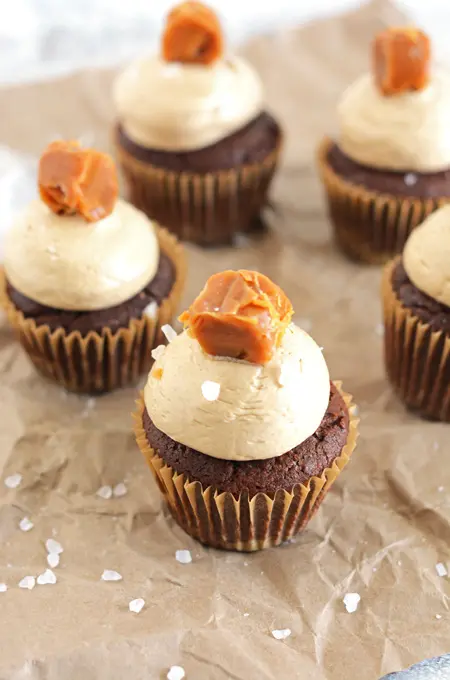 These Chocolate Cupcakes with Caramel-Espresso Buttercream are absolutely AMAZING! The base of these cupcakes is almost like a light and fluffy brownie that's full of chocolatey flavor, but not over powering.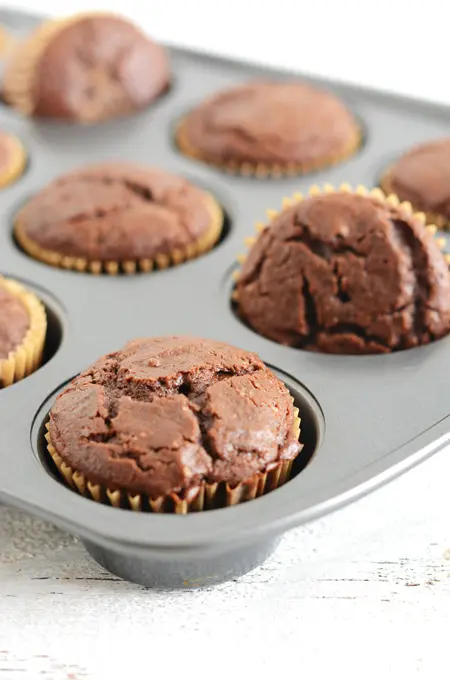 And the Caramel-Espresso Buttercream is the perfect topping. It's light and creamy and the caramel-espresso flavor pairs well with the chocolate cupcake. I truly am in love with this recipe.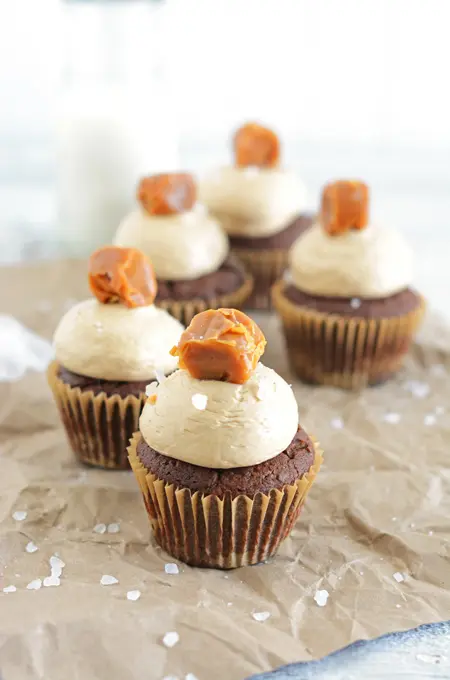 This is a French-style buttercream made with brown sugar instead of white, which turns into caramel giving this buttercream its flavor. Plus, the addition of espresso powder compliments the caramel perfectly! The Caramel Espresso Buttercream is truly heavenly, but can be a bit tricky to make. Scroll down to read some tips I've learned while making the buttercream for these Chocolate Cupcakes with Caramel-Espresso Buttercream.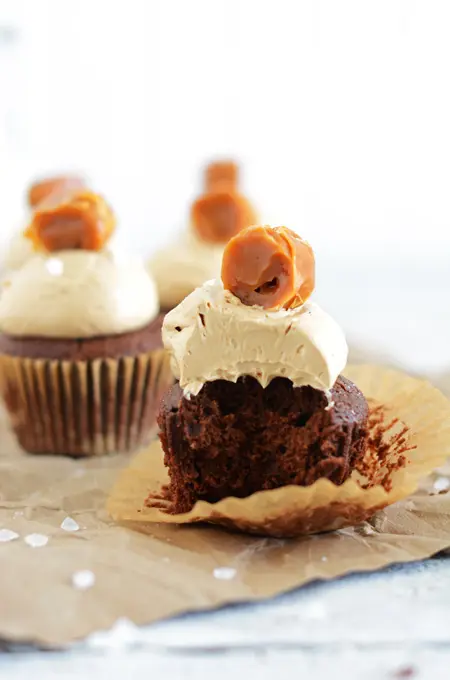 French-Style Caramel Espresso Buttercream Tips:
Before adding the butter to the egg mixture, be sure the egg mixture is room temperature! Many, many times this is where I made my mistakes. I would follow a recipe that stated the time frame at which you are to whisk, but so many times my eggs were still too hot and when I added the butter it just deflated my buttercream and melted the butter. 🙁 This time I was determined not to let that happen. I beat mine until the egg mixture was anywhere from 75-80 degrees. I used a digital thermometer to test for this.

The above tip is really the main problem I ran into previously, but I've read you can also wet a kitchen towel and freeze it and use that around the bottom of your mixing bowl to help cool the egg mixture to room temperature while it's beating.

This buttercream almost started to separate on me because I added the flavoring a little too late! (My fault, but always learning) I was a little worried at first when the buttercream started sloshing around the bowl but it quickly came together. 🙂

And if all else fails, (I've never tried this method) I've heard if your buttercream breaks or separates, just whip that buttercream up and eventually it will come together. Luckily I didn't have to resort to this. Buttercream can be a tricky beast, but once you learn how to trouble shoot it a bit, you'll be glad you made it.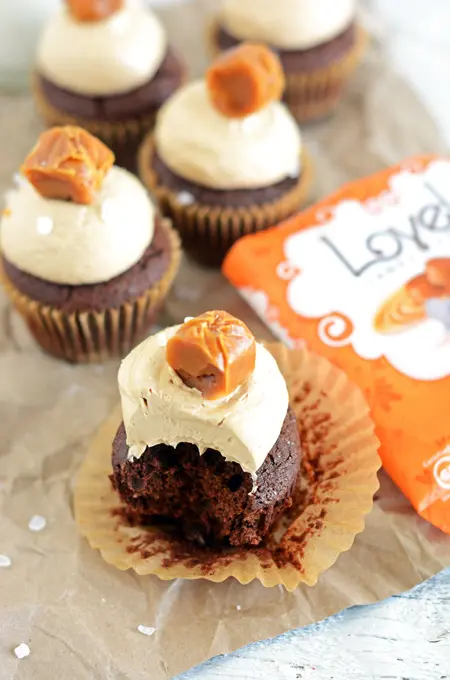 And last but not least, top your cupcakes off with a candy caramel. I usually like to make everything, down to the cupcake garnishes homemade, especially if I've gone through the trouble of making homemade cupcakes, however I find Lovely's candy very worthy.
They are made with real butter, sweetened condensed milk and molasses. No high fructose corn syrup or artificial colors. Just pure and simple ingredients. And that is something I can stand behind.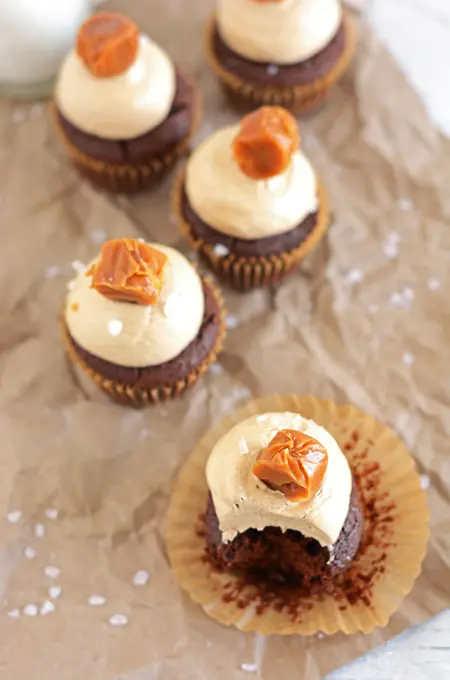 That's all I have for you this week! You can follow me on social media: Facebook, Instagram, and Pinterest.
You May Also Like:
Adapted from The Cake Book
and Food & Wine: Best of Best Cookbook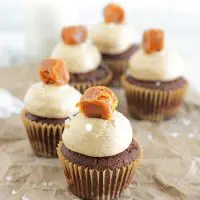 Chocolate Cupcakes with Caramel-Espresso Buttercream
Total Time:
1 hour
5 minutes
Homemade chocolate cupcakes topped with a French-style Caramel-Espresso Buttercream, topped with a caramel candy and salt.
Ingredients
SPECIAL TOOLS
CUPCAKES
6 ounces unsweetened chocolate, finely chopped
1 ¾ cups cake flour
1 teaspoon baking soda
1/2 teaspoon kosher or fine grained sea salt
8 tablespoons (1 stick) unsalted butter, softened
1 cup superfine sugar
2/3 cup firmly packed light brown sugar
2 large eggs, at room temperature
1 teaspoon vanilla extract
2 teaspoons pure chocolate extract
1 cup sour cream, at room temperature
1 ¼ cups firmly packed dark brown sugar
1 ¼ cups heavy cream
½ cup light corn syrup
¼ teaspoon salt
4 large eggs
BUTTERCREAM
1 pound (4 sticks) unsalted butter, cut into tablespoons, slightly softened
2 teaspoons vanilla extract
1 tablespoon espresso powder, dissolved in 1 tablespoons hot water
Lovely Caramel Candy
Sea salt
Instructions
CUPCAKES
Position an oven rack in the center of your oven and preheat to 350 degrees. Line 2-12 cavity cupcake pans with cupcake liners.
Melt the chocolate in the top of a double broiler stirring often with a rubber spatula to help melt the chocolate evenly. Or melt the chocolate in a microwave on low power in 30 second increments, stirring after each. Set aside to cool about 10 minutes.
In a small bowl, sift the cake flour and baking soda together. Add the salt and whisk to combine.
Beat the butter in a bowl of an electric stand mixer using the paddle attachment for about 2 minutes until light and fluffy. Add the sugars and beat together on medium speed for about 3 minutes. Scrape down the sides of the bowl with a rubber spatula as necessary.
Using a fork, lightly beat the eggs with the vanilla and chocolate extracts in a small bowl. Add to the butter mixture and mix together on low speed, stopping occasionally to scrape down the sides of the bowl. Continue to mix for 1 to 2 minutes on low speed. Don't worry if the mixture looks curdled as the eggs are added, as you stop and scrape down the bowl the mixture will smooth out.
Alternately add the flour mixture and the sour cream in 4 stages, mixing well after each addition. Stop after each addition to scrape down the sides of the bowl. Add the melted chocolate to the mixture and blend together thoroughly.
Divide the batter evenly among the prepared cupcake pans. Bake cupcakes for about 15 minutes, or until a skewer inserted into the center of each cupcakes comes out clean or with a few moist crumbs attached. Let cupcakes cool in their pan for 10 minutes, then turn over on a wire rack to cool completely.
BUTTERCREAM
In a medium saucepan, over medium-high heat, combine the sugar, heavy cream, corn syrup and salt. Stir constantly until the sugar has just dissolved. Without stirring, increase the heat to high. Attach a candy thermometer to the saucepan.
Meanwhile, in the bowl of an electric stand mixer fitted with the whisk attachment, beat the eggs at medium speed. Once the temperature on the candy thermometer reaches 225 degrees, increase the mixer to high. Continue to cook the sugar syrup until it reaches 238 degrees.
Remove the saucepan from the heat and with the mixer off, pour about ¼ cup of the hot syrup over the beaten eggs. Beat at high speed until combined, about 10 seconds. Turn the mixer off and add another ¼ cup syrup to the egg mixture and beat on high speed for another 10 seconds. Repeat this process until all the syrup is used. Using a rubber spatula, scrape down the sides of the bowl, then beat at medium-high speed until the egg mixture is completely cool, about 10 to 15 minutes, or until the mixture reaches 75 to 80 degrees.
At medium speed, beat in the softened butter 1 tablespoon at a time. Add the vanilla extract and coffee mixture and increase the speed to medium-high. Beat the buttercream until it is smooth and shiny, about 4 minutes.
GARNISH
Spread buttercream on top of each cupcake or use a piping bag fitted with your favorite decorating tip, then finish off with a candy caramel and some sea salt
Notes
Unfrosted cupcakes can be stored in an airtight container and stored at room temperature for 3 days.
Frosted cupcakes can be stored in an airtight container and stored in the refrigerator for up to 3 days. Bring to room temperature before serving.
Buttercream can be stored in an airtight container at room temperature for 6 hours, or refrigerated for up to a week. Bring to room temperature before using.
Recommended Products
As an Amazon Associate and member of other affiliate programs, I earn from qualifying purchases.
Nutrition Information:
Yield:

24
Serving Size:

1
Amount Per Serving:
Calories:

1195
Total Fat:

61g
Saturated Fat:

23g
Trans Fat:

3g
Unsaturated Fat:

32g
Cholesterol:

128mg
Sodium:

1046mg
Carbohydrates:

159g
Fiber:

6g
Sugar:

120g
Protein:

12g
*Nutrition information is an estimate and will vary.*