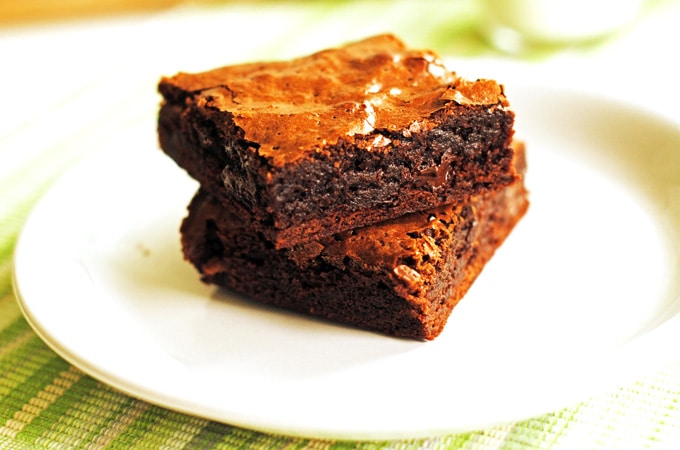 I always pride myself on making everything from-scratch, however I must confess that while I have made some great homemade brownies, I still longed for brownies made from a boxed mix. With that shiny, crisp and crackly top, who can resist? But with ingredients like partially hydrogenated soybean oil, carrageenan and artificial flavor; I was determined to find a homemade brownie recipe that tastes just like the box, only better. And I am happy to report I found it!!! This brownie is chewy, with a crispy sugar crust on top, and is full of chocolate flavor, something those box mixes can't offer! Enjoy!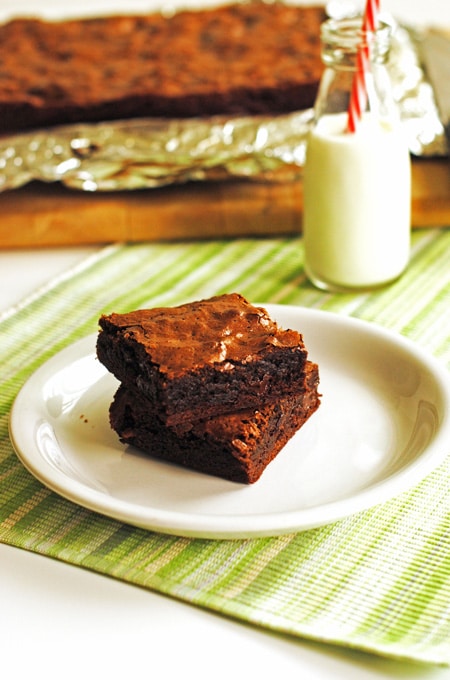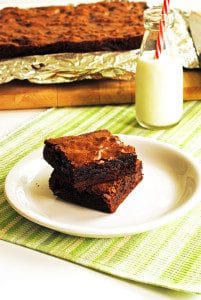 Print
Chewy Brownies
Yield 24
Ingredients
1/3 cup Dutch-processed cocoa
1 1/2 teaspoons instant espresso powder (optional)
1/2 cups, plus 2 tablespoons boiling water
2 ounces unsweetened chocolate, chopped fine
1/2 cup plus 2 tablespoons vegetable oil
4 tablespoons unsalted butter, melted
2 large eggs
2 large egg yolks
2 teaspoons vanilla extract
2 1/2 cups granulated sugar
1 3/4 cups all-purpose flour
3/4 teaspoon table salt
6 ounces bittersweet chocolate, cut into ½-inch pieces
Instructions
Adjust your oven rack to the lowest position and heat the oven to 350 degrees. Line a 13x9x2 inch baking pan by placing 2 sheets of aluminum foil in the pan, one sheet horizontal and one vertical. Be sure to leave excess foil on each side to create handles to help pull the brownies out of the pan when they have finished baking. Grease the foil and set aside.
Whisk cocoa, espresso powder, if using and boiling water together in a large bowl until smooth. Add unsweetened chocolate and whisk until chocolate is melted. Whisk in the oil and melted butter. Mixture will look curdled. Add the eggs, egg yolks and vanilla and continue to whisk until smooth and homogeneous. Whisk in the sugar until fully incorporated. Whisk together the flour and salt in a small bowl and then mix into the batter with a rubber spatula until combined. Fold in bittersweet chocolate pieces.
Transfer the batter into the prepared pan; spread the batter into the corners of the pan and smooth out the surface. Bake until a toothpick inserted in the center of the brownies comes out with a few moist crumbs attached, about 30 to 35, rotating the pan halfway through baking. Transfer the pan to a wire rack and let cool for 1 1/2 hours. (For the chewiest texture, be sure to cool the brownies thoroughly before cutting.) If you have baked in a glass baking dish let the brownies cool for 10 minutes, then; remove promptly from the pan, otherwise the heat retention of the glass can lead to over-baking.
Remove the brownies from the pan using the foil handles. Return the brownies to a wire rack and let cool completely, about 1 hour. Cut the brownies in 2 inch squares and serve.
Courses Dessert
Cuisine American
Adapted from Cook's Illustrated