This super fun Cherry Chocolate Chip Cake has 3 layers of fluffy white cake, baked with cherries and mini chocolate chips inside. Next I covered and filled the cake with a rich but light chocolate whipped ganache. As an added bonus I topped the frosted cake with a chocolate drip that adds more chocolate impact to the overall cake. For the final touch I added some bright and sweet maraschino cherries and a few sprinkles of mini chocolate chips.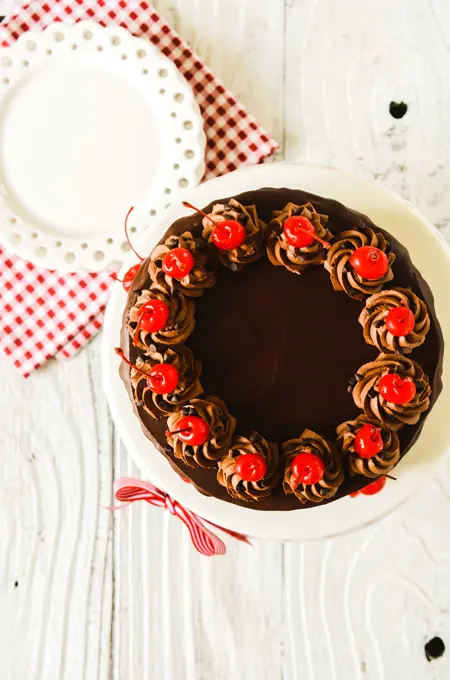 Cherry Chocolate Chip Cake Layers
Basic white cake layers are jazzed up here with cherries from canned pie filling and mini chocolate chips, creating a fun and playful cake.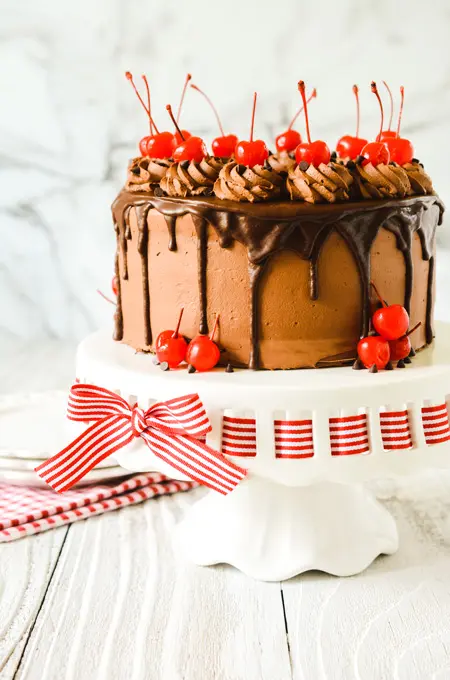 Whipped Chocolate Ganache
Whipped ganache is probably my favorite style of frosting. It's easy to make and so light and airy and full of chocolate flavor. Not only that, but it's incredibly easy to decorate with!
Don't Forget: The chocolate mixture needs to chill in the refrigerator for at least 6 hours before it's ready to whip, so plan ahead!
Chocolate Drip
So if you've seen my last few cakes you'll know I've been all about the chocolate drip! I usually opt for a semi sweet or bittersweet chocolate because it just adds an extra chocolatey kick to the cake. But if you've got a serious sweet tooth, you can also use milk chocolate in this easy chocolate drip.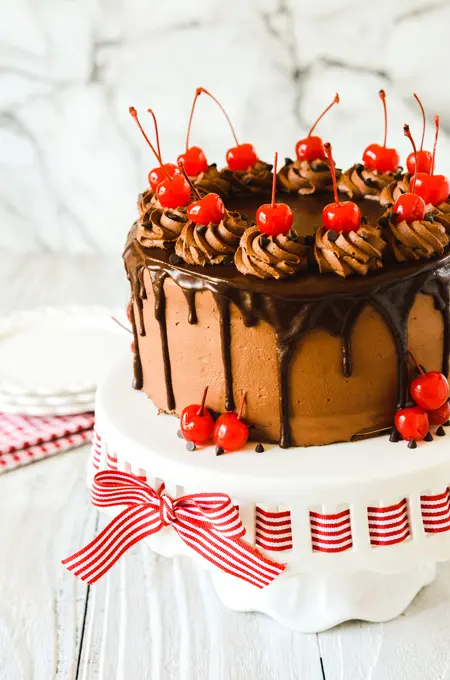 Maraschino Cherries
Maraschino cherries are always a fun and easy way to decorate a cake. The bright red pops beautifully against the chocolate and brings out the cherry flavor. Before adding the cherries on top of the cake I rinse the cherries under water and pat them dry with paper towels to keep any juice from leaking on the frosting.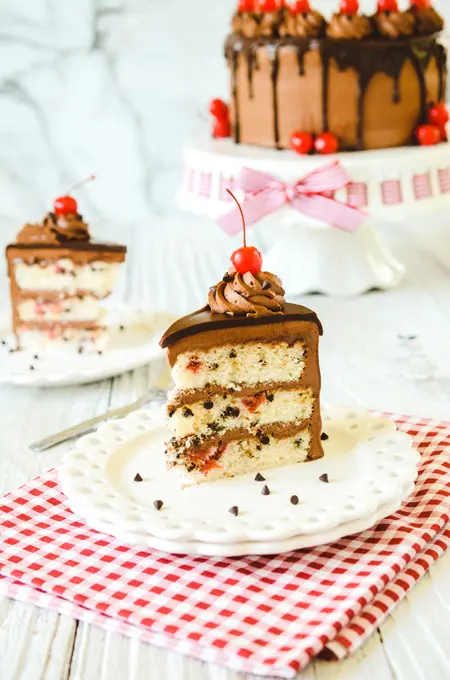 Plan It Out
This is the section where I like to get organized! There's nothing difficult about this cake but it always helps to be organized when baking. Here's what my baking scheduled looked like for this Cherry Chocolate Chip Cake:
Day 1: Bake the cake layers. Before bed, make the super simple ganache and chill in the refrigerator overnight.
Day 2: Whip up the chilled ganache. Assemble the cake. Make chocolate drip and decorate the cake.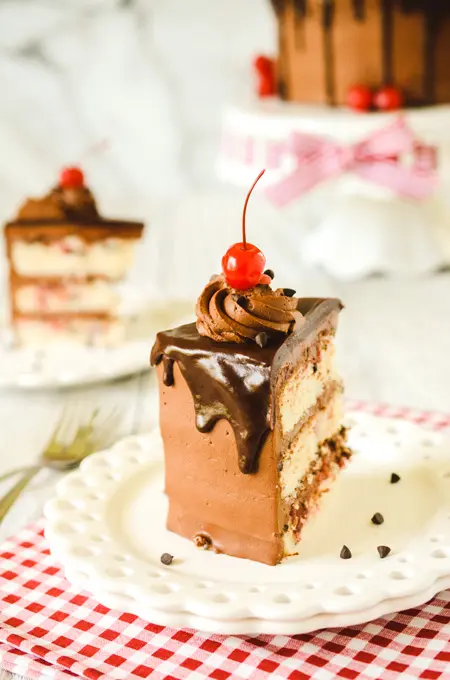 Cake Assembly
This basic white cake uses the reverse creaming method which usually produces fairly flat tops on your cake layers so trimming the cake layers shouldn't be needed here. For more details about reverse creaming you can check out my White Cake with Strawberry Filling recipe.
Once the cake layers have been assembled (filled and frosted), make the chocolate drip. The chocolate drip should be cool but still pourable before it's added to the cake. Too hot and it will melt the whipped ganache, too cool and it won't drip properly. Twenty to 30 minutes should be perfect pouring consistency.
I choose to do 2 layers of chocolate drip. Let the first layer of chocolate drip set in the refrigerator for at least 10 minutes before adding another layer on top. Chill that layer of chocolate drip for another 10 minutes before adding any additional decoration on top.
Pipe the top of the cake with whipped ganache swirls and top with maraschino cherries and mini chocolate chips and serve!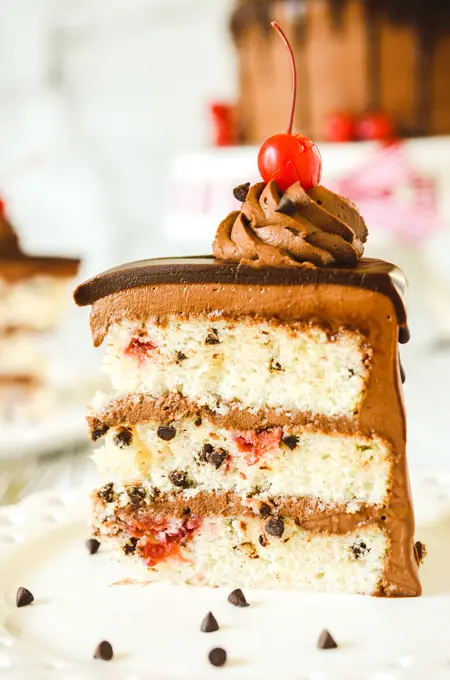 Lets Connect
The Cake Chica is on Facebook sharing sneak peeks of recipes to come, Instagram for your food porn desires and Pinterest for your board pinning needs.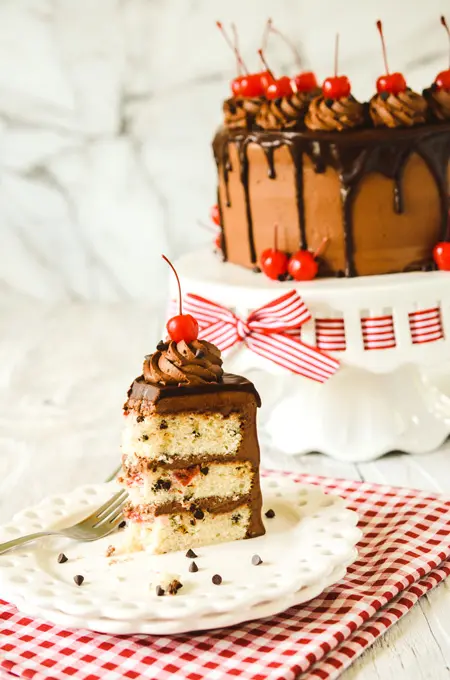 You May Also Like
---
Adapted from America's Test Kitchen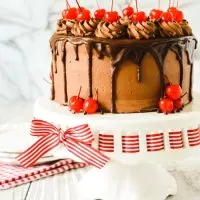 Cherry Chocolate Chip Cake
Total Time:
6 hours
50 minutes
Three layers of white cake baked with cherries and chocolate chips inside. Filled and frosted with a light and airy whipped ganache and chocolate drip.
Ingredients
SPECIAL TOOLS
CAKE
1 (21 ounce) can cherry pie filling
1 cup (8 ounces) whole milk, at room temperature
6 large egg whites, at room temperature
1 teaspoon vanilla extract
2 ¼ cups (9 ounces) cake flour
1 ¾ cups (12 ¼ ounces) granulated sugar
4 teaspoons baking powder
1 teaspoon salt
12 tablespoons unsalted butter, cut into 12 pieces, at room temperature
½ cup mini chocolate chips
WHIPPED GANACHE
14 ounces bittersweet chocolate, chopped
4 cups (32 fluid ounces) heavy cream
2 tablespoons Chambord, or 2 teaspoons vanilla extract
CHOCOLATE DRIP
6 ounces semisweet chocolate, chopped
¾ cup (6 fluid ounces) heavy cream
¼ cup (4 tablespoons) unsalted butter
GARNISH
Maraschino cherries with stems
Instructions
CAKE
Adjust an oven rack to the center position and heat oven to 350 degrees. Spray cake pans with baking spray and set aside.
Rinse pie filling in a fine mesh strainer and dry well with paper towels. Chop cherries fine and reserve ½ cup of the cherries. Discard remaining cherries or save for another purpose.
In a medium sized bowl, whisk together the milk, egg whites and vanilla extract. In a stand mixer, fitted with the paddle attachment, combine the flour, sugar, baking powder and salt on low speed. Once combined, add the butter one piece at a time until the mixture starts to form pea sized clumps, about 1 minute.
Reserve ½ cup of the milk mixture and add the remaining milk mixture in with the flour mixture and increase the speed to medium-high. Beat until light and fluffy, about 1 minute. Reduce the speed to medium-low and slowly add the reserved milk mixture to the batter, and mix until incorporated (the batter may appear curdled). Mix the batter a few times by hand with a rubber spatula. Gently fold in the chopped cherries and mini chocolate chips.
Divide cake batter among the prepared cake pans and bake for 20 to 25 minutes, or until a toothpick inserted in the center comes out with a few moist crumbs attached, rotating pans halfway through baking. Let cakes cool in their pans for 10 minutes then invert onto wire racks to cool completely.
WHIPPED GANACHE
Place chopped chocolate in the bowl of a stand mixer and set aside.
In a medium sized saucepan, add the heavy cream and bring to a gentle boil over medium-high heat. Pour the boiling cream over the chopped chocolate and let sit for 1 minute. Whisk chocolate until melted and smooth. Add in the Chambord or vanilla extract and mix to combine. Cover the surface of the ganache with plastic wrap and refrigerate overnight or at least 6 hours.
With the whisk attachment attached a stand mixer, beat the ganache on medium-high speed until medium peaks form and the ganache is firm enough to spread, about 1 minute. Be careful not to over mix.
ASSEMBLE
Place one cake layer on a cake platter and top with ¾ cup whipped ganache, spreading to the edges of the cake. Add the second cake layer on top and spread another ¾ cup chocolate ganache on top, spreading to the edges of the cake. Place the last cake layer on top and cover the top and sides of the cake with the whipped ganache. Place remaining whipped ganache in a piping bag fitted with Ateco piping tip #827 and set aside. Chill the cake in the refrigerator while you prepare the chocolate drip.
CHOCOLATE DRIP
Place chopped chocolate in a heatproof bowl and set aside. In a small saucepan, bring the heavy cream and butter to a boil over medium heat. Pour the boiling cream over the chopped chocolate and let sit for 1 minute. Stir the chocolate until melted and smooth and let cool for about 20 minutes before using.
Once your chocolate drip is ready, pour the chocolate drip over the top of the cake and spread with a large off set cake spatula to the edges to allow the chocolate to drip over the sides. For a more controlled drip, use a spoon and drop chocolate drip near the edge and gently coax the chocolate over the sides. Fill the center with more chocolate drip and use a cake spatula to cover the top completely, joining the chocolate on the outer edges. Chill the cake for 10 minutes. Add another layer of chocolate drip on top and chill the cake for another 10 minutes. With the remaining whipped ganache in your piping bag, pipe swirls around the top edges of the cake. Place a maraschino cherry on top of each swirl and serve.
Notes
Make Ahead: Cake layers can be made up to 3 days in advance, stored in plastic wrap in an airtight cake container at room temperature. Whipped ganache can be made up to 1 week in advance. Bring to room temperature before using.
Cake Storage: Assembled cake can be stored in an airtight cake container in the refrigerator for up to 2 days.
Nutrition Information:
Yield:

12
Serving Size:

1
Amount Per Serving:
Calories:

649
Total Fat:

43g
Saturated Fat:

25g
Trans Fat:

0g
Unsaturated Fat:

16g
Cholesterol:

59mg
Sodium:

441mg
Carbohydrates:

56g
Fiber:

7g
Sugar:

21g
Protein:

12g
*Nutrition information is an estimate and will vary.*