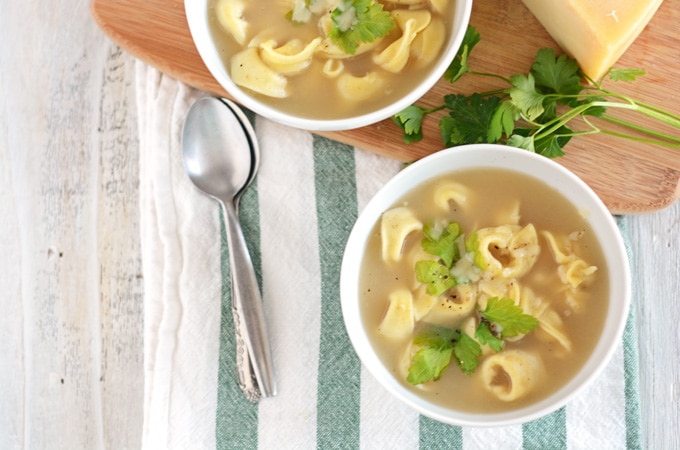 This Cheese Tortellini in Light Broth is an old favorite of mine from Giada's book Everyday Italian. I've been fighting a cold for the last week and was craving something light, simple and easy to make. Being sick I have not been up for cooking much and I was getting tired of all the takeout Craig was bringing home, and wanted something home cooked. I then remembered this recipe, and on Easter Sunday mustered up enough energy to make it to church and then head over to my local Trader Joe's to pick up the small list of ingredients for this soup. With just 5 ingredients you can prepare this soup when you are not feeling so great, or for a quick dinner after work, or anytime you are in need of a quick and tasty meal. Feeling better already 🙂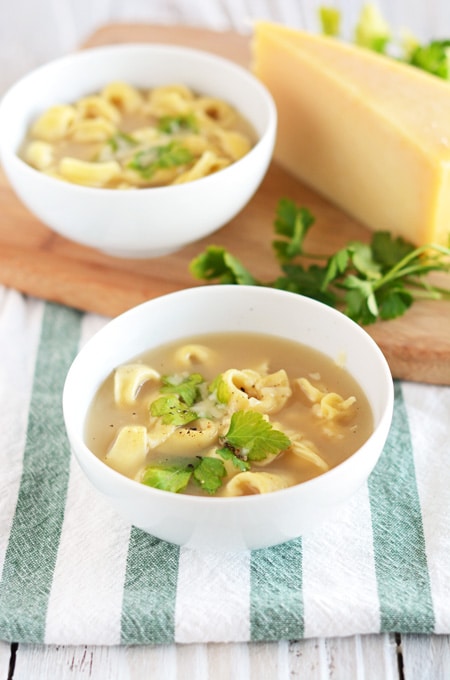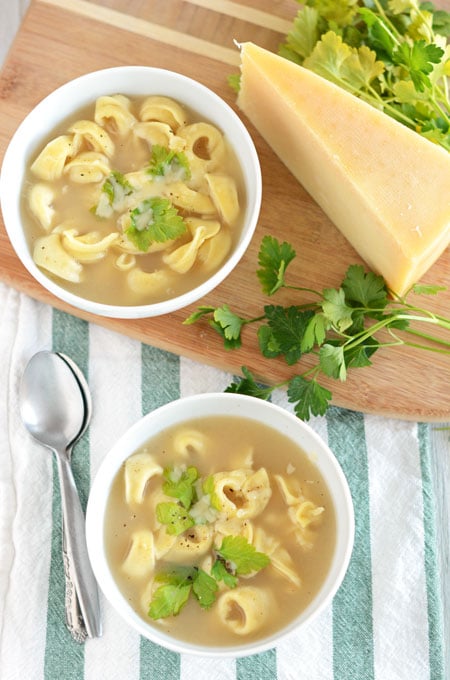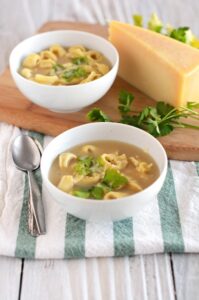 Print
Cheese Tortellini in Light Broth
Yield 4 servings
Ingredients
4 cups homemade or organic chicken broth
1 12-ounce package cheese tortellini
½ teaspoon fresh ground black pepper
¼ cup shredded Parmesan cheese
1 tablespoon chopped fresh Italian parsley
Instructions
Pour broth into a large saucepan. Cover and bring to a boil. Add the tortellini and ½ teaspoon pepper. Cover partially and simmer over medium heat, stirring occasionally. Cook until the tortellini is al dente, about 7 minutes.
Ladle soup into serving bowls and top with Parmesan cheese and fresh parsley.
Courses Main
Cuisine American
Nutrition Facts
Serving Size 1 bowl
Amount Per Serving

Calories 279

% Daily Value

Total Fat 5 g

8%

Saturated Fat 4 g

20%

Cholesterol 45 mg

15%

Sodium 547 mg

23%

Total Carbohydrates 34 g

11%

Dietary Fiber 2 g

8%

Sugars 3 g

Protein 17 g

34%
* Percent Daily Values are based on a 2,000 calorie diet. Your daily values may be higher or lower depending on your calorie needs.
Adapted from Everyday Italian by Giada De Laurentiis