A few days ago I had the urge to take a look at some of my older posts on my blog. I went back to when I first started blogging, and yikes, talk about some cringe worthy photos. I spotted this one and I felt that I needed to do this recipe justice and retake the photo. It's still one of my favorite meatloaf recipes. I have tried several throughout the years and this one is still my favorite, and it is so easy!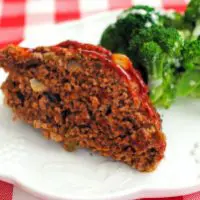 Cajun Meatloaf
Ingredients
4 tablespoons unsalted butter
1 large onion, chopped
1 green bell pepper, chopped
2 teaspoons kosher salt
1 teaspoons cayenne pepper
2 teaspoons ground cumin
Ground black pepper
2 pounds lean ground beef
2 eggs, beaten
1 cup fine dry breadcrumbs
1 cup ketchup, divided
Instructions
Heat oven to 375 degrees. Melt butter in heavy medium sized skillet over medium-low heat. Add onion, bell pepper, salt, cayenne pepper and cumin. Sauté until vegetables are tender, about 10 minutes, and sprinkle with pepper.
Combine meat, egg, breadcrumbs and 1/2 cup ketchup in large bowl and blend well. Mix in sautéed vegetables. In a 11x9x2 glass baking dish form meat mixture into 3 inch high and 5 inches wide loaf. Bake 20 minutes. Spread top with remaining ketchup and bake until cooked through, about 40 minutes longer. Let stand on counter for 10 to 15 minutes before serving.
Nutrition Information:
Serving Size:

1
Amount Per Serving:
Calories:

532
Total Fat:

26g
Saturated Fat:

12g
Cholesterol:

147mg
Sodium:

1477mg
Carbohydrates:

26g
Fiber:

1g
Sugar:

12g
Protein:

45g
Adapted from Bon Appetit Fast Easy Fresh Cookbook