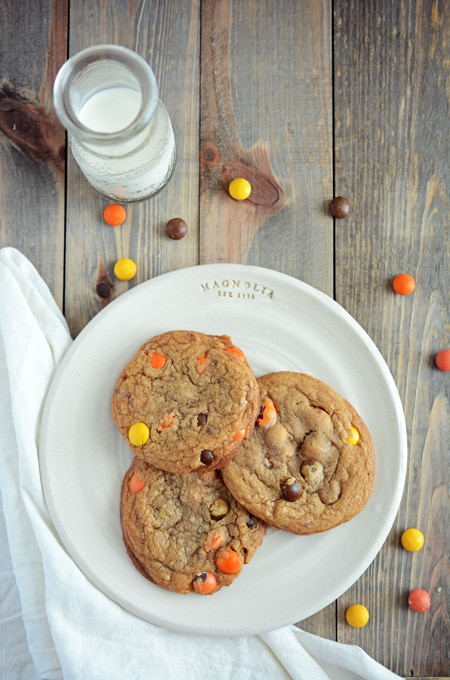 Disclosure: Please note that some of the links in this post are affiliate links and I will earn a commission if you purchase through those links.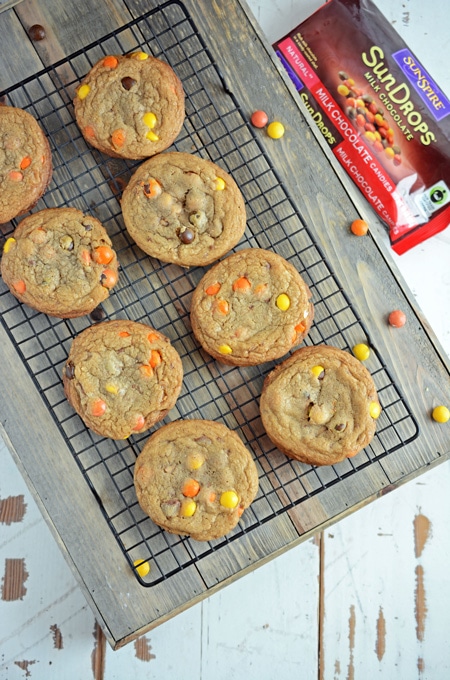 These Browned Butter Chocolate Candy Cookies may look like your average chocolate chip cookie but they are not! The browned butter provides an amazing toffee flavor. So if your palate is more on the sophisticated side, I recommend you give these cookies a try. They might just become your new favorite recipe for the all american chocolate chip cookie!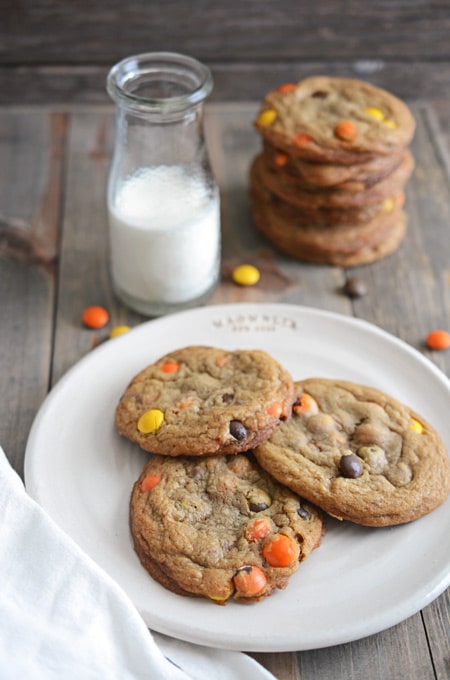 Letting the browned butter, sugars and eggs sit for a few minutes not only helps the toffee flavor develop, but also helps to achieve those crispy edges and chewy centers.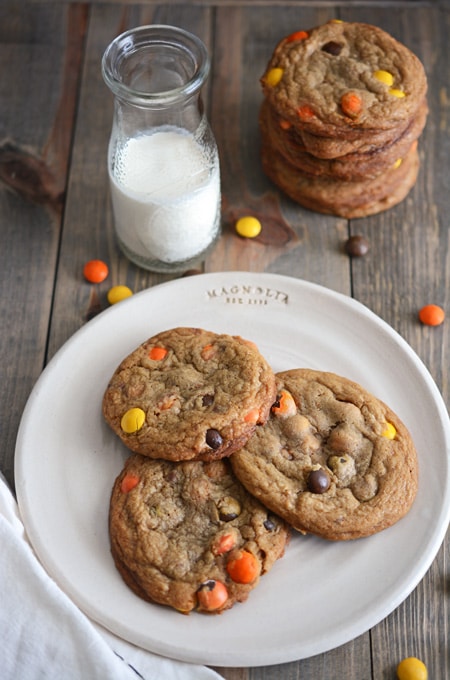 This month in my Degustabox I got some SunSpire Sun Drops Milk Chocolate candies. They are a great healthier alternative to M&M's. Their smooth chocolate centers are made with rich milk chocolate, sweetened with evaporated cane juice and a touch of unsulphured molasses. Their bright colors come straight from nature, through beet juice, beta-carotene and natural caramel. And they're Non-GMO!
The beautiful colors in this cookie got me thinking about Thanksgiving. Yes, Thanksgiving will be here before you know it and it's never too early to start planning your Thanksgiving menu! And  I think these Browned Butter Chocolate Candy Cookies would go perfectly on your Thanksgiving table this year.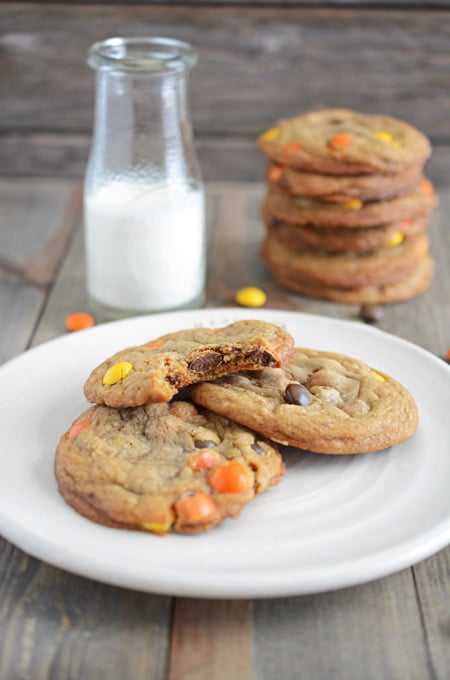 If you liked this recipe you may also like: The Perfect Chocolate Chip Cookie, Snicker's Chocolate Chip Cookies, and Best Big, Fat Chewy Chocolate Chip Cookie. Follow The Cake Chica on social media here: Facebook, Instagram, Twitter, Pinterest and Yummly.
Interested in getting your own Degustabox delivered to your door? Just click my affiliate banner below to get started.
Recipe adapted from Cook's Illustrated


Browned Butter Chocolate Candy Cookies
Ingredients
1 3/4 cups all-purpose flour
1/2 teaspoons baking soda
14 tablespoons unsalted butter, divided
3/4 cup packed dark brown sugar
1/2 cup granulated sugar
1 teaspoon salt
2 teaspoons vanilla extract
1 large egg, plus 1 large egg yolk
10 ounces candy coated chocolate candy pieces
1/3 cup toffee bits
Instructions
Adjust oven rack to the middle position and preheat oven to 375 degrees. Line two baking sheets with parchment paper or a silicone mat. Whisk the flour and baking soda together in a medium-sized bowl and set aside.
Melt 10 tablespoons of butter in a 10 inch stainless steel skillet (do not use a non-stick, the dark coating of a non-stick skillet will make it difficult to gauge when the butter is sufficiently browned). Continue cooking, swirling the pan constantly, until the butter is dark golden brown and has a nutty aroma, about 5 minutes. Transfer the browned butter to a large heatproof bowl. Add the remaining 4 tablespoons of butter and stir until completely melted.
Add the dark brown sugar, granulated sugar, salt and vanilla extract to the melted butter, whisk until fully combined. Add egg and yolk and whisk until the mixture is smooth with no sugar lumps remaining, about 30 seconds. Let the mixture stand for 3 minutes, then whisk again for 30 seconds. Repeat this process 2 more times, until the mixture is thick, smooth and shiny. (The dissolved sugar caramelizes more easily, creating a toffee flavor and influences a crispy texture on the outer edges, but still leaving a chewy center.) Using a rubber spatula, stir in the flour mixture until just combined, about 1 minute. Stir in candy coated chocolate candy and toffee bits. Give the dough a final stir to ensure no bits of flour remain.
Working with 3 tablespoons of dough at a time, roll into balls and place 2 inches apart on your prepared baking sheet. (You can chill the dough for about 10 minutes to make it more manageable to work with.)
Bake one sheet at a time until the cookies are golden brown, still puffy and edges have begun to set, but centers are still soft, about 10-14 minutes, (12 minutes was the perfect time for mine) rotating baking sheet half way through baking. Let cookies sit on the baking sheet for 2 minutes before moving them to a wire rack to cool. Repeat this process alternating between baking sheets until done. Let cookies cool to room temperature before serving.