Creamsicle Dreamsicle Cupcakes
This was an experiment and I am happy to say it turned out delicious.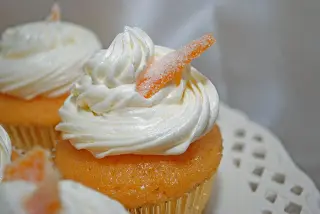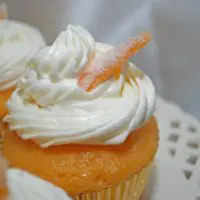 Creamsicle Dreamsicle Cupcakes
Ingredients
CAKE
1 box orange cake mix
1 cup all-purpose flour
1 cup granulated sugar
3/4 tsp salt
1 cup orange juice
1/3 cup water
1/8 cup vegetable oil
1 tsp real vanilla extract
1 tsp orange extract
1 cup sour cream
3 large whole eggs
FILLING
1 cup heavy whipping cream
1 cup whole milk
1 3.4 oz. vanilla instant pudding mix
GRAND MARNIER BUTTERCREAM
3/4 cup granulated sugar
4 large egg whites
2 tbsp water
1 1/2 cups unsalted butter, slightly softened
1/2 tsp real vanilla extract
1/2 tsp orange oil
1/4 tsp Flori di Sicilia or orange extract
1 tbsp Grand Marnier or other orange-flavored liqueur
CANDIED ORANGE PEEL
3 oranges, scrubbed with a vegetable brush
1 cup granulated sugar
3/4 cup water
1/4 tsp cream of tartar
SUGAR COATING
Instructions
CAKE
Place all dry ingredients in a large mixing bowl and stir together with a
wire whisk.
Add the remaining cake ingredients and beat on medium speed for 2
minutes.
Pour into cupcake liners in cupcake pans, filling each pan a little over
half full.
Lightly tap cake pans on counter to bring air bubbles to top.
Bake in preheated 325° F oven until cake tests done.
Baking time is about 30 minutes. Check at 20 minutes just to be on the
safe side.
Cool completely.
FILLING
Mix all filling ingredients in mixer.
GRAND MARINER BUTTERCREAM
Pour 1/2 inch water into a large skillet and bring the water to a
simmer; reduce the heat to medium-low to maintain a simmer.
In the bowl of an electric mixer, combine the sugar, egg whites, and
water. Place the bowl in the skillet of water and whisk gently until the
mixture reaches 160 F on an instant read candy thermometer. Transfer the
bowl to the mixer stand and, using the whisk attachment, beat at medium-high
speed until the meringue is cool and forms stiff, shiny peaks, about 5
minutes.
Reduce the speed to medium and beat in the butter 1 tablespoon at a
time. Beat in the vanilla extract, orange oil and orange liqueur and beat at
high speed until the buttercream is smooth, about 1 minute.
CANDIED ORANGE PEEL
Using a sharp paring knife, remove the peel of each orange in vertical
strips, trying not to include any of the bitter white pith. If any of the
pith remains, place each strip, pith side up, on a cutting board and use the
paring knife, with the blade parallel to the board, to carefully slide it
off. Cut the zest into fine julienne strips.
Half fill a medium saucepan with water and bring it to a boil. Add the
strips of zest, reduce the heat to a simmer, and simmer for about 15
minutes. Drain and rinse the zest.
In the same saucepan, combine the sugar, water and cream of tartar and
bring to a boil, stirring constantly to dissolve the sugar. Add the zest,
cover the pan, and reduce the heat to low. Let the zest simmer for another
minutes. Remove the pan from the heat and cool completely.
The zest can be stored in its syrup in an airtight container for up to a
month. When you are ready to use it, drain well and toss it in the
granulated sugar, breaking up any lumps of sugar with you hands. Spread the
zest out on a baking sheet and let dry at room temperature for at least 2
hours before using.
ASSEMBLY
Fit a pastry bag with tip #12, fill the bag with the filling. Press tip
into the middle of each cupcake and pipe desired amount of filling into
each.
Frost cooled cupcake tops with Grand Marnier Buttercream and garnish
with Candied Orange Peel.
- - - - - - - - - - - - - - - - - -