This is a perfect family meal to make on a lazy Sunday afternoon. It's super easy. Once all the veggies are chopped it all goes into the pot and simmers for 1 hour. Add the beans last and simmer for another 30 minutes and you are ready to eat. This makes a large batch of soup so invite your friends and family over to enjoy it with you.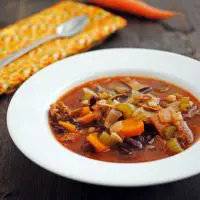 Beef, Vegetable and Barley Soup
Ingredients
1 2 3/4 pounds flat cut brisket, cut into 1 inch cubes
8 cups beef stock
3 8-ounce canned tomato sauce
4 celery stalks, cut into 1/2-inch slices
3 carrots, peeled, cut into 1/2-inch slices
1 large onion, chopped
1/3 cup pearl barley, rinsed
6 large garlic cloves, chopped
3 bay leaves
1 1-ounce package dried stemmed shiitake mushrooms, broken into 1/2-inch pieces
3 15-ounce canned kidney beans, not drained
1 teaspoon kosher salt
1/2 teaspoon ground black pepper
Instructions
Combine all ingredients except beans in a heavy large pot. Bring to a boil over high heat. Reduce heat to medium-low, cover and simmer for 1 hour, stirring occasionally about 2-3 times. Add beans with their liquid to pot and continue to simmer for 30 minutes. Season salt and pepper and serve.
Nutrition Information:
Serving Size:

1
Amount Per Serving:
Calories:

565
Total Fat:

11g
Saturated Fat:

4g
Cholesterol:

108mg
Sodium:

880mg
Carbohydrates:

46g
Fiber:

13g
Sugar:

8g
Protein:

67g
Adapted from Bon Appetit Fast Easy Fresh Cookbook