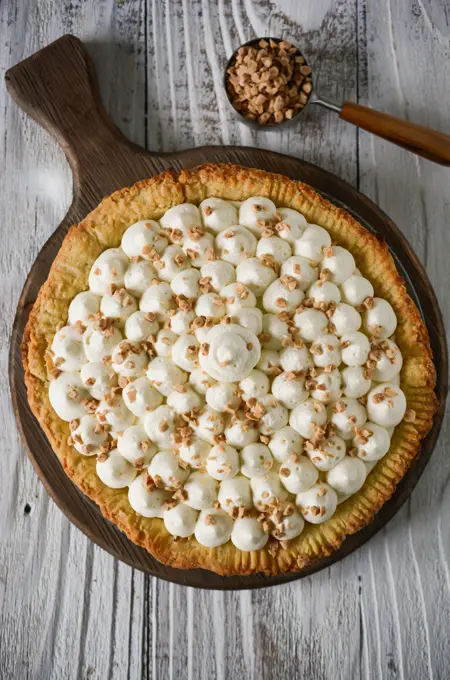 Disclosure: As an Amazon Associate and member of other affiliate programs. I earn from qualifying purchases
This Banana Brickle Cream Pie is a fun take on the traditional version. It's a layer of banana slices, topped with banana custard and homemade whipped cream. And for something a little different, it's then sprinkled with toffee bits!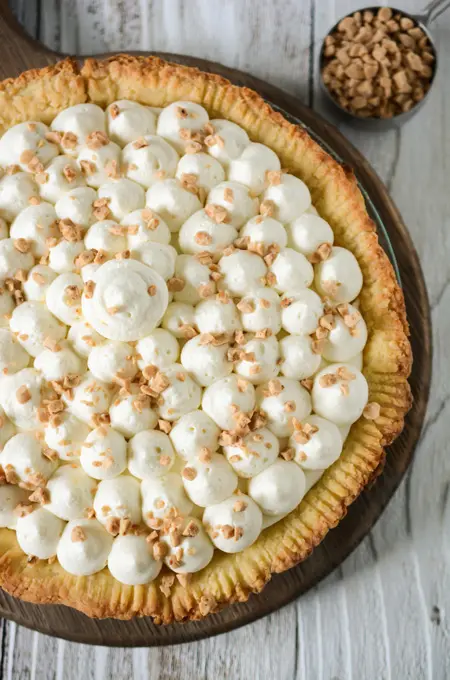 Diner Desserts by Tish Boyle is full of amazing cream pies like this one. And this is my slight adaptation of her version.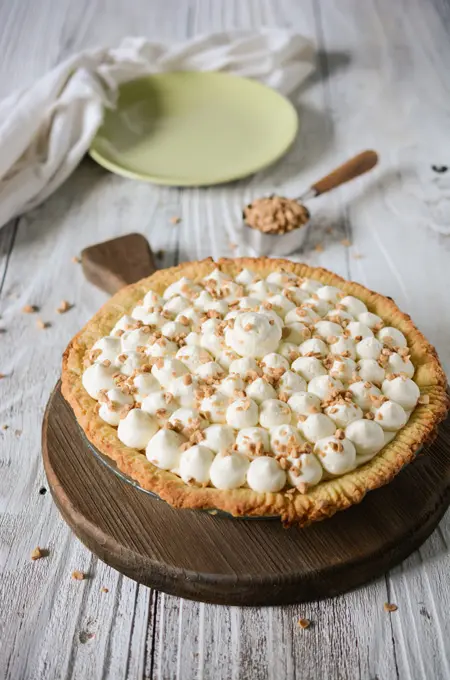 Banana Brickle Cream Pie Tips:
Feel free to use your own homemade pie dough recipe or a store bought pie dough and bake fully according to package directions.

In this recipe we "temper" the egg yolks. Adding a little bit of the hot milk mixture to the eggs helps bring the eggs to temperature without cooking them.

I like to add a little light corn syrup in my homemade whipped cream. It helps to stabilize the cream so it doesn't melt as quickly. Helpful but not necessary, feel free to leave it out if you'd like.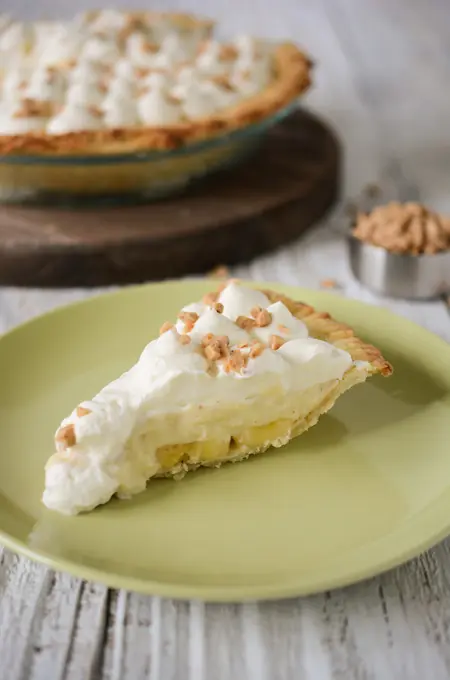 A perfectly crisp and flaky pie crust carries all those layers of flavor! Fresh banana slices, banana custard, whipped cream and toffee bits.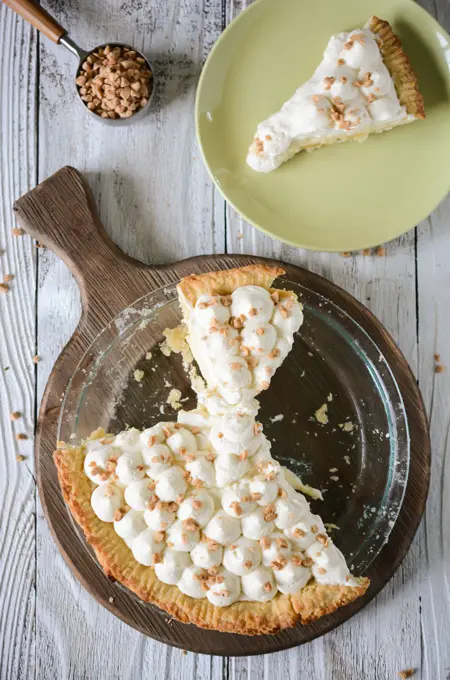 Follow The Cake Chica on Facebook, Instagram, and Pinterest to know when a new recipe comes out!
Did you make this recipe? I'd love to see it! Tag @thecakechica1 #thecakechica1 on Instagram!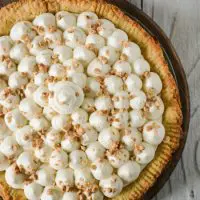 Banana Brickle Cream Pie
Additional Time:
3 hours
45 minutes
Total Time:
4 hours
55 minutes
Homemade banana cream pie with a crisp and flaky crust, topped with a layer of sliced bananas, topped with a banana filling and homemade whipped cream and garnished with toffee bits.
Ingredients
SPECIAL TOOLS
PIE DOUGH
1 1/4 cups all-purpose flour, plus more for rolling, about 1/4 cup
1 tablespoon granulated sugar
1/2 teaspoon table salt
6 tablespoons unsalted butter, cut into 1/4-inch pieces and chilled
4 tablespoons vegetable shortening, cut into 2 pieces and chilled
2 tablespoons vodka, chilled
2 tablespoons ice water
PIE FILLING
4 large egg yolks
½ cup granulated sugar
3 tablespoons cornstarch
¼ teaspoon table salt
2 ½ cups whole milk
2 tablespoons unsalted butter, cut into tablespoons
1 teaspoons vanilla extract
Pinch cardamom (optional)
3 ripe, medium-sized bananas
1 teaspoon fresh lemon juice
WHIPPED CREAM
2 cups heavy cream
3 tablespoons powdered sugar
1 tablespoon light corn syrup
½ teaspoon vanilla extract
GARNISH
3 tablespoons toffee bits (garnish)
Instructions
PIE DOUGH
Process 3/4 cup of the flour, sugar, and salt together in a food processor until combined, about 5 seconds. Sprinkle the butter and shortening on top and continue to process until combined and mixture begins to form uneven clumps, and no flour bits remain, about 10 seconds.
Scrape down the bowl and evenly distribute the dough around the bowl. Sprinkle the remaining 1/2 cup flour over the dough and pulse until the mixture has broken up into pieces and is evenly distributed around the bowl, about 4 to 6 pulses.
Transfer the mixture to a medium-sized bowl. Sprinkle vodka and ice water over the mixture. Press and stir the dough together using a rubber spatula until the dough sticks together.
Turn the dough onto a piece of plastic wrap and flatten out into a 4-inch disk. Wrap the disk tightly in plastic wrap and refrigerate for 1 hour. Before rolling out the dough, let the dough sit out on the counter for about 10 minutes. (The dough can be stored in the refrigerator for up to 2 days or frozen for up to 1 month. If frozen, be sure to let the dough though completely on the counter before using.)
Adjust your oven rack to the middle position and preheat your oven to 425 degrees. Roll the dough into a 12-inch circle on a floured counter. After rolling the dough out, loosely roll it around your rolling pin and gently unroll it onto your 9 inch pie plate. Gently ease the dough into the lower creases of the pan and press lightly to adhere it to the sides and bottom of the pan. Leave the excess dough hanging over the sides of the pan in place. Wrap the dough-lined pie plate loosely in plastic wrap and refrigerate until the dough it firm, about 30 minutes.
Trim the overhang to about 1/2 –inch beyond the edge of the pie plate and tuck the overhang under itself. Crimp the dough around the edge using your fingers. Wrap the dough lined pie plate loosely in plastic wrap and refrigerate for about 15 minutes before using.
Line the chilled pie shell with a double layer of aluminum foil, covering the edges to prevent burning and fill with pie weights or dry beans.
Bake your pie shell until the pie dough looks dry and is pale in color about 15 minutes. Remove the pie weights and foil and continue to bake until the shell is golden brown, about 4 to 7 minutes. Transfer the pie crust to a wire rack and cool completely.
PIE FILLING
In a medium bowl, whisk together the egg yolks, sugar, cornstarch and salt until combined and set aside. Pour milk into a medium-sized saucepan and bring to a gentle boil over medium-low heat, about 10 minutes. Remove the milk from the heat and whisk in about ½ cup of milk into the egg yolk mixture, tempering the egg yolks. Then return the egg yolk mixture back to the saucepan. Bring mixture to a gentle boil over medium-high heat and cook for 1 minute whisking constantly. Remove from the heat and whisk in butter until melted. Add in the vanilla and cardamom if using, and whisk to combine. Strain the custard through a sieve over a medium-sized bowl.
Fill a large bowl half way full with ice. Add enough cold water to cover the ice cubes and place the bowl of custard in the ice bath and allow to cool. Stir occasionally for a few minutes.
Peel the bananas and slice into ¼-inch slices and place in a medium bowl. Add lemon juice over bananas and gently toss to coat. Place sliced bananas in an even layer on the bottom of the baked pie crust. Add the cooled pie filling over top and gently spread out to an even layer with a rubber spatula. Place a piece of plastic wrap on top of the filling and refrigerate the pie for at least 2 hours before adding the whipped cream and serving.
WHIPPED CREAM
In a large bowl, with an electric mixer with the whisk attachment attached, whisk whipped cream on medium-low speed and gradually increase the speed to medium-high. Add the sugar, corn syrup and vanilla extract and continue to beat until soft peaks form. Add whipped cream on top of the pie filling free hand or with a piping bag and piping tip.
Notes
This pie is best eaten the day it is prepared.
Nutrition Information:
Yield:

8
Serving Size:

1
Amount Per Serving:
Calories:

755
Total Fat:

50g
Saturated Fat:

28g
Trans Fat:

1g
Unsaturated Fat:

19g
Cholesterol:

231mg
Sodium:

353mg
Carbohydrates:

66g
Fiber:

2g
Sugar:

38g
Protein:

11g
*Nutrition information is an estimate and will vary.*
You May Also Like: