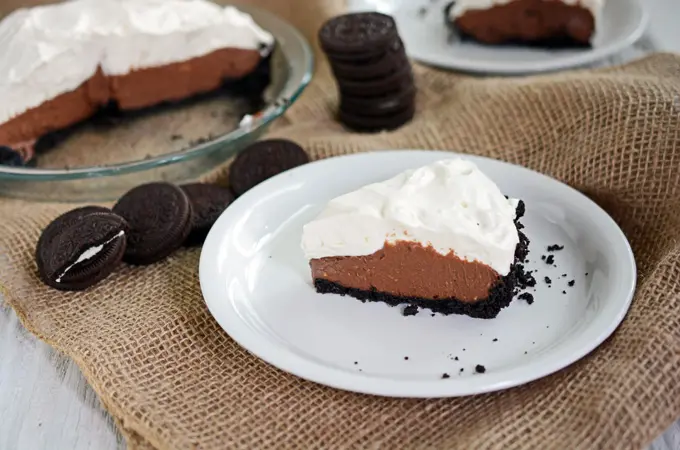 Finally, a Chocolate Cream Pie with an Oreo cookie crust that uses the whole Oreo cookie, filling included! Many recipes call for chocolate wafers or just the cookie part of the Oreo, but not for this Chocolate Cream Pie. Be sure to use the traditional Oreo cookie for this recipe, not the "double-filled".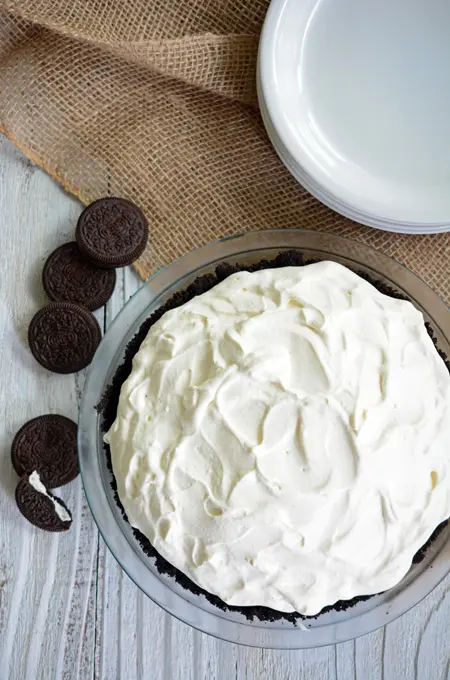 Be sure to pack the cookie crumbs in well with the back of a spoon all the way up the sides of the pie plate. Packing the cookie crumbs well will help the pie cut better. You can place the baked pie crust in the fridge to set or set aside to cool to room temperature.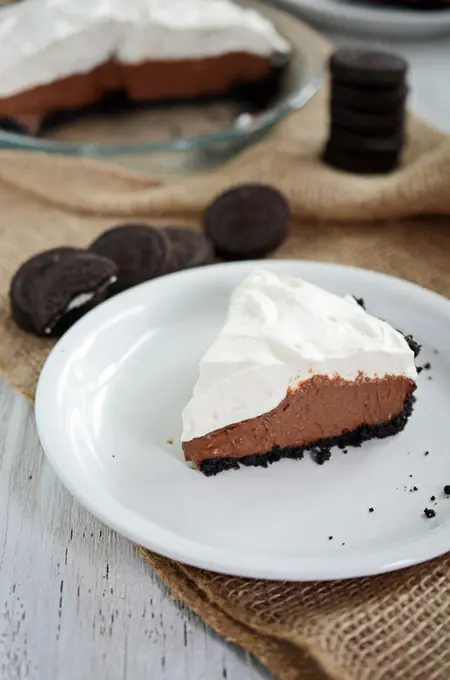 Do not combine the egg yolks and sugar in advance of making the filling – the sugar will begin to break down the yolks and the finished cream will be pitted.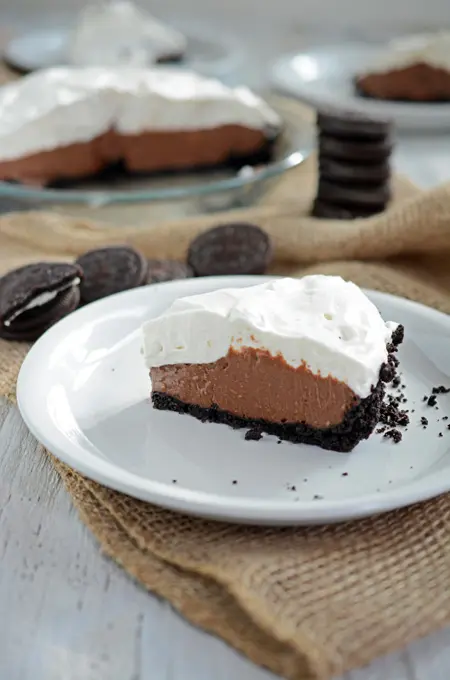 This Chocolate Cream Pie is somewhere between a milkshake and a melted candy bar. The two types of chocolate create a deeper complex flavor.
Well it's almost summer guys and cream pies are perfect for this season. I think Chocolate Cream Pie is probably my favorite cream pie with banana cream being my second favorite. What are some of your favorite cream pies? And maybe I will make your favorite cream pie next! Let me know in the comments below!
Follow The Cake Chica on social media: Facebook, Instagram, and Pinterest.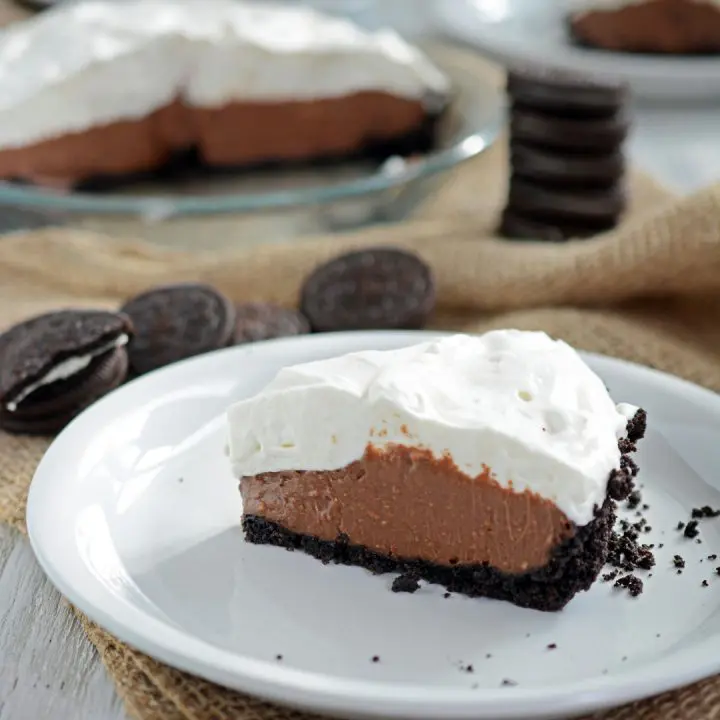 Chocolate Cream Pie
Ingredients
16 Oreo cookies, (with filling), broken into rough pieces, about 2 1/2 cups
2 tablespoons unsalted butter, melted and cooled
2 ½cups half-and-half
pinch table salt
⅓cup granulated sugar
2tablespoons cornstarch
6large egg yolks, at room temperature
6tablespoons unsalted butter, (cold), cut into 6 pieces
6ounces semisweet chocolate, or bittersweet chocolate, finely chopped
1ounce unsweetened chocolate, finely chopped
1teaspoon vanilla extract
1 ½cups heavy cream, (cold)
1 ½tablespoons granulated sugar
½teaspoon vanilla extract
Instructions
CRUST
Adjust oven rack to middle position and heat oven to 350 degrees. In bowl of food processor fitted with steel blade, process cookies with 15 one-second pulses, then let machine run until crumbs are uniformly fine, about 15 seconds. (Alternatively, place cookies in large zipper-lock plastic bag and crush with rolling pin.) Transfer crumbs to medium bowl, drizzle with butter, and use fingers to combine until butter is evenly distributed.
Pour crumbs into 9-inch Pyrex pie plate. Press crumbs evenly onto bottom and up sides of pie plate. Refrigerate lined pie plate 20 minutes to firm crumbs, then bake until crumbs are fragrant and set, about 10 minutes. Cool on wire rack while preparing filling.
FILLING
Bring half-and-half, salt, and about 3 tablespoons sugar to simmer in medium saucepan over medium-high heat, stirring occasionally with wooden spoon to dissolve sugar. Stir together remaining sugar and cornstarch in small bowl, then sprinkle over yolks and whisk, scraping down sides of bowl, if necessary, until mixture is glossy and sugar has begun to dissolve, about 1 minute. Whisk yolks thoroughly in medium bowl until slightly thickened, about 30 seconds. When half-and-half reaches full simmer, drizzle about 1/2 cup hot half-and-half over yolks, whisking constantly to temper; then whisk egg yolk mixture into simmering half-and-half (mixture should thicken in about 30 seconds). Return to simmer, whisking constantly, until 3 or 4 bubbles burst on the surface and mixture is thickened and glossy, about 15 seconds longer.
Off heat, whisk in butter until incorporated; add chocolates and whisk until melted, scraping pan bottom with rubber spatula to fully incorporate. Stir in vanilla, then immediately pour filling into baked and cooled crust. Press plastic wrap directly on surface of filling and refrigerate pie until filling is cold and firm, about 3 hours.
TOPPING
Just before serving, beat cream, sugar, and vanilla in bowl of standing mixer on low speed until small bubbles form, about 30 seconds. Increase speed to medium; continue beating until beaters leave a trail, about 30 seconds more. Increase speed to high; continue beating until cream is smooth, thick, and nearly doubled in volume and forms soft peaks, about 20 seconds. Spread or pipe whipped cream over chilled pie filling. Cut pie into wedges and serve.
Used with permission from America's Test Kitchen