If you loved my Classic Pecan Pie recipe then you'll love this Chocolate Chunk Pecan Pie version! With the addition of not one, but three different types of chocolate!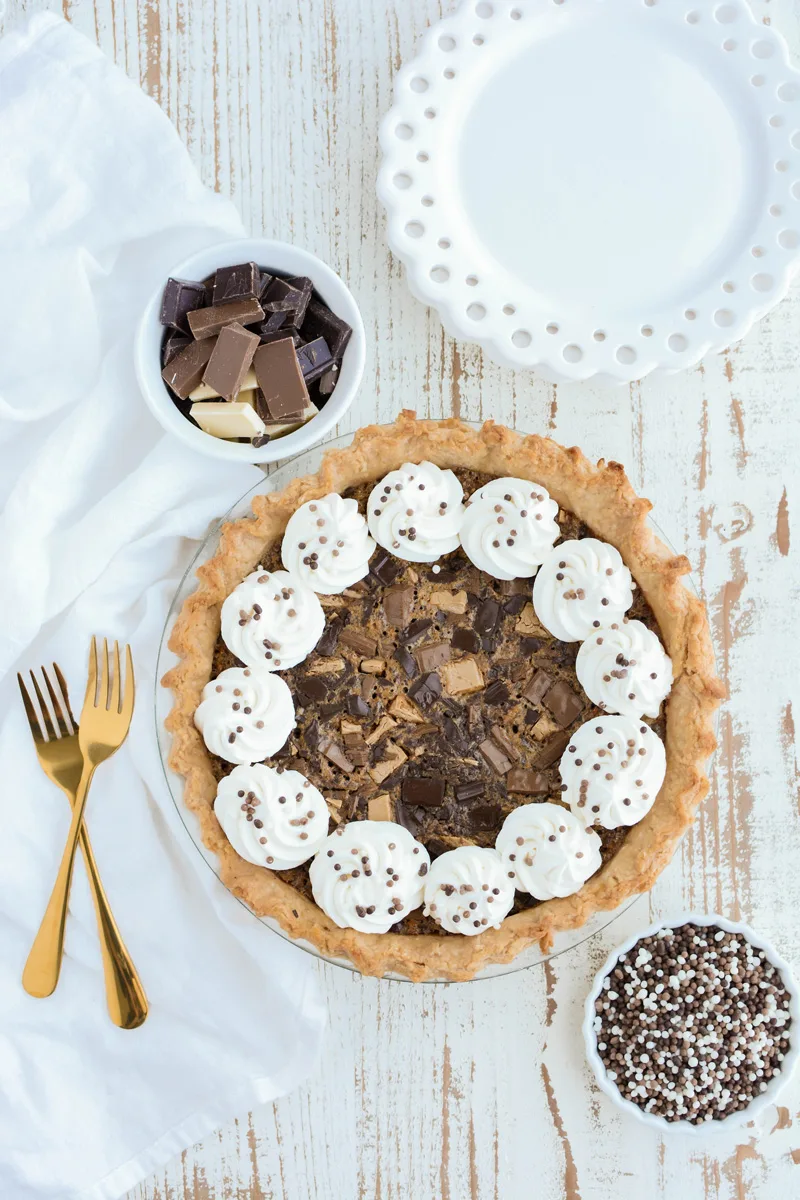 I reduced the amount of corn syrup to account for the added sweetness of the chocolate. The original Classic Pecan Pie recipe is not as sweet as most to begin with, so adding a little bit of chocolate was an easy addition.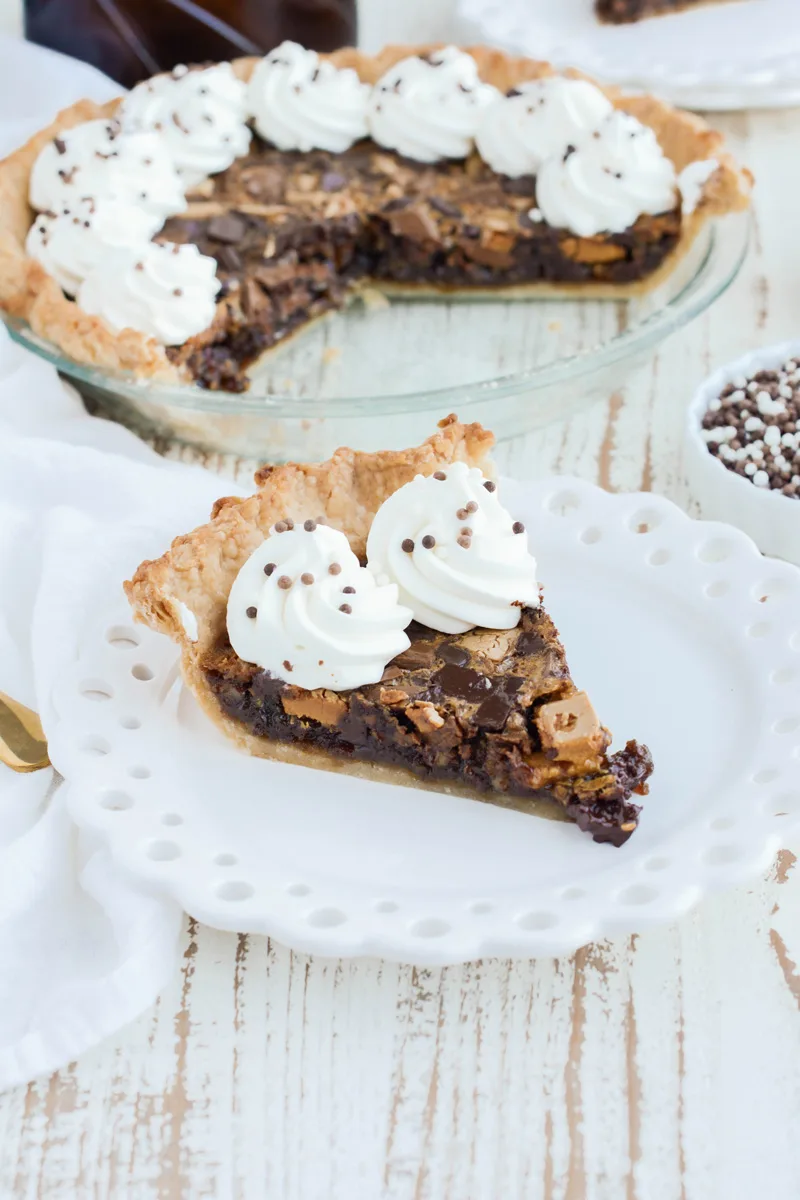 Food Processor Pie Dough
The method that works best for me is the food processor method. It takes much of the guess work out, and the dough comes together very quickly.
At first glance it may look like the dough isn't going to come together. But after you add the liquids and give it a gently knead, it comes together easily. (TIP: This dough can take on a lot of flour in the rolling out process, so don't be afraid to add more when needed.)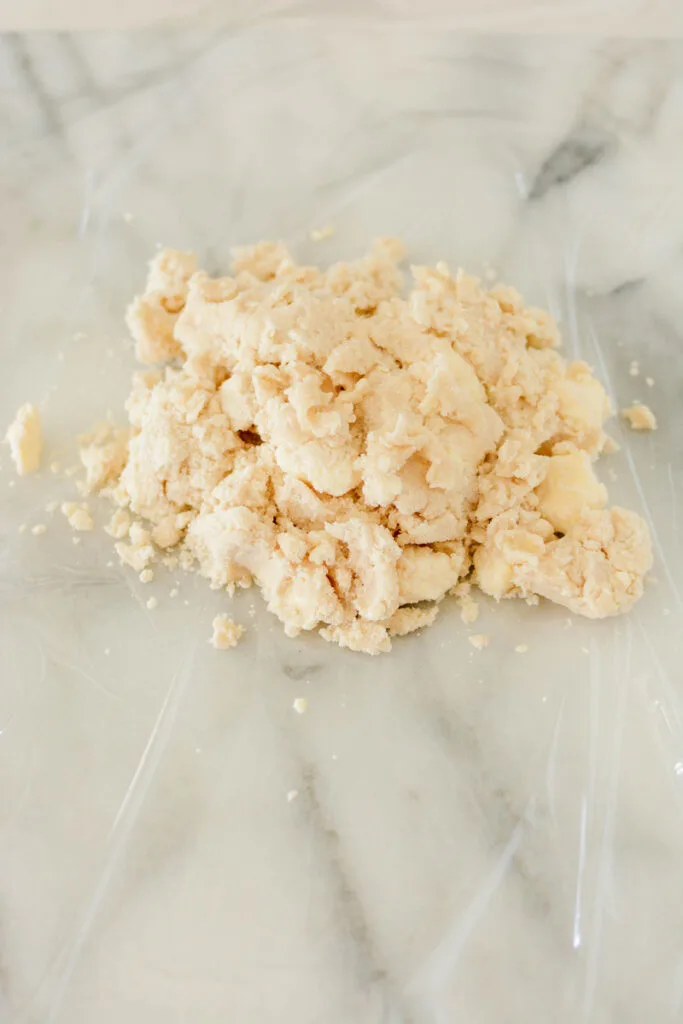 I used vodka to help keep the gluten development to a minimum. Less gluten helps to create a tender and flaky crust. You can also use any other alcohol that fits your recipes flavor profile.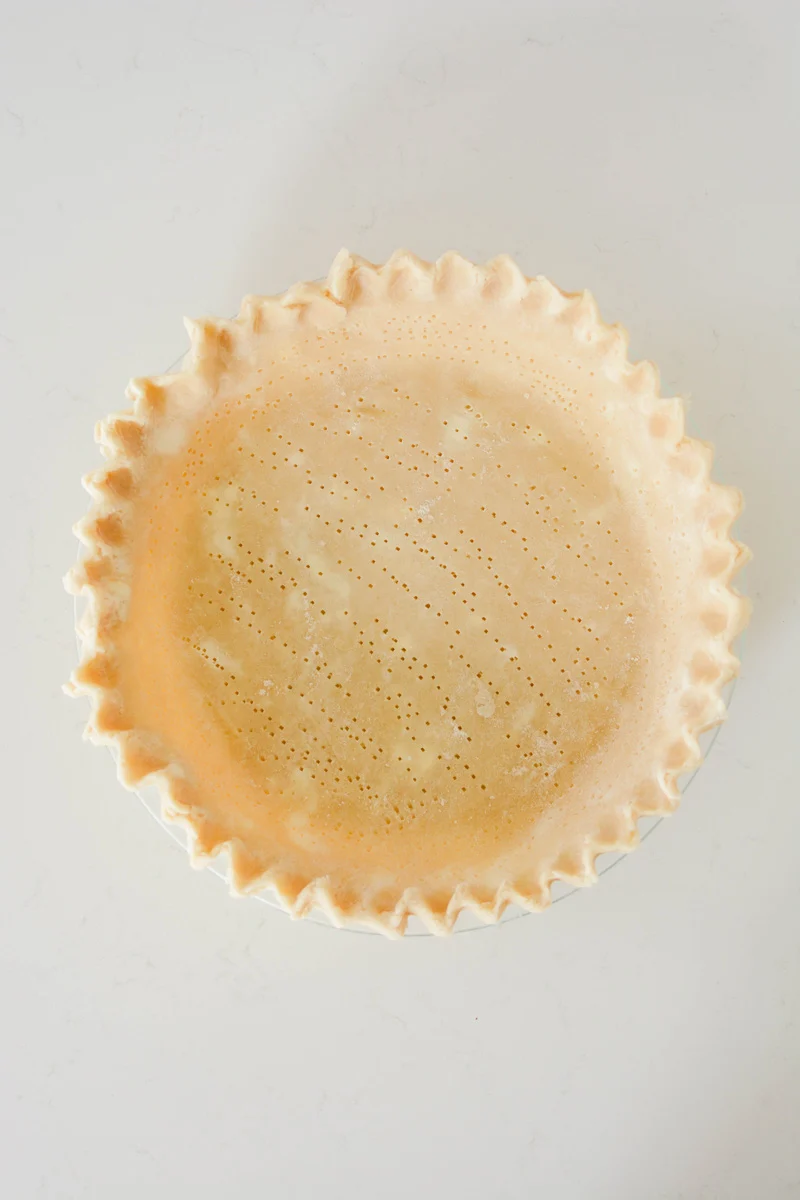 What Is Blind Baking?
Blind baking refers to the process of rebaking the pie shell to set the crust and to keep it as crispy as possible. Pie that benefits the most from blind baking are: custard pie, pumpkin pie, pecan pie and buttermilk pie to name a few. Wet fillings can make the crust soggy so blind baking is a good idea to keep the crust as crisp as possible.
First you'll need to weight down the shell with pie weights. I like to use dry beans or rice.
Bake the pie shell for about 15 minutes.
Fill the crust with your pie filling.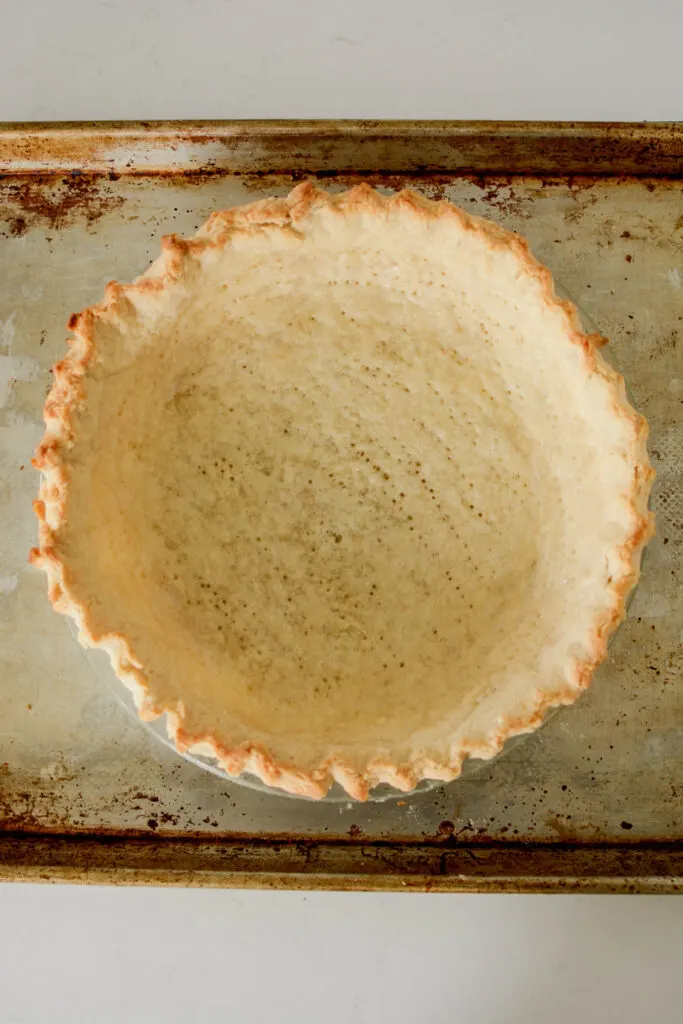 Chocolate Chunk Pecan Pie Tips
Toasting the pecans brings out the best flavor in the pecans. Toast pecans in a 350 degree oven for 10 minutes, tossing halfway through baking. Let pecans cool before chopping.
Blind baking the crust and adding the hot filling to the warm crust keeps the crust from getting soggy.
Gently brushing the partially baked pie crust with egg wash helps reduce the chances of the pie filling leaking out while baking.
Slowly heating the filling over a double boiler helps keep the filling from curdling during the baking process.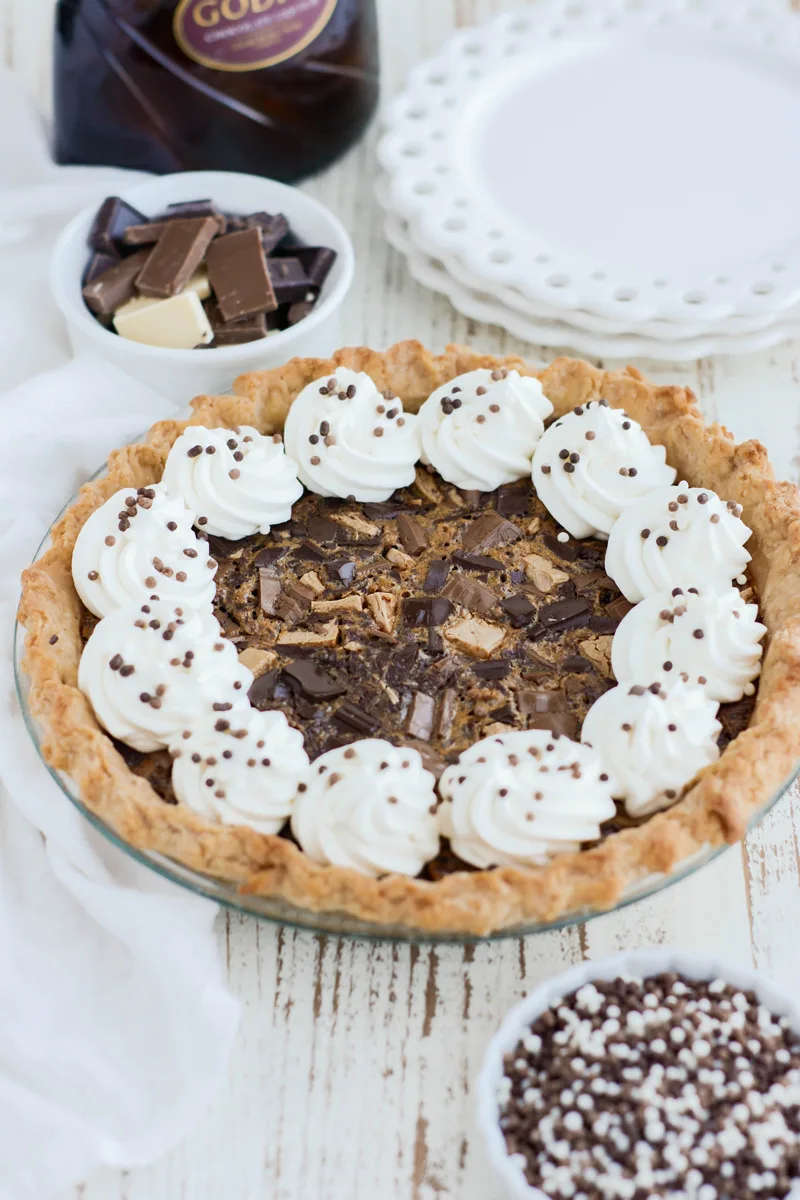 Chocolate Chunk Pecan Pie Filling
Dark brown sugar is used in place of granulated sugar for more depth of flavor. And in addition to slowing heating the filling in a double boiler, this pie is also baked on low heat slowly, to prevent curdling.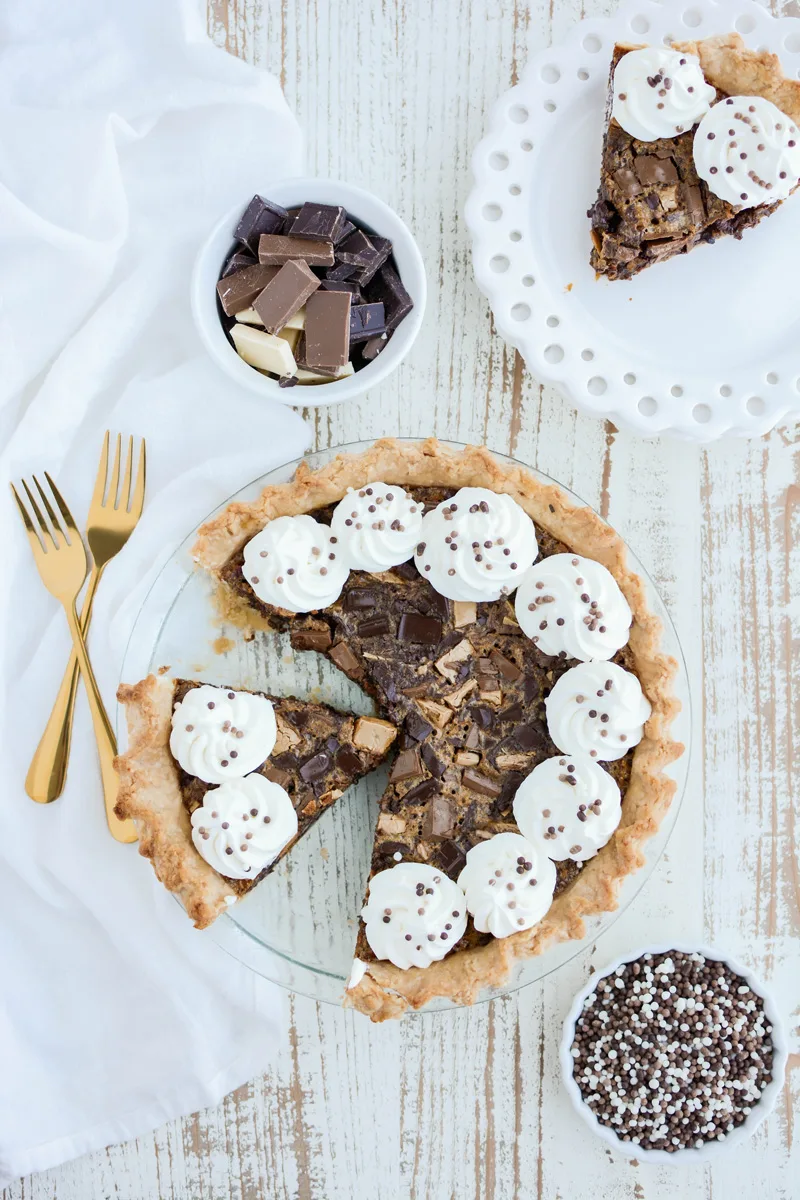 Cooling Time and Pecan Pie Storage
Don't slice that pie before it's ready! Your patience will be rewarded. Let the pie cool for at least 2 hours before slicing.
Chocolate Chunk Pecan Pie can be stored in an airtight container at room temperature for up to 3 days.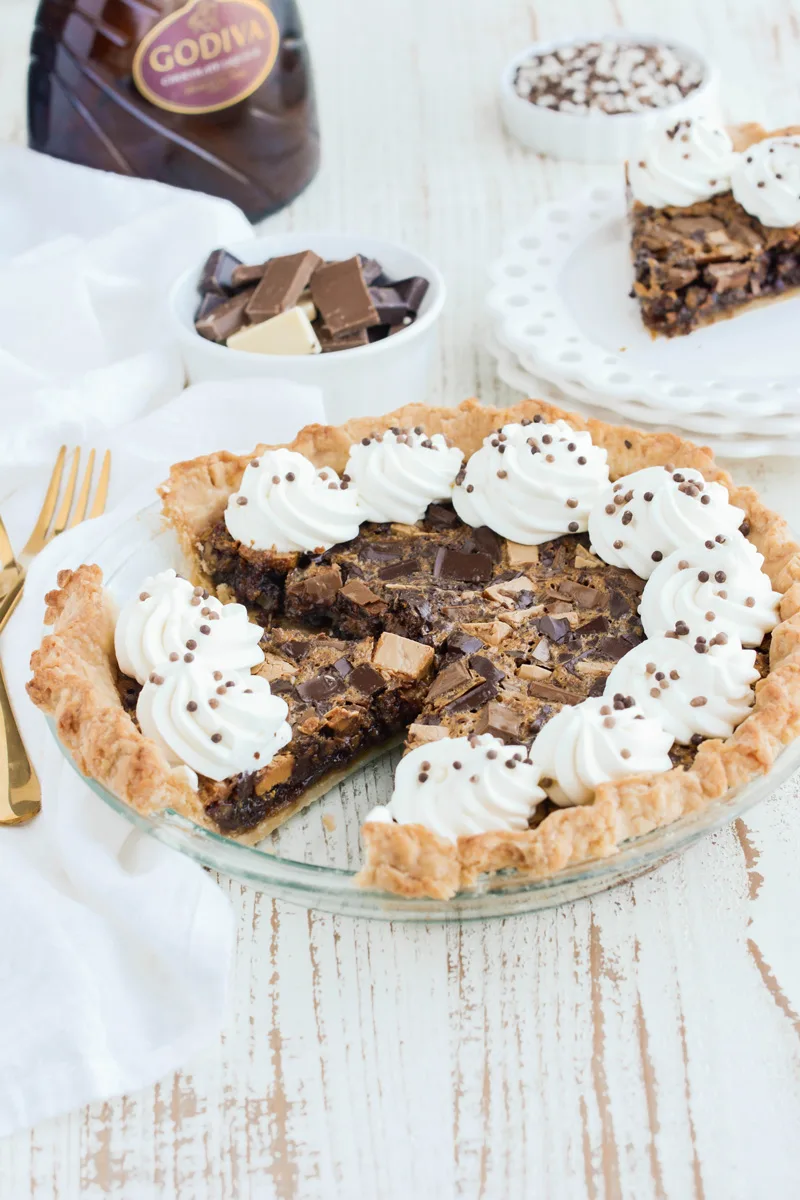 Baking Tools Needed
Food processor
Rolling pin
9-inch round pie plate, glass preferred
Rimming baking sheet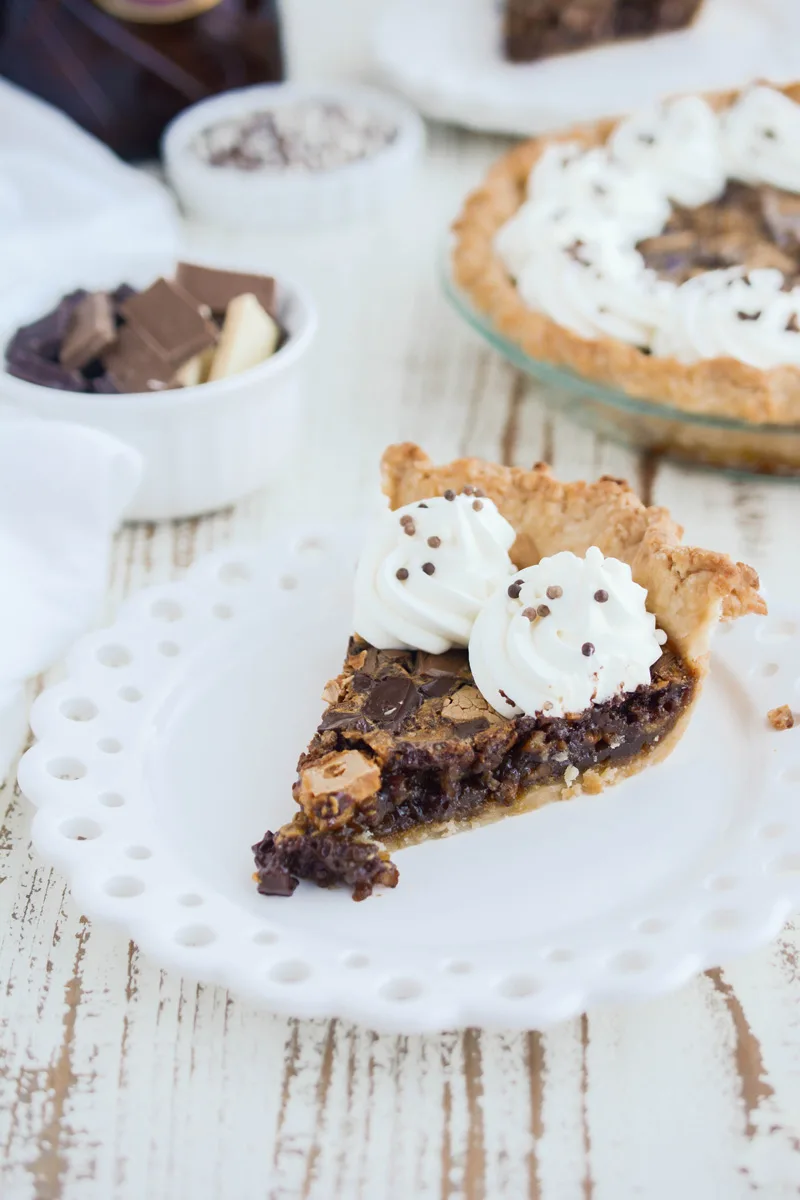 Chocolate Chunk Pecan Pie Toppings
Homemade whipped cream
Vanilla ice cream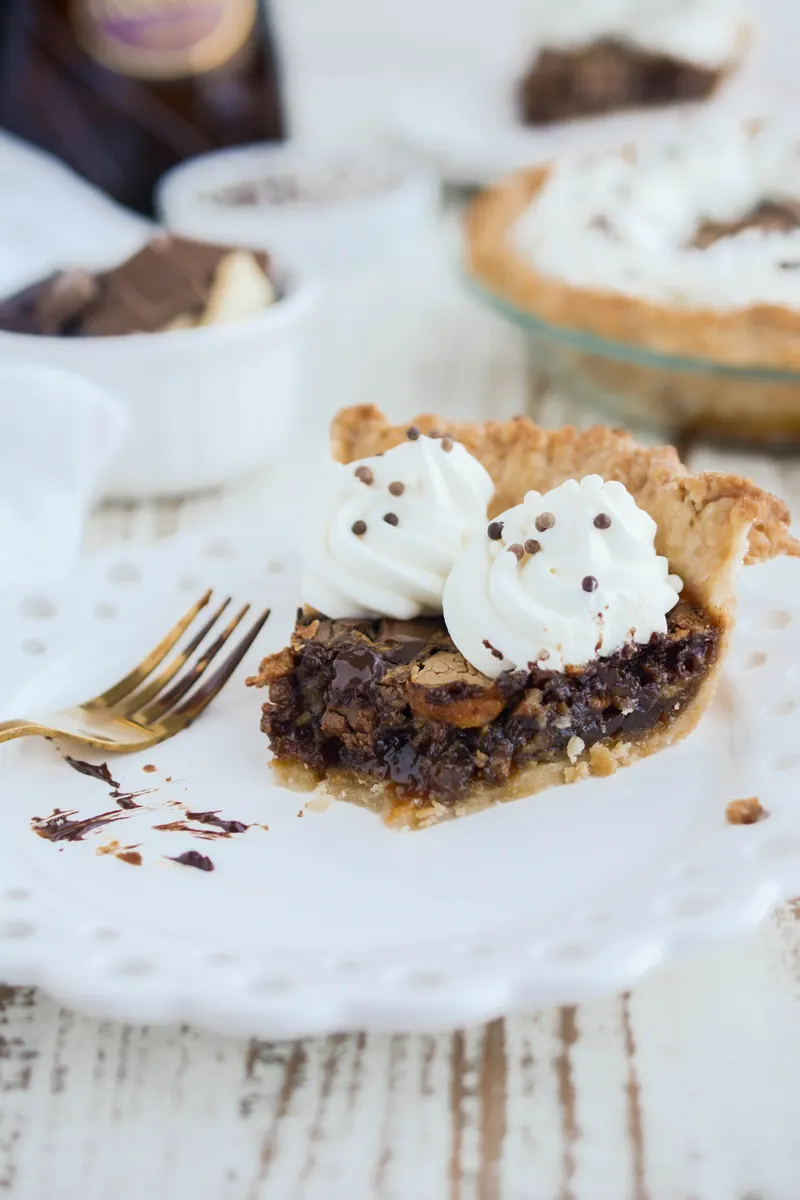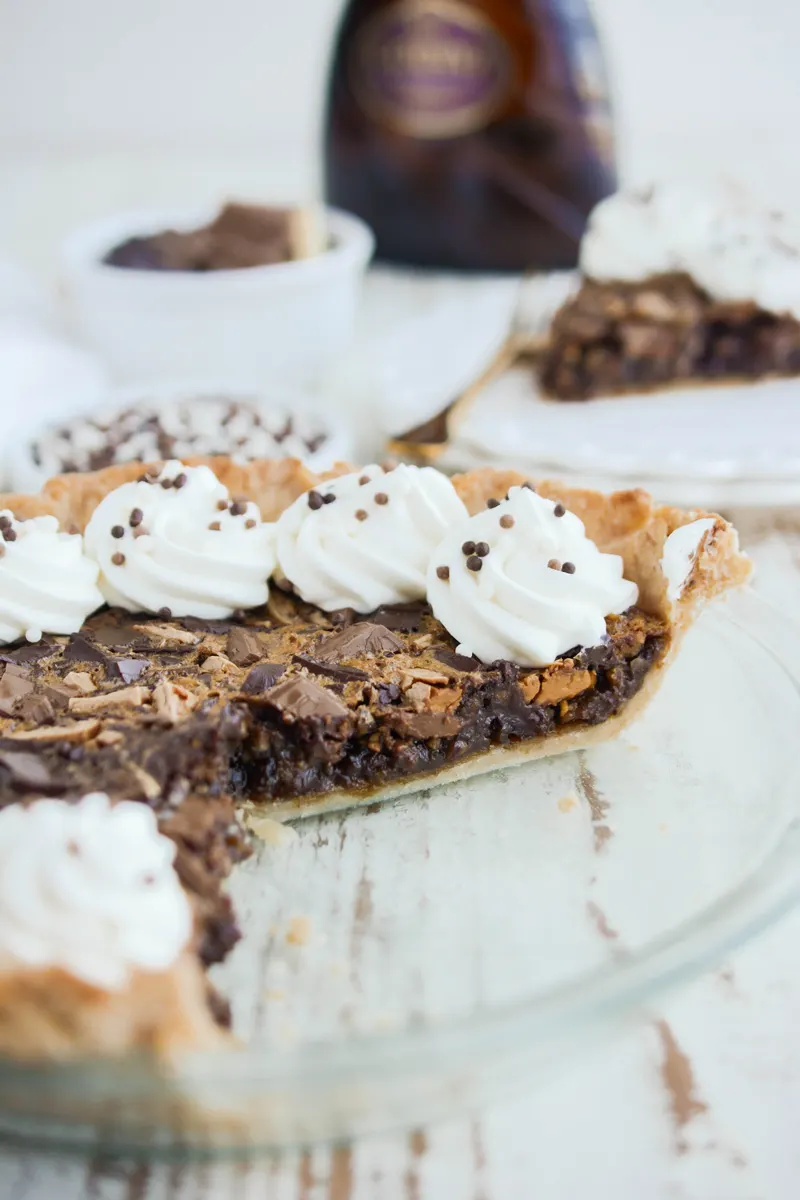 Let's Connect
The Cake Chica is on the following social media platforms below. Click subscribe, like and follow! We would love to have you over!
Suggested Recipes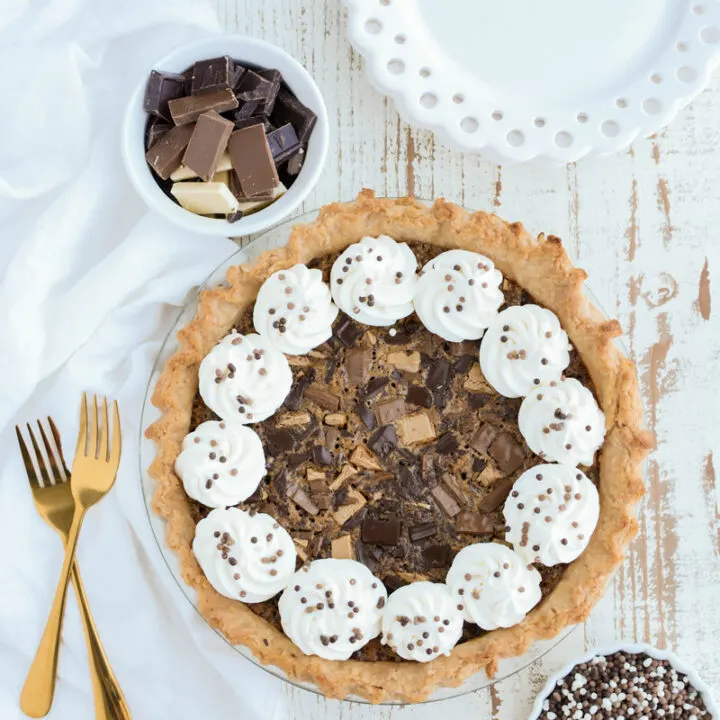 Chocolate Chunk Pecan Pie
Chocolate Chunk Pecan Pie baked on a crispy homemade crust, topped with homemade whipped cream.
Ingredients
SPECIAL TOOLS
Food processor
Rolling pin
9" round pie plate
Rimmed baking sheet
PIE DOUGH
1 ¼ cup all-purpose flour
1 tablespoon granulated sugar
½ teaspoon table salt
6 tablespoons unsalted butter, cut into ¼-inch pieces and chilled
4 tablespoons shortening, cut into 2 pieces and chilled
2 tablespoons vodka
2 tablespoons ice water
EGG WASH
1 egg white mixed in 1 teaspoon water
FILLING
3 tablespoons unsalted butter, cut into 1-inch pieces
¾ cup dark brown sugar
½ teaspoon table salt
2 large eggs
½ cup light corn syrup
1 tablespoon chocolate liqueur or 1 teaspoon vanilla extract
1 cup whole pecans, (4 ounces) toasted and chopped into small pieces
2 ounces semisweet chocolate, chopped into ¼-inch pieces
2 ounces milk chocolate, chopped into ¼-inch pieces
2 ounces white chocolate, chopped into ¼-inch pieces
Instructions
PIE CRUST
In a food processor, combine ¾ cup flour, sugar and salt, and process about 5 seconds. Sprinkle chilled butter and shortening on top and continue to process until incorporated and mixture forms uneven clumps, about 10 seconds
Scrape down the sides of the processor bowl to redistribute and pour remaining ½ cup flour on top. Pulse until combined and is evenly distributed about 6 pulses.
Transfer mixture to a large bowl and sprinkle vodka and ice water on top and with a rubber spatula, press and fold dough until dough sticks together.
Once the dough comes together, place dough on a sheet of plastic wrap and flatten to a 4-inch disk. Wrap dough tightly with plastic wrap and chill in the refrigerator for 1 hour. Let dough sit out on the counter for 10 minutes before rolling out.
Adjust an oven rack to the middle position and heat oven to 425 degrees. Roll dough out to a 12-inch round on a lightly floured work surface. Loosely wrap dough around rolling pin and place in a 9-inch pie plate, letting access dough hand over the edge. Gently press dough unto the pie plate by lifting the edges and pressing the bottom and up the sides with dough, being careful not to stretch the dough. Leave excess dough hanging over the edges of the pie plate and loosely wrap with plastic wrap and refrigerate for until the dough is firm, about 30 minutes.

Trim overhang, leaving a ½-inch excess over the edge and tuck under itself so the dough is flush with the pie plate edge. Crimp dough evenly around the edges and refrigerate dough, loosely covered in plastic wrap in the refrigerator for 15 minutes or until the dough is chilled and firm.
Using the tines of a fork, gently poke a few holes over the bottom and sides of the pie dough lined pie plate. Line the chilled pie plate with a layer of aluminum foil, covering the edges to prevent burning and fill with pie weights or dry beans.
Bake your pie shell on a rimmed baking sheet until the pie dough looks dry and is pale in color about 15 minutes. Remove the pie weights and foil and continue to bake until the shell is golden brown, about 4 to 7 minutes. Transfer the pie crust to a wire rack and brush the pie shell with egg wash to ensure no leaks form while the pie is baking. Set aside. Immediately start on the pecan filling. Your pie crust must still be warm when the pecan filling is added.


PIE FILLING
Adjust an oven rack to the lower-middle position and reduce the temperature to 275 degrees. Fill a saucepan with about 3 inches of water and bring to a simmer. Set a large heatproof bowl on top, creating a double boiler. Melt the butter in the bowl. Remove the bowl from the saucepan and stir in the sugar and salt until the butter is absorbed. Whisk in the eggs, corn syrup and chocolate liqueur or extract until smooth. Return the bowl to the hot water and stir until the mixture registers 130 degrees. Turn off the heat and stir in the pecans.

Pour pecan mixture into the warm pie shell and scatter chocolate pieces on top of pecan mixture. Gently press the chocolate into the filling with the back of a spoon and bake until the center feels set but soft, about 50 to 60 minutes. Transfer pie to a rack to cool completely, about 2 hours. Serve with whipped cream or vanilla ice cream.
Notes
Pie storage: Store pie in an airtight container at room temperature for up to 3 days.
Nutrition Information:
Yield:

8
Serving Size:

1
Amount Per Serving:
Calories:

852
Total Fat:

43g
Saturated Fat:

20g
Trans Fat:

0g
Unsaturated Fat:

20g
Cholesterol:

88mg
Sodium:

605mg
Carbohydrates:

111g
Fiber:

3g
Sugar:

69g
Protein:

8g
*Nutrition information is an estimate and will vary.*
Adapted from Cook's Illustrated