Here is a healthier alternative to the usual high in calories cream sauced pastas! You can file this one under your favorites. I know you're going to love it!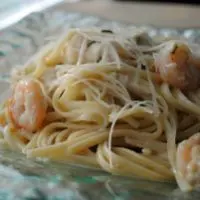 Seafood Linguine
Ingredients
1 pound uncooked linguine
2 tablespoons unsalted butter
1 cup chopped green onions
4 garlic cloves, minced
1 pound medium shrimp, peeled
1 pound sea scallops
2 cups half and half
1/2 teaspoon kosher salt
1/4 teaspoon pepper
1/2 pound lump crab meat, shell pieces removed
1 cup shredded Parmesan cheese
1/4 cup chopped fresh parsley
Instructions
Cook the pasta according to package directions.
While the pasta cooks, melt the butter in a 12 inch nonstick skillet over a medium high heat. Add onions and garlic and sauté for 1 minute or until tender. Add the shrimp and scallops and sauté for 3 minutes or until done. Reduce the heat to medium low. Add the next 4 ingredients; cook for about 3 minutes or until thoroughly heated, stirring constantly (do not boil). Sprinkle 1 cup of cheese over seafood mixture stirring constantly; cook for 1 minute; stirring constantly.
Remove from the heat. Combine the pasta and seafood mixture in a large bowl. If there is a lot of liquid, try simmering on low for about 5 minutes to let the sauce thicken a bit. Garnish with shredded Parmesan and parsley.
Nutrition Information:
Serving Size:

1
Amount Per Serving:
Calories:

630
Total Fat:

23g
Saturated Fat:

14g
Cholesterol:

228mg
Sodium:

1266mg
Carbohydrates:

62g
Fiber:

3g
Sugar:

6g
Protein:

44g