Here is another one from Weeknights with Giada. I changed mine just a little by using all chicken thighs. The original uses a mix of chicken breast and chicken thighs. Since I normally cook with chicken breast I thought it might be a nice change from the usual. Another change I made was using whole wheat flour to dust the chicken versus the all purpose flour. This makes a lot of sauce so I paired mine with quinoa. Feel free to check out the original version, or my version below.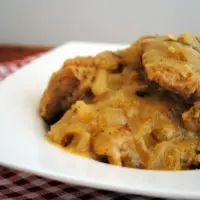 Chicken with Tarragon and White Wine
Ingredients
2 tablespoons olive oil
Boneless, skinless chicken thighs, about 2 pounds
3 tablespoons whole wheat flour, divided
1 large yellow onion
1 ½ teaspoons kosher salt, divided
½ and ¼ teaspoon ground black pepper, divided
½ cup white wine
1 cup plus 2 tablespoons chicken stock, divided
¼ cup plus 2 tablespoons fresh tarragon, chopped
¼ cup Dijon mustard
1 tablespoon unsalted butter
Instructions
In a Dutch oven or large saucepan, heat the oil over high heat. Season the chicken with 1 teaspoon salt and ½ teaspoon black pepper and dust with 2 tablespoons whole wheat flour. Cook the chicken, turning occasionally, until browned on all sides, about 5 minutes. Remove the chicken and set aside on a large plate.
Heat the same pan used for the chicken over medium-high heat. Add the onion and season with 1/2 teaspoon salt and ¼ teaspoon pepper. Cook, stirring frequently, for 4 minutes, until softened. Add the garlic and cook for 30 seconds, until aromatic. Increase the heat to high. Add the wine and scrape up the browned bits that cling to the bottom of the pan with a wooden spoon. Return the chicken pieces to the pan. Add 1 cup chicken stock and ¼ cup fresh tarragon. Bring the mixture to a boil. Reduce the heat, cover the pan, and simmer for 30 minutes, until the chicken is cooked through. Remove the chicken pieces to a platter and tent with foil to keep warm.
In a small bowl, whisk together the remaining 2 tablespoons chicken stock and the remaining 1 tablespoons whole wheat flour until smooth. Whisk together the flour mixture into the simmering cooking juices. Whisk in the mustard. Bring the mixture to a boil and cook for 5 minutes. Remove from the heat and stir in the 1 tablespoon unsalted butter until smooth. Season to taste with salt and pepper. Serve sauce over the chicken and garnish with the remaining tarragon.
Nutrition Information:
Serving Size:

1
Amount Per Serving:
Calories:

429
Total Fat:

15g
Saturated Fat:

4g
Cholesterol:

138mg
Sodium:

1286mg
Carbohydrates:

10g
Fiber:

2g
Sugar:

3g
Protein:

49g