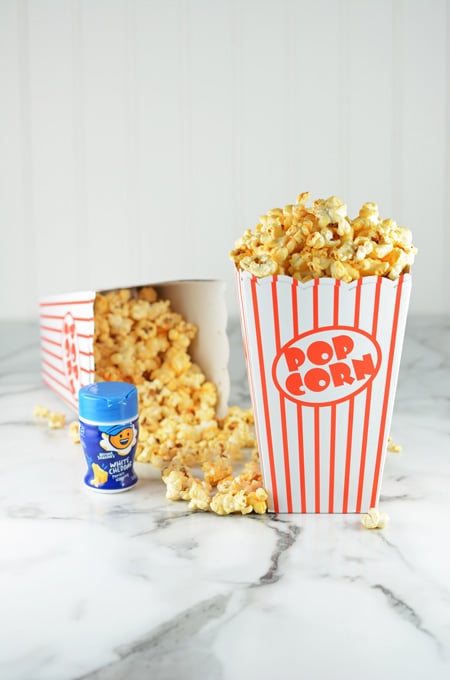 Disclosure: We are a participant in the Amazon Services LLC Associates Program, an affiliate advertising program designed to provide a means for us to earn fees by linking to Amazon.com and affiliated sites. Please note that some of the links in this post are affiliate links and I will earn a commission if you purchase through those links.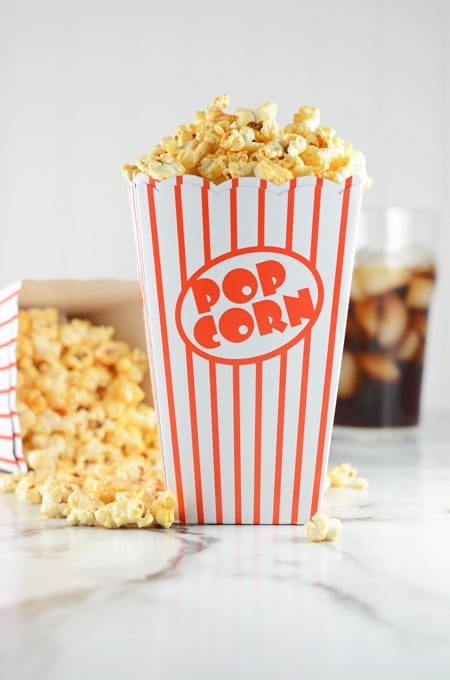 Don't touch that microwave! This popcorn recipe for Smoky White Cheddar Popcorn is made on the stove top! Those bags of microwave popcorn sure are convenient, but I just can't bring myself to eat the additives in those things; and the flavor and freshness you get from popping on the stove top far exceeds that of the microwave version.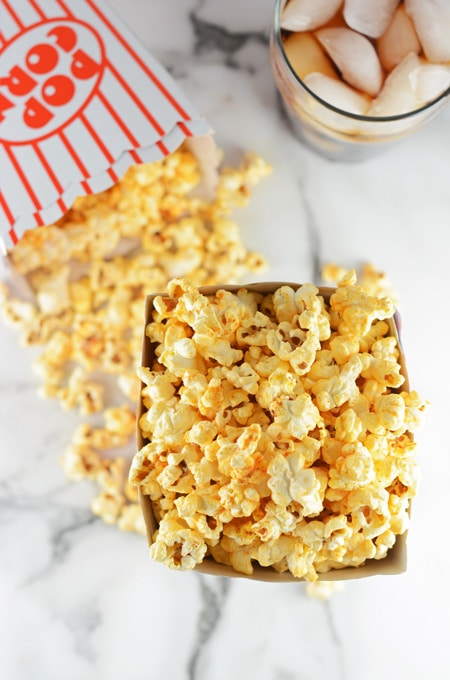 Just a few tips:
You'll need a nice large pot. I use a 12 quart but if you don't have anything that big you can get away with something a little smaller. A large pot helps when stirring to evenly distribute the seasoning. If you do not have a large pot you can also use a large bowl and stir the seasoning in and then divide among smaller bowls.
You'll notice there is no salt in this recipe. That's because I used Kernel Season's White Cheddar Popcorn Seasoning which has salt in it. I didn't have to add any additional salt to this recipe. It was perfect as is!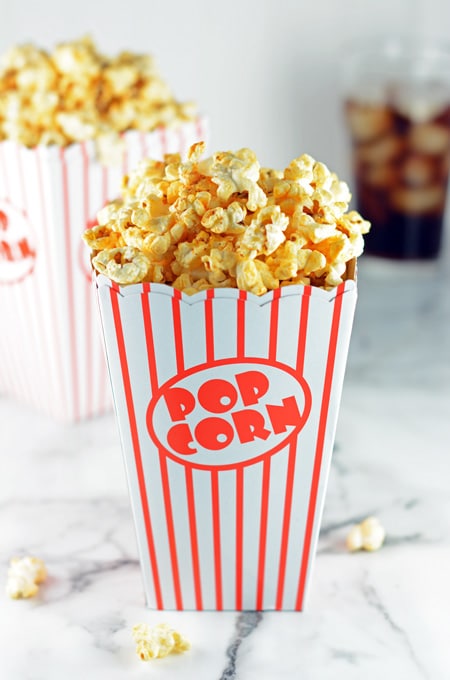 Follow me on social media: Facebook, Instagram, Pinterest, Twitter and Yummly. If you want more from The Cake Chica, be sure to subscribe to The Weekly Recap in the box below this post. You'll receive one email a week with the latest recipe link as well as what is coming up next. And as a thank you you'll receive my free ebook The Cake Chica's Top 10 recipes of 2015 with Step-by-Step Photos for FREE!
This weeks recipe was inspired by this months Degustabox.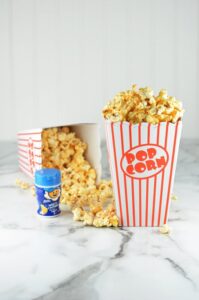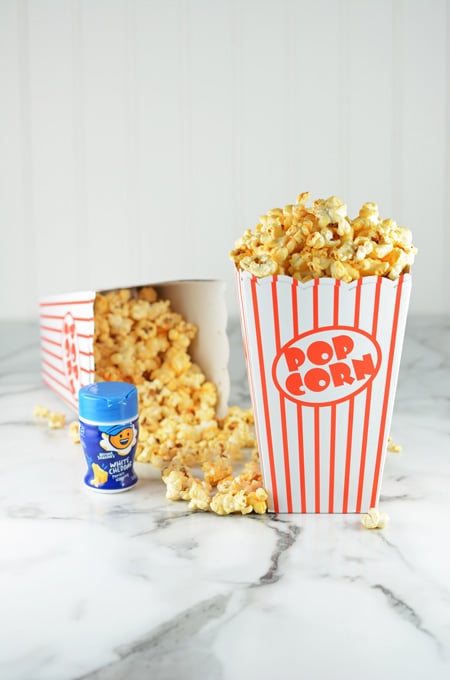 Print
Smoky White Cheddar Popcorn
Yield 8 servings
Ingredients
SPECIAL TOOLS
POPCORN SEASONING
3 tablespoons white cheddar popcorn seasoning such as Kernel Season's
1 teaspoon garlic power
1 teaspoon smoked paprika
POPCORN
3 tablespoons peanut or vegetable oil
1 cup popcorn kernels
¼ cup unsalted butter, melted
Instructions
POPCORN SEASONING
In a small bowl, combine the white cheddar seasoning, garlic powder, and smoked paprika. Set aside until needed.
POPCORN
Heat oil and popcorn kernels in a heavy-bottomed pot over medium-high heat with lid.
When the kernels start to pop, shake the pan back and forth; and up and down to keep the popcorn from burning.
Once the popping has subsided, remove the lid and pour the melted butter on top. With a wooden spoon stir the popcorn to distribute. Pour half of the popcorn seasoning over the top and stir to coat the popcorn. Add the remaining popcorn seasoning and continue to stir and shake the pot evenly to coat the popcorn with seasoning.
Divide popcorn among bowls and enjoy!
Courses Appetizers
Cuisine American
Nutrition Facts
Amount Per Serving

Calories 208

% Daily Value

Total Fat 13 g

20%

Saturated Fat 5 g

25%

Cholesterol 15 mg

5%

Sodium 353 mg

15%

Total Carbohydrates 27 g

9%

Dietary Fiber 5 g

20%

Protein 4 g

8%
* Percent Daily Values are based on a 2,000 calorie diet. Your daily values may be higher or lower depending on your calorie needs.