The Cake Chica's Top 12 Baking Tools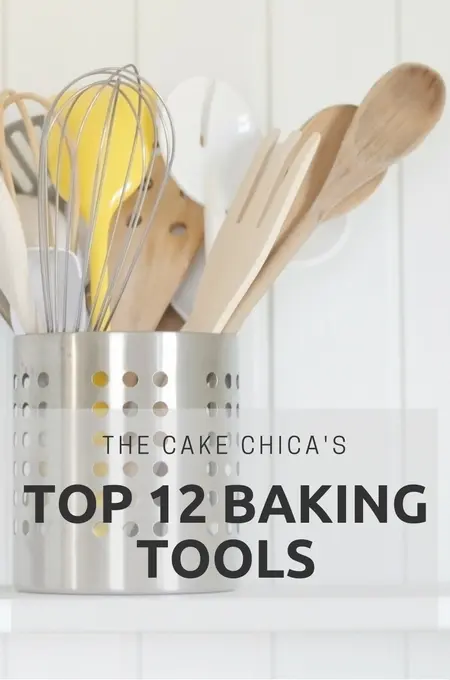 With the baking season upon us I thought I would share a list of my favorite baking tools.
This probably goes without saying but you need measuring cups and spoons to bake. I have a dedicated drawer in my kitchen just for my measuring cups and measuring spoons
. I have about 4 sets of measuring spoons and about 6 sets (maybe more) of measuring cups. You probably won't need that many unless you bake every week like I do, but you should have at least one set of each in your kitchen.
From stirring cake batter, sauces and everything in between, a good silicone spatula
is a must have in the kitchen. I have a few in different sizes. If yours start to tear or come apart, be sure to replace them as bacteria can accumulate in those crevasses.
Oh yes the trusty wooden spoon
! Great for cooking and baking. I mostly use mine to stir cookie dough and make custard.
I like to use a whisk
to combine my dry ingredients when baking cakes and such. It's a good idea to have a few in different sizes. I also have a silicone whisk
that helps when I am cooking a sauce in a nonstick saucepan.
I've been using these exact pans for years. I like them because the sides are straight up and down. Some cake pans you see at the supermarket are not straight up and down. If you look closely they will have a little slope to it. My first set of baking pans were like this and they were 9-inch round. They were horrible. Wilton pans are pretty affordable and work. My personal preference are the 8-inch round cake pans
.
Trust me when I say not all pie plates are created equal. I used to bake with pie plates that are similar but had those ridges on the edges on the little handles on the side. You can find them at most grocery stores. Until I read an article in a magazine one day recommending the one pictured above. I tried it and never looked back! I just recently bought 2 more of these since I just had one. Plus they're super cheap on Amazon.com. With the holidays quickly approaching I wanted to have my baking supplies ready! I now use those other pie plates for breading chicken breast and things like that. I find these basic pie plates
easier to work with when preparing the pie crust.
I prefer the tapered rolling pins
. They give you more control when rolling out pie dough and it's also easier to roll the dough out in a circle than with the rolling pins with the handles.
Cake spatulas
are a must when frosting cakes. If you haven't tried using a cake spatula to frost your cakes your missing out! Do it! Depending on your icing you can heat up the metal cake spatula under hot water then dry it, then run your cake spatula around your cake for a smooth finish to your cake. Just one of the many things I use cake spatulas for. It's also a good idea to have different sizes and some that are offset. The set I've referenced above is a good start.
Sure you can grease and line your pan and flour it, but ever since I found this stuff, my baking life has been simplified! I have never once had this stuff not work. Just be sure to spray your pan well and you'll be good to go. This is a great tool when it comes to holiday baking when time is so valuable.
I don't know what I would do without my KitchenAid! Okay so you don't NEED a KitchenAid Stand Mixer
or any stand mixer for baking, but it makes things so much easier! If you don't have one your hand mixer will work of course, but I would recommend putting a KitchenAid stand mixer on your Christmas list this year. You won't regret it! 🙂
Here is another tool you may not NEED but I know it makes my cooking and baking life much easier. I use this Cuisinart 14-Cup Food Processor
and I love it! My husband bought me this for Christmas one year. If you don't have one maybe it's time you put it on your Christmas list!
You may not think of a Dutch oven
as a tool for baking, but what are you going to cook your apples in for that apple pie this year? Dutch oven's are great to have no matter if you bake or not. You can make soups, chili, stew and of course apple pie filling. The one I reference above is a good quality brand and affordable option.
I hope you found this information valuable. I'd love to hear what some of your favorite baking tools are in the comments below!