Sunday is my favorite day to just relax, rejuvenate and get my body ready for another week of work, cooking and weight training. But it's also one of my favorite days to cook a comforting meal, like this Skillet Chicken Pot Pie. And it's one that won't totally wreck your diet. This meal is under 500 calories so no need to feel guilty after eating this classic comfort food meal. There is a bit of chopping needed for this one so if you have a helper at home to help you prep, that would be awesome. My lovely husband enjoys chopping so that was his job. I, on the other hand, absolutely hate chopping so if you see some pictures on my blog with less than superb chopping, you can bet that was my doing. I am trying to get better, really I am; but don't hold your breath. Well, have a great Sunday everyone, and check back in a few days, I will post an easy dinner recipe and next Sunday I will have a cake recipe perfect for Valentine's Day. Talk to you then!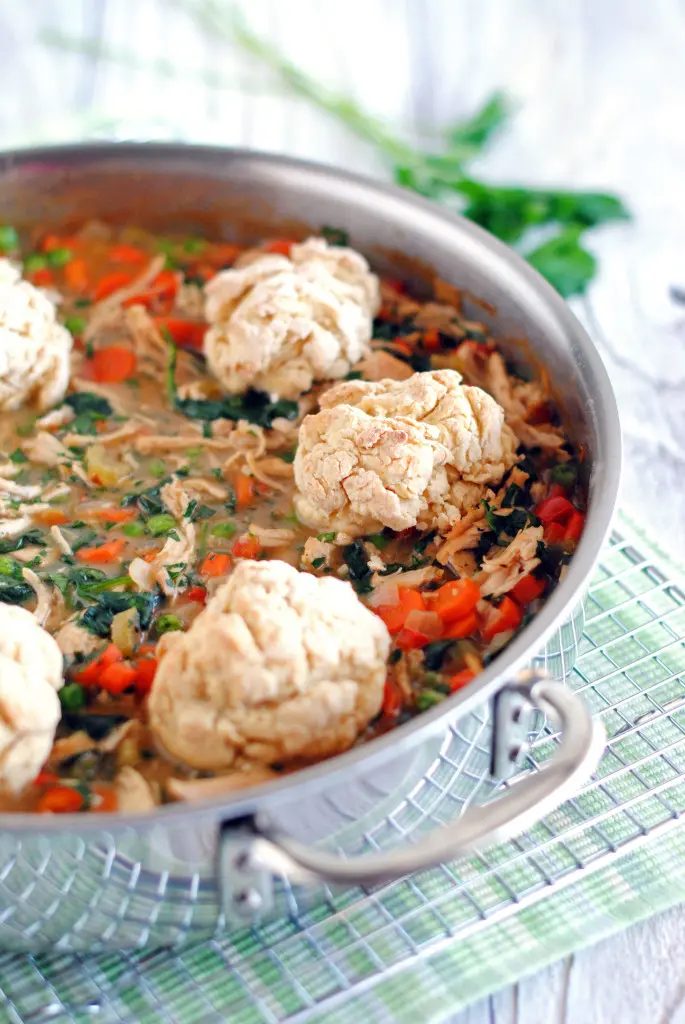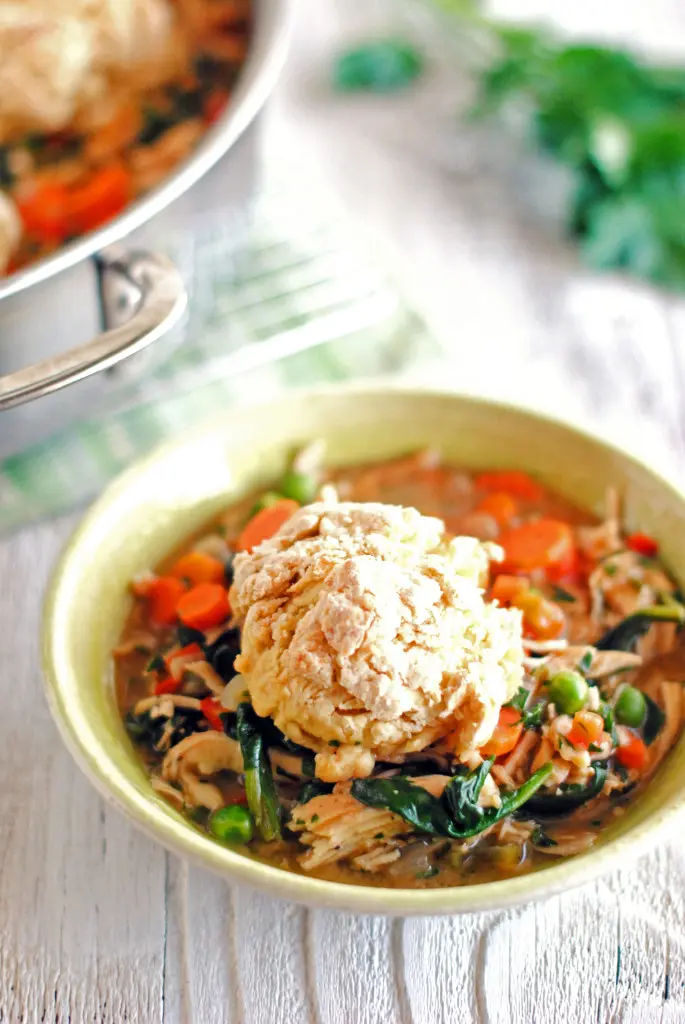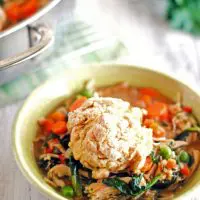 Skillet Chicken Pot Pie
Ingredients
BISCUITS
1 ½ cups all-purpose flour
1 ½ teaspoons baking powder
½ teaspoon baking soda
¼ teaspoon salt
½ cup buttermilk
3 tablespoons unsalted butter, melted
FILLING
6 tablespoons al-purpose flour
1 ½ pounds boneless, skinless chicken breast, trimmed and pounded if necessary
1 tablespoon canola oil
Salt and pepper to taste
1 pound carrots, peeled and cut into ¼-inch-thick rounds
2 red bell peppers, stemmed, seeded and chopped
1 onion, minced
1 celery rib, sliced ¼-inch thick
2 garlic cloves, minced
2 teaspoons minced fresh thyme
4 cups low-sodium chicken broth
1/3 cup dry sherry
2 bay leaves
5 ounces baby spinach
¾ cup frozen peas
3 tablespoons half-and-half
2 tablespoons minced fresh parsley
Instructions
BISCUITS
Adjust an oven rack to the lower-middle position and heat your oven to 425 degrees. Line a baking sheet with parchment paper. Whisk the flour, baking powder, baking soda and salt together in a large bowl. In a small bowl whisk together the buttermilk and melted butter. Gently stir the wet ingredients into the dry ingredients with a rubber spatula. Mix until just combined and not pockets of flour remain. It's ready when the dough sticks together when pressed.
Divide the dough into 6 pieces and shape into balls and place them evenly on your prepared baking sheet. Bake until the biscuits have risen and set but are still pale, about 10 minutes. Transfer the biscuits to a wire rack and set aside.
FILLING
In a 12-inch oven safe skillet, toast the flour over medium-high heat, stirring often. Once the flour is golden brown, about 7 minutes, transfer the flour to a large bowl and set aside. Clean the skillet out with a paper towel.
Pat the chicken dry with paper towels and season with salt and pepper. Heat the oil in the skillet over medium-high heat, just until smoking. Add the chicken and cook until browned on one side, about 4 minutes. Transfer the chicken to a plate and set aside. Leave any chicken fat in the pan.
Add the carrots, bell peppers, onion and celery to the fat left in the skillet and cook, stirring occasionally until the vegetables are soft, about 10 minutes. Stir in the garlic and thyme.
Whisk the broth, sherry, and bay leaves into the bowl with the cooled toasted flour. Once completely combined, pour the mixture into the skillet. Add the browned chicken into the pan and bring to a simmer, cover and cook over medium-low heat for 15 minutes or until the chicken registers 160 degrees with a thermometer.
Transfer chicken to a plate to cool. Once chicken has cooled down, shred into bite-sized pieces. Meanwhile continue to simmer the sauce until the vegetables are tender and the sauce is thickened, about 8 minutes.
Discard bay leaves and stir in spinach. Once the spinach has wilted, turn off the heat and add shredded chicken, peas, half-and-half, and parsley. Season with salt and pepper.
Arrange the biscuits on top of the filling in the skillet about 1 ½ inches apart. Transfer the skillet to the oven and bake for 10 minutes. The biscuits should be golden and the filling should be bubbling. Let cool for 5 minutes before serving.
Nutrition Information:
Serving Size:

1
Amount Per Serving:
Calories:

455
Total Fat:

10g
Saturated Fat:

4g
Cholesterol:

85mg
Sodium:

476mg
Carbohydrates:

47g
Fiber:

10g
Sugar:

6g
Protein:

36g
Disclaimer: Please note that some of the links in this post are affiliate links and I will earn a commission if you purchase through those links. I have used all the products and recommend them because they are helpful and are companies I trust, not because of the commissions that I may earn from you using those products.
Adapted from The America's Test Kitchen Healthy Family Cookbook