Adapted from Cooks Illustrated The Science of Good Cooking
This recipe has become a staple in my home. It's easy, and like the recipe title says, 'simple' to make, and is versatile. My husband likes to use the leftovers to make breakfast for the next few days, by adding things like cheese, organic pre-cooked sausage, salsa and egg whites. It makes for a tasty and quick breakfast in the mornings. This sounds like a future blog post in the making, more on this recipe later. But for now, check out my version of Simple Rice Pilaf below.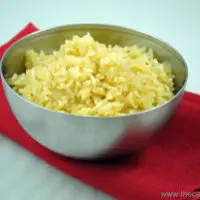 Simple Rice Pilaf
Ingredients
2 cups long-grain white rice
3 tablespoons unsalted butter
1 medium onion (about 1/2 to 2/3 cup), chopped fine
3 cups reduced sodium chicken broth
1 teaspoon kosher salt
¼ freshly ground black pepper
Instructions
Place rice in a fine-mesh strainer and rinse under cold running water until the water runs clear. Rinsing the rice before cooking helps keep the grains separated. Place the strainer over a bowl and set aside.
Melt the butter in a large saucepan over medium heat. Add the onion and cook until softened but not browned, about 4 minutes. Add rice and cook, stirring constantly, until grains become chalky and opaque, 1 to 3 minutes. Add chicken broth, salt and pepper. Then increase the heat to high and bring to a boil, stirring to blend the ingredients. Reduce the heat to low, cover and simmer until the liquid is absorbed, about 15-20 minutes. Turn off the heat, remove the lid and place a kitchen towel, folded in half over the saucepan; replace the lid. Let stand for 10 to 15 minutes. This helps lighten up the rice by absorbing the moisture in the pot and helps the rice stay nice and fluffy. Fluff the rice with a fork and serve.
Nutrition Information:
Serving Size:

1
Amount Per Serving:
Calories:

292
Total Fat:

6g
Saturated Fat:

4g
Cholesterol:

15mg
Sodium:

362mg
Carbohydrates:

50g
Fiber:

1g
Sugar:

1g
Protein:

5g