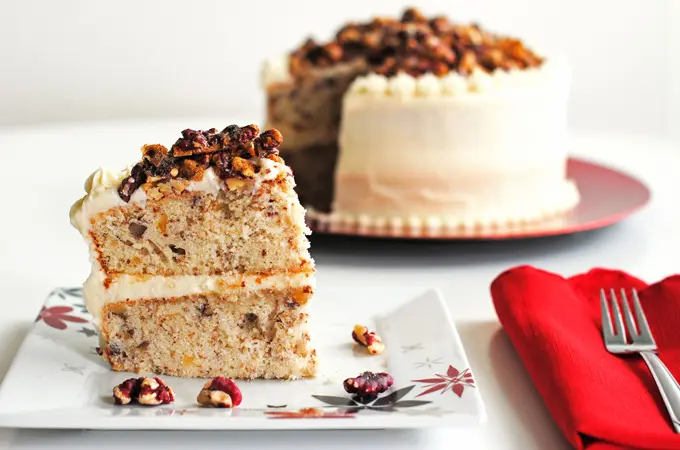 I recently had the opportunity to try red walnuts by Sanguinetti. The two things I liked about these walnuts was their vivid red color and their flavor. They do not have the bitterness of regular walnuts, which was something that kept me from using walnuts in a lot of my baking. Well I am happy to say not anymore. Now that I know about these beauties I'll be choosing red walnuts from now on. Red walnuts are available at the end of fall and during winter.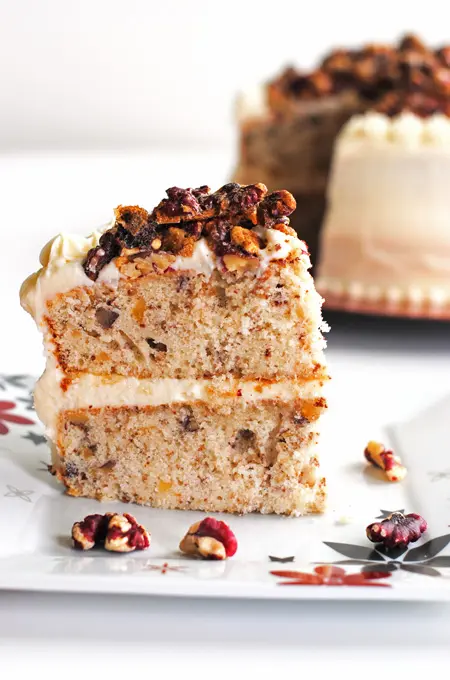 I really wanted to highlight the walnut in the best way possible and after researching about the red walnut and how carefully they are handled so their beautiful red color would not be ruined I also wanted to treat them in the same manner. I wanted to be sure I captured the flavor of the walnut but also the beauty of it as well. I decided to make a cake with the walnuts chopped up inside, and then garnish the cake with some candied red walnuts to let the walnuts really shine through. I hope you enjoy this Red Walnut Praline Cake, which is soaked in a bourbon simple syrup and iced with a vanilla cream cheese frosting. (I doubled the amount of frosting from the original recipe but you do not need to if you are not planning on doing any special decorating. But I like to always have more frosting than not enough so I usually will always double the frosting just to be sure I have enough to decorate with. )
Here are some interesting facts about red walnuts:
Delicious raw California red walnuts make for not just a delicious tasting snack but a beautiful looking one as well! They are beautiful on salads, baked good and many other dishes. These red walnuts pack an amazing walnut taste too! Brighten up any dish with our great looking red walnuts. Our red walnuts are a fairly recent creation.
They are not genetically modified and were created using natural methods of grafting Persian red-skinned walnuts onto larger and creamier English walnuts. Red walnuts are only red on the inside, the tree and the shells look just like your typical English Walnuts.
Our red walnuts are larger and the shells are a little harder than other walnut varieties, and the trees grow slower. To retain their red color, they are shelled and handled very carefully. We take great care to maintain the beautiful red layer.
Our red walnuts are late-producing, so they are available at the end of fall and in the winter. Because they are so rare, supplies are limited. We suspect that you won't see many after the new year. The good news is that we'll be back next year with more!
For more information on where you can buy these red walnuts, head over Sanguinetti website.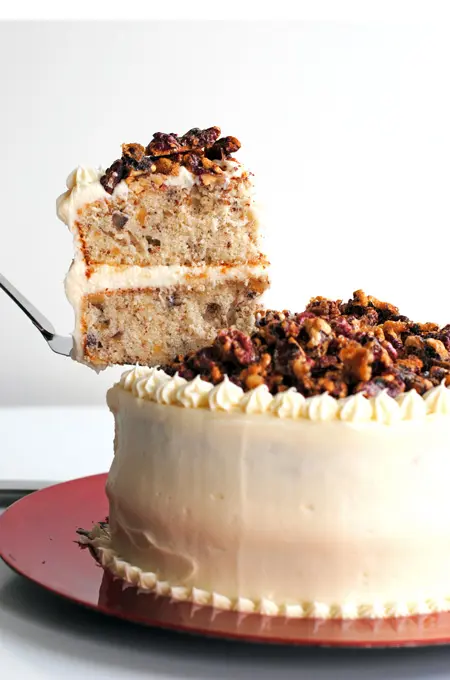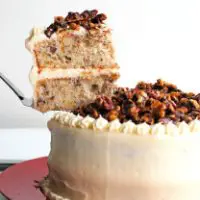 Red Walnut Praline Cake
Ingredients
CAKE
2 1/2 cups cake flour
1 1/2 teaspoons baking powder
1/2 teaspoon salt
2 cups granulated sugar
1 cup (2 sticks) unsalted butter, at room temperature
4 large eggs, at room temperature
2 teaspoons vanilla extract
1 cup whole milk
1 1/2 chopped red walnuts or regular walnuts
SYRUP
3 tablespoons water
3 tablespoons granulated sugar
1 tablespoon bourbon
FROSTING
24 ounces cream cheese, at room temperature
1 cup (2 sticks) unsalted butter, at room temperature
4 teaspoons vanilla extract
8 cups powdered sugar
PRALINE TOPPING
1 large egg white, at room temperature
1 tablespoon water
1/2 cup light brown sugar
1 1/2 cups red walnut or regular walnut halves
Instructions
CAKE
Place a rack in the center of your oven and preheat to 350 degrees. Grease two 9-inch cake pans and line the bottoms with wax or parchment paper. Grease the paper and lightly coat both pans with flour. Whisk flour, baking powder and salt in a medium bowl. Using an electric mixer, beat the sugar and butter in a large bowl until fluffy, about 2 minutes. Beat in egg 1 at a time, add vanilla. Beat in the dry ingredients in 3 additions, alternating with the milk in 2 additions. Fold in the chopped walnuts. Divide the batter between the prepared cake pans.
Bake the cakes until a cake tester inserted in the middle comes out clean or with a few moist crumbs, about 35 minutes. Cool cakes in their pans for 10 minutes. Insert a thin flexible spatula to loosen the cake from the sides of the pan and turn cakes onto wire racks to cool completely
SYRUP
Stir 3 tablespoons water and sugar in a small saucepan over medium heat until the sugar dissolves and mixture comes to a simmer. Remove from the heat and stir in the bourbon, set aside.
CREAM CHEESE FROSTING
Using an electric stand mixer, in the large bowl beat the cream cheese, butter and vanilla. Beat sugar in 1 cup at a time, occasionally scrapping down the bowl.
PRALINE TOPPING
Preheat your oven to 300 degrees. Line a baking sheet with parchment paper or a silicon mat. Using a fork, beat the egg white and 1 tablespoon water in a medium bowl until foamy. Add the sugar and stir until the sugar dissolves. Add the walnuts and toss to coat. Spread the walnut mixture on the prepared baking sheet and bake for about 10 minutes, then stir and bake for another 10-15 minutes. Cool nuts completely on baking sheet.
Place 1 cake layer, flat side up on a cake plate or cake round. Poke several holes on the top of the cake with a skewer or toothpick. Brush some of the simple syrup on top. Spread about 1 cup of the frosting over the top of the cake. Top with the second layer of cake flat side up. Poke several holes on top of the cake and brush the remaining simple syrup on top. Spread frosting on top of the cake and decorate.
Adapted from Bon Appetit Desserts