A few weeks ago my husband and I went to Fredericksburg, Texas, (a small town on the outskirts of San Antonio ) for my cousins wedding. We were also celebrating our 9 year wedding anniversary and wanted to celebrate by going to San Antonio before the wedding. We decided to go on a food tour called Fork in the River. This walking tour took us to 3 restaurants and was about 3 hours long.
The first stop was Justin's Ice Cream. The first ice cream flavor we tasted was made with sultana raisins and Marsala wine, called Balaguer; an ode to Spain. The next flavor was Mango. This one Bill Clinton called a "national treasure" and requested that Justin send to both of Bill Clinton's inaugural addresses. The third flavor was chocolate, but with a surprise. This chocolate ice cream had habanero pepper from Justin's own garden, and cinnamon from Vietnam. The last one was more of a palate cleanser and was actually my favorite of the 4 as well as my husband's, which is a sorbet or Italian ice, which is nothing but sugar, water, ice and fresh squeezed lemon.


Our second stop was Biga on the Banks. Biga on the Banks is Tex-Mex inspired cuisine at its finest! Chef and owner Bruce Auden prepared a very playful take on nachos for our tasting, Smoked Salmon Nachos.
Biga on the Banks opened 25 years ago in a town full of Tex-Mex cuisine. Chef and owner, Bruce Auden is a James Beard Award nominated chef for "Best Chef Southwest" 2000-2011 (the Oscars of the food world). He has also been featured in Texas Monthly, Gourmet, and other high profile publications. Below are a few pictures I took at Biga on the Banks.


What I loved most about this stop was being able to go behind the scenes and check out the immaculate kitchen! Chef Auden even took the time to pose for pictures with everyone on our food tour. That means a lot to this foodie!
Our last stop was Restaurant Gwendolyn, a restaurant that is "old school", by that I mean there are no electrical appliances used in food preparation at Restaurant Gwendolyn. No microwave, toaster, blenders, deep fryers, food processors or anything like that. The food processor in this place is the mortar and pestle or what some Texans might call a molcajete. Which I am happy to say I finally bought one of my own on this trip in Fredericksburg at Der Kuchen Laden, my favorite store! If you like to cook and bake, then this is the place for you! Now back to the food tour.
Chef and owner Michael Sohocki is a James Beard award nominee for "Best Chef in the Southwest", has been featured on Food Network, the Food Channel, Chuck Eats the Streets, Star Chefs and about 4 months ago USA Today ranked Restaurant Gwendolyn the number 1 food spot in the city and on the Riverwalk.
What I loved most about Restaurant Gwendolyn was how Chef Michael Sohocki uses local ingredients. The menu, which changes daily, has the local suppliers he uses listed next to the dish. He also butchers one animal at a time and uses every piece of that animal. Nothing goes to waste at Restaurant Gwendolyn. Oh and you'll never see a Sysco truck delivering food there! Just real food! For more detailed information about Restaurant Gwendolyn, I encourage you to visit their website. It's a real eye-opener!


Now no blog post would be complete without a recipe so I have a short and simple one for you to pay tribute to my great state of Texas and specifically, to San Antonio.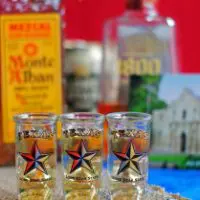 Remember The Alamo
Ingredients
1 1/2 ounces tequila
1 1/2 ounces Lone Star beer
1 1/2 ounces premium mescal
Instructions
Fill three shot glasses with the separate ingredients. Quickly drink the tequila shot, then the Lone Star shot, then the mescal shot.