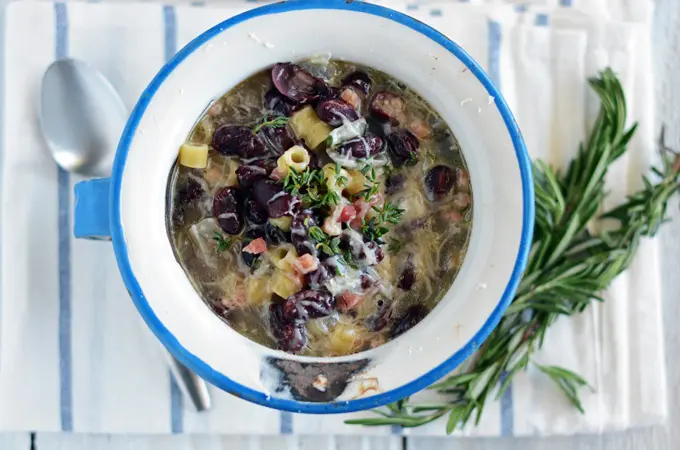 Soup has been the number one food in my diet lately. I have been fighting a bacterial infection since two Sunday's ago. Once everything I ate tasted like metal, I knew something was up, and went to my doctor A.S.A.P. The first prescription was a no-go. I had migraine headaches straight from the pits of hell, and my appetite was nowhere to be found. It's a cruel world; first taking away my tastes buds, then taking away my appetite. I knew there was no way I was going to be able to finish off this prescription without dying of starvation first. I called my doctor's office and had them switch my meds. On the new meds now, I still have the typical side effects of antibiotics but not near the extent I had on the other prescription. During this time there were a couple of new recipes I wanted to try but I thought, what's the point? I can't taste anything anyway. So I decided to make some of my old favorites, since I already know what they taste like. I made this Pasta e Fagioli twice since I have been sick. And thought it might be a good time to give it a little update since the first time I posted this recipe back in 2012.
I'll be honest, I am a little biased with this Pasta e Fagioli. This is the first recipe I've had for it. And I loved it so much the first time I tried it from Giada de Laurentiis' Cookbook Giada's Family Dinners, that I haven't tried any other recipe for Pasta e Fagioli. I'm a little afraid of being disspointed. This recipe is on regular rotation in my house and I think it will be in yours too. Give it a try and tell me what you think. And what's your favorite soup to eat when you're sick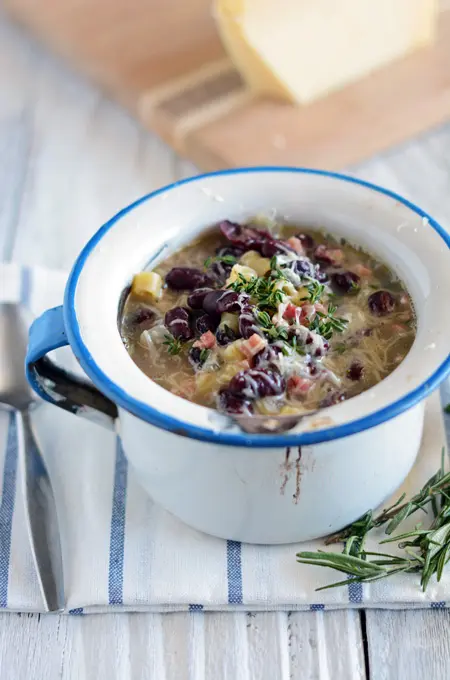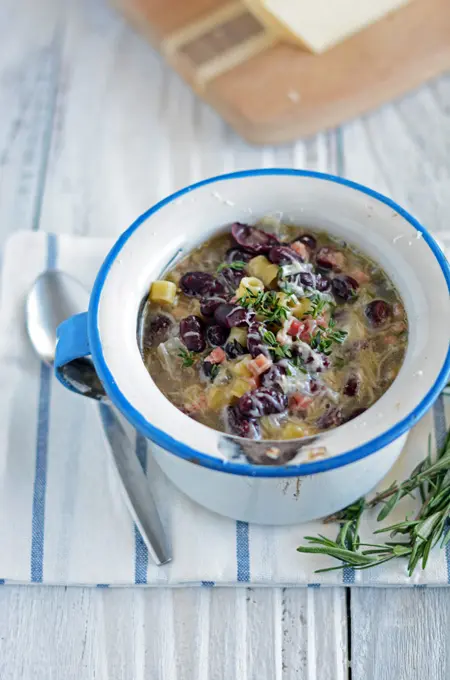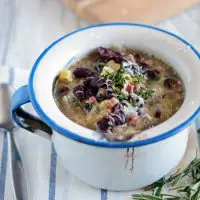 Pasta e Fagioli
Ingredients
4 sprigs of fresh thyme
1 large fresh rosemary sprig
1 bay leaf
2 tablespoons olive oil
1 onion, chopped
3 ounces pancetta or organic bacon, chopped
2 garlic cloves, minced
6 cups reduced sodium organic chicken broth
2 (14 ½ oz.) cans organic red kidney beans, drained and rinsed
1 cup elbow macaroni or ditalini
Sea salt and black pepper to taste
1/3 cup fresh parmesan cheese
Instructions
Wrap the thyme, rosemary and bay leaf in a piece of cheesecloth and tie it with kitchen twine.
Heat the olive oil in a large, heavy saucepan over medium heat. Add the onion, pancetta, and garlic and sauté until the onion is tender, about 3 minutes. Add the broth, beans, and sachet of herbs. Cover and bring to a boil over high heat, then decrease the heat to medium and simmer until the vegetables are very tender, about 10 minutes. Discard the sachet.
In a blender or food processor, puree 1 cup of the soup until smooth, then return the puree to the saucepan. Cover and return the soup to a boil over high heat. Add the macaroni, cover and boil, stirring occasionally, until the macaroni is tender but still firm, about 8 minutes.
Season the soup with pepper.
Ladle the soup into bowls and sprinkle with parmesan cheese.
Notes
All nutrition information is approximate and will change according to ingredient brands used.
Nutrition Information:
Serving Size:

1
Amount Per Serving:
Calories:

436
Total Fat:

18g
Saturated Fat:

6g
Cholesterol:

27mg
Sodium:

1125mg
Carbohydrates:

36g
Fiber:

33g
Sugar:

5g
Protein:

32g