This is only my second time making risotto. I hear there's a trick to getting it nice and creamy….. stirring! Stirring loosens the starch molecules from the outside of the rice grains into the surrounding liquid, creating a smooth creamy-textured liquid.
Some tips on cooking risotto: Properly cooked risotto should be rich and creamy, but still have some resistance or bite, (think of al dente). The traditional texture should be fairly fluid or "flowing in waves", so says Wikipedia. It's best served on flat dishes and should be easy to spread out but should not have excess liquid. Risotto should be eaten immediately, (that's not a problem, I was eating this out of the pan while I was cooking it) as it continues to cook in its own heat and can become too dry.
For my second try at Risotto, I was pretty happy with the results. It was creamy, had a nice bite, but probably could have had a little more spread to it. However, this risotto was so tasty I could have cared less about the spread LOL. Enjoy! I know I did.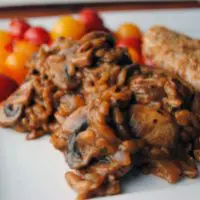 Mushroom Risotto
Ingredients
1 cup Arborio rice
1 large onion, chopped
1 clove garlic, chopped
1 teaspoon fresh parsley, chopped
Salt and pepper to taste
1 ½ cups fresh mushrooms, sliced
1 cup reduced fat milk
¼ cup half and half
3 cups low-sodium chicken broth, plus more if needed
1 tablespoon unsalted butter
½ cup Parmesan cheese
Instructions
Bring the chicken broth to a boil in a small saucepan. Reduce the heat and keep warm
Coat a large skillet with cooking spray and place over medium-high heat. Add the onion and garlic and sauté until onion is tender. Stir in the parsley, salt, pepper, and mushrooms. Reduce heat to low and cook until mushrooms have soften, stirring occasionally.
Add the milk and cream to the skillet, mix everything together, then stir in the rice. Bring to a simmer, then stir in the heated chicken broth one cup at a time, stirring after each addition until it is absorbed by the rice. Repeat this process until the rice is cooked but has a nice bite. You may need more chicken broth or less.
Once the rice is finished cooking, stir in the butter and cheese, let the cheese melt for a minute then remove from the heat.
Nutrition Information:
Amount Per Serving:
Calories:

336
Total Fat:

13g
Saturated Fat:

8g
Cholesterol:

38mg
Sodium:

908mg
Carbohydrates:

36g
Fiber:

2g
Sugar:

6g
Protein:

19g