I loved this chocolate pudding. I found it in Oxygen magazine in the January 2011 issue. This is a great alternative to the box pudding mix.
"Cocoa has high in anti-inflammatory flavonoids and fiber, which helps block fat absorption. Not only that, but chocolate has been shown to be an effective mood booster!"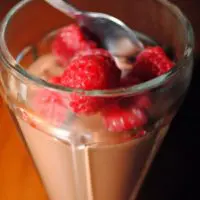 Mocha Pudding
Ingredients
1/2 cup of unsweetened cocoa powder
3 tablespoons arrowroot flour
2 cups skim milk
1/4 cup raw honey
2 tablespoons brewed coffee (the stronger the better)
1 teaspoon pure vanilla extract
Instructions
In a medium pan, whisk together cocoa and flour. Stir in milk and honey. Bring to a boil over medium heat and stir for about 8 minutes until mixture thickens.
Remove pan from heat and stir in coffee and vanilla. Let cool to room temperature before serving. If you have time, chill in the fridge for several hours.