I was excited to find this recipe in The Miami Mediterranean Diet book. I love pasta salad, but I haven't come across one that doesn't use an Italian bottled salad dressing. Until now! I try to stay away from all bottled salad dressings. They just have too many additives. And homemade salad dressings taste way better and are healthier for you.
This is my version of the recipe. Feel free to try it out at your next picnic.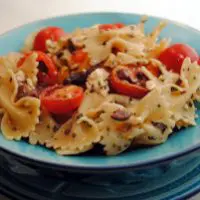 Greek Olive and Feta Cheese Pasta
Ingredients
16 oz. whole wheat bow tie pasta or rigatoni
5 oz. crumbled feta cheese
25 Greek olives, pitted and coarsely chopped
½ cup fresh basil, torn
2 garlic cloves, finely minced
¼ cup extra virgin olive oil
3 pepperonchini peppers, chopped
1 red bell pepper, diced
1 yellow bell pepper, diced
1 pint cherry tomatoes, halved
Instructions
Bring a large pot of water to a boil. Salt the water liberally. Add pasta and cook pasta until al dente about 10 minutes. Remove from heat, drain pasta, and return to pot, drizzling with a scant amount of olive oil to keep the pasta from sticking. Set aside. In a large serving bowl, combine feta cheese, olives, basil, garlic, olive oil and pepperonchini peppers, then set aside for about 30 minutes. Add cooked pasta, red and yellow bell peppers, and tomatoes; toss the ingredients well. Cover and refrigerate for 1 hour, until well chilled. Toss again right before serving.
Nutrition Information:
Serving Size:

1
Amount Per Serving:
Calories:

740
Total Fat:

30g
Saturated Fat:

7g
Cholesterol:

31mg
Sodium:

993mg
Carbohydrates:

94g
Fiber:

14g
Sugar:

9g
Protein:

25g