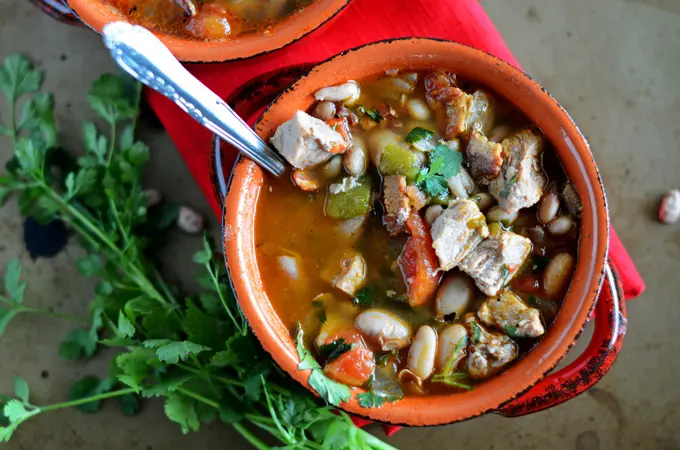 "Who made the beans." This is the phrase you will hear when you share these Frijoles Charros or Cowboy Beans, with your family and friends. I hear it every time I bring these beans to family gatherings. They take a little time to prepare but nothing you can't handle. These are the real deal! No short cuts here. Your patience will be rewarded in the end.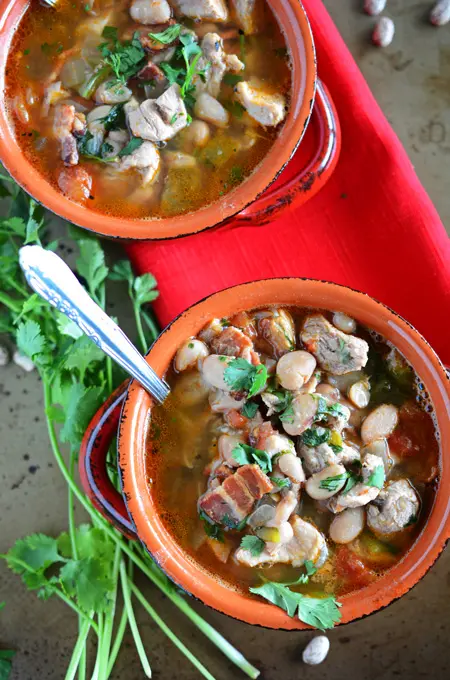 As I mentioned above these take some time to prepare. About 2 hours after soaking the beans, but most of it is just simmering time. These can be prepared several days ahead of time as well. Just reheat slowly when you're ready to serve.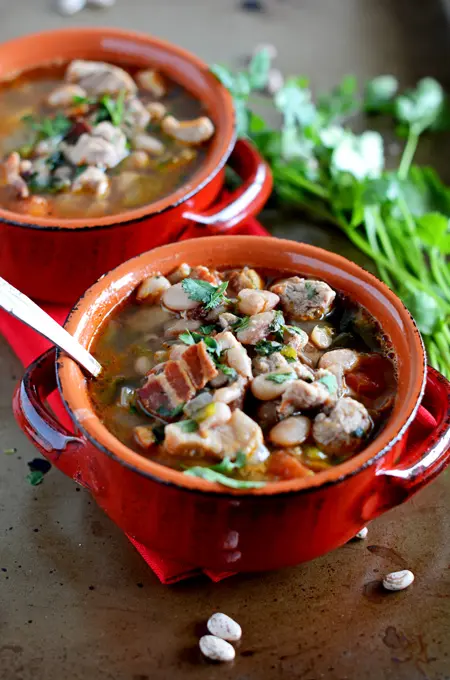 In my family I usually make these for our Christmas dinner, which is usually Mexican themed. With Tamales and Mexican Rice, these Frijoles Charros fit right in! These also pair well with grilled meats such as chicken or skirt steak.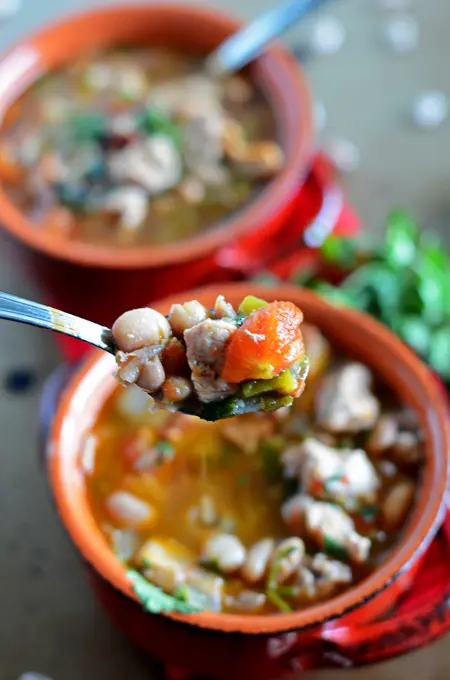 Be sure to get the best ingredients you can find. Organic dried pinto beans, organic veggies, organic bacon, and quality pork shoulder.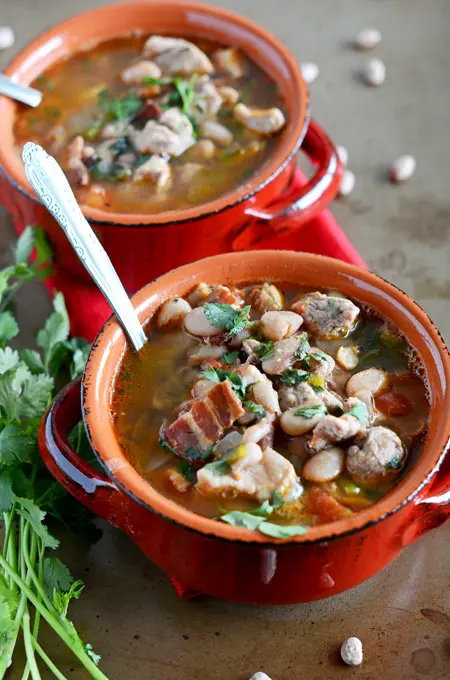 You May Also Like:
Adapted from Authentic Mexican by Rick Bayless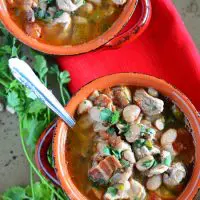 Frijoles Charros
Cook Time:
2 hours
30 minutes
Total Time:
10 hours
30 minutes
Charro beans made from dried pinto beans, pork shoulder, bacon, onions and poblano chiles! A Mexican food staple you can make at home! They'll only taste like you got them from a high class Mexican restaurant!
Ingredients
1 pound (about 2 ½ cups) dried pinto beans
1 pound pork shoulder, trimmed of fat, cut into ½-inch to 1-inch cubes
Kosher salt for pork
8 thick slices organic bacon, cut into 1/2-inch pieces
1 medium organic onion, diced
2 large fresh poblano chiles, roasted and peeled, seeded and chopped *see note
2 ripe, medium-small organic tomatoes, roasted **see note, or one 15-ounce canned tomatoes, drained and chopped
1 teaspoon kosher salt
½ cup roughly chopped organic cilantro
Instructions
Pick out any foreign particles from the beans, then rinse and place in a 4 quart pot or Dutch oven. Add about 2 quarts water and remove any beans that float. Soak beans for 4 to 8 hours. (You can also do a quick soak by boiling the beans for about 2 minutes then let them stand for 1 hour.) Drain beans.
Add 2 quarts fresh water to the pot of beans, and add the pork shoulder and bring to a boil slowly. Partially cover beans and simmer over medium-low heat, stirring occasionally, until the beans are tender, about 1 to 2 hours.
Cook the bacon in a large non-stick skillet over medium-low heat until crisp. Remove the bacon to a paper towel lined plate and discard all but 2 tablespoons of the bacon fat. Increase the heat to medium. Add the onion and chiles and cook until the onions turn a deep golden brown, about 8 minutes. Stir in the tomatoes and cook until all the liquid has evaporated.

Add the tomato mixture, bacon and salt to the cooked beans. Simmer, stirring
occasionally for 20 to 30 minutes. If the beans are too soupy, uncover and
raise the heat to simmer away the excess liquid. For a thicker consistency,
puree 2 cups of the beans with their liquid and return to the pot. Add salt and
pepper to taste. Stir in fresh chopped cilantro and serve.
Notes
* To roast in the broiler: Adjust an oven rack to the closest position to the heating element. Cut chiles in half and remove the stem and seeds. Place chiles on a baking sheet. Broil until the chiles are blistered and darkened, about 5 to 8 minutes, rotating the pan halfway through roasting. Cover the chiles with foil or a paper bag to let steam for 10 minutes, then peel the skin off the chiles and chop.
**To roast tomatoes: Adjust an oven rack to the closest position to the heating element. Cut the tomatoes in half and seed the tomatoes. Lay tomato halves on a baking sheet. Let the tomatoes roast, rotating the pan halfway through roasting, until softened and blackened about 12 to 15 minutes. Cover the tomatoes with a paper bag or sheet of foil to let steam for 10 minutes. Peel, core and chop.
Nutrition Information:
Serving Size:

1
Amount Per Serving:
Calories:

307
Total Fat:

11g
Saturated Fat:

4g
Cholesterol:

36mg
Sodium:

454mg
Carbohydrates:

31g
Fiber:

11g
Sugar:

3g
Protein:

19g