Wow! When I was making this salad I had no idea how beautiful it would look when it was done. Talk about an easy meal to photograph. I guess I could call this salad "photogenic". I heard that term a lot 15 years ago when I dabbled in the modeling industry. I realized it wasn't for me when I was denied a soda at a fashion show. Not that I would drink soda now but as a young adult I wanted a Coke and all they had was diet and I wasn't about to do that. Well times have changed and now I hold the camera and choose my models in food! I am happy to say I made the right decision.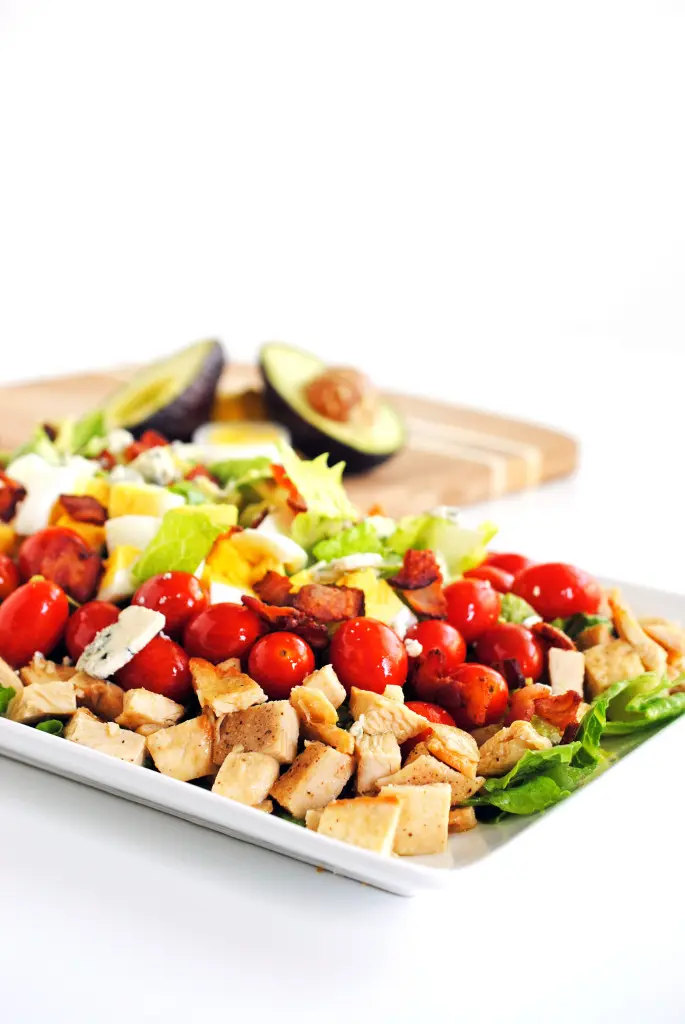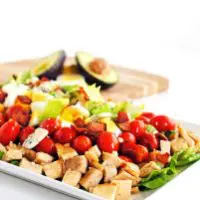 Cobb Salad
Ingredients
VINAIGRETTE
1/2 cup extra-virgin olive oil
2 tablespoons red wine vinegar
2 teaspoons lemon juice
1 teaspoon Worcestershire sauce
1 teaspoon Dijon-style mustard
1 garlic clove, minced
1/2 teaspoon kosher salt
1/4 teaspoon sugar
1/8 teaspoon black pepper
SALAD
3 eggs
18 ounces boneless, skinless chicken breasts
Salt and pepper
Vegetable spray
1 large head romaine lettuce, about 14 ounces
4 cups watercress, about 4 ounces
2 pints grape tomatoes
2 ripe avocados, halved, pitted and cut into 1/2-inch dice 8 slices bacon, cut into 1/4-inch dice, cooked over medium heat until crisp
1/2 cup blue cheese
3 tablespoons minced fresh chives
Instructions
VINAIGRETTE
Whisk all the ingredients together in a medium bowl and set aside.
SALAD
Place eggs in a medium saucepan and cover with 1 inch of water. Bring to a boil over high heat. Remove the saucepan from the heat, cover and let sit for 10 minutes. Meanwhile, fill a medium bowl with 4 cups of water and a tray of ice cubes. Transfer eggs to the water bath and let sit for 5 minutes, then peel eggs and cut into 1/2-inch cubes and set aside until ready to use.
Season the chicken with salt and pepper. Adjust an oven rack 6 inches away from broiler element and heat broiler. Spray broiler pan with vegetable oil spray or line a baking sheet with foil and spray. Place chicken breast on top and broil chicken until lightly browned, about 4 to 8 minutes. Using tongs flip the chicken over and continue to broil until the thickest part of the chicken is no longer pink and registers 160 degrees, about 6 to 8 minutes. Let chicken cool and cut into 1/2-inch cubes and set aside.
Toss romaine and watercress with 5 tablespoons of the vinaigrette in a large bowl. Once coated, arrange on a very large, flat serving platter. Place the chicken in the now-empty bowl and add 1/4 cup of the vinaigrette and toss to coat. Arrange chicken in a row around the edge of the platter. Place the tomatoes in the now-empty bowl and add 1 tablespoon vinaigrette and toss to combine. Arrange the tomatoes on the platter alongside the chicken. Arrange eggs and avocado in separate rows near the center of the greens and drizzle with any remaining vinaigrette. Sprinkle bacon, blue cheese and chives evenly over the salad and serve.
Nutrition Information:
Serving Size:

1
Amount Per Serving:
Calories:

438
Total Fat:

32g
Saturated Fat:

7g
Cholesterol:

64mg
Sodium:

470mg
Carbohydrates:

10g
Fiber:

5g
Sugar:

2g
Protein:

29g
Adapted from Cook's Illustrated