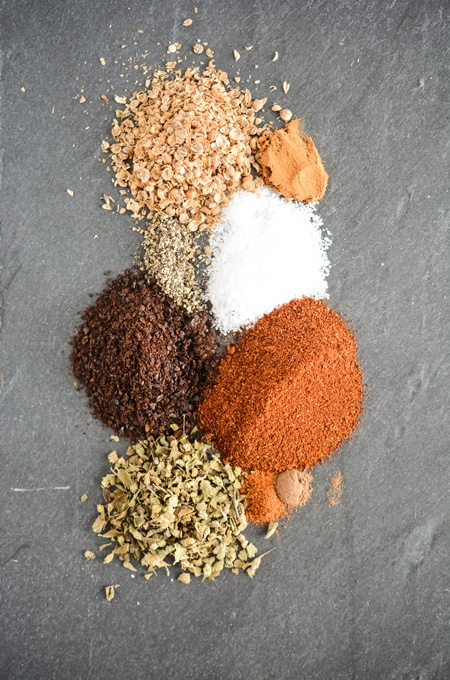 *Please note that some of the links in this post are affiliate links and I will earn a commission if you purchase through those links.*
Over here in Texas we have easy access to many International foods, especially Mexican food. Chorizo is a type of sausage, usually Mexican or Spanish.
Spanish chorizo is made from coarsely chopped pork and pork fat, seasoned with smoked paprika and salt. It is generally classed as either spicy or sweet, depending upon the type of smoked paprika used. Depending on the variety, chorizo can be eaten sliced without further cooking, sometimes sliced in a sandwich, or grilled, fried, or baked alongside other foodstuffs, and is also an ingredient in several dishes where it accompanies beans, such as fabada or cocido montañés. -Wikipedia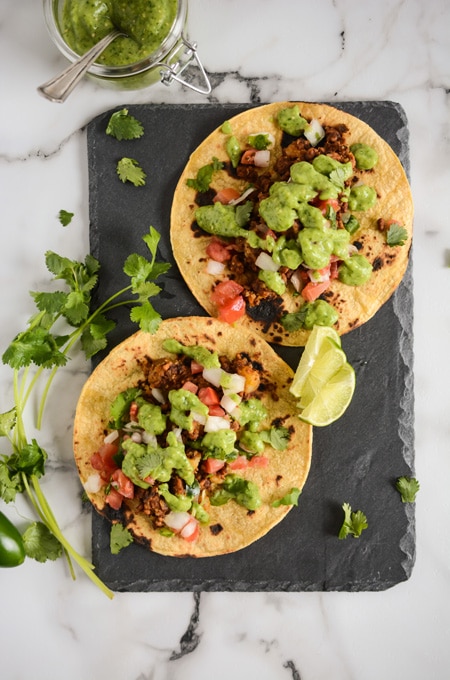 Mexican Chorizo is more widely available here in Houston, Texas and is the kind we'll be making in this recipe for Chorizo and Potato Tacos!
Mexican versions of chorizo are made from fatty pork, but beef, venison, chicken, kosher, turkey, and even tofu and vegan versions are made. The meat is usually ground (minced) rather than chopped, and different seasonings are used. This type is better known in Mexico and other parts of the Americas, including the border areas of the United States, and is not frequently found in Europe. It is equally and by far much hotter and spicier than Spanish and Portuguese varieties of the sausage, and often contains chili peppers that are much higher on the Scoville scale.-Wikipedia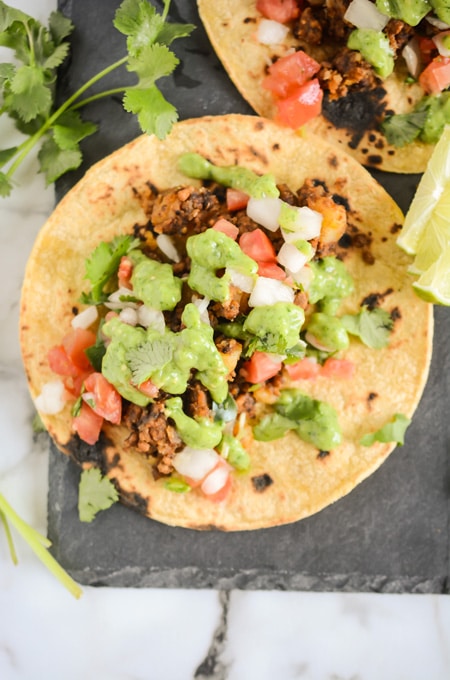 If you're from Texas you can skip the sausage making part, however I highly suggest you give it a try. I haven't found a better Mexican chorizo than this one you make right in your home. Trust me it's worth the few minutes to make it yourself. It's not hard or complicated at all.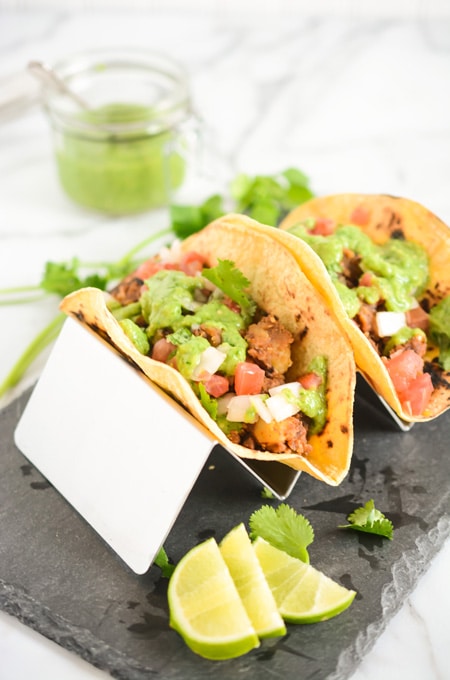 Chorizo and Potato Taco Tips:
If you're short on time or have Mexican chorizo readily available you can skip the sausage making part.

Heat up tortillas in a microwave for about 30 seconds, or place on a gas stove top over a low flame and char to your liking. Flip when ready.

For a little help with garnishes, purchase ready-made pico de gallo at your local grocery store for a quick way to dress up your tacos.
Follow The Cake Chica on these social media platforms: Facebook, Instagram, Twitter and Pinterest.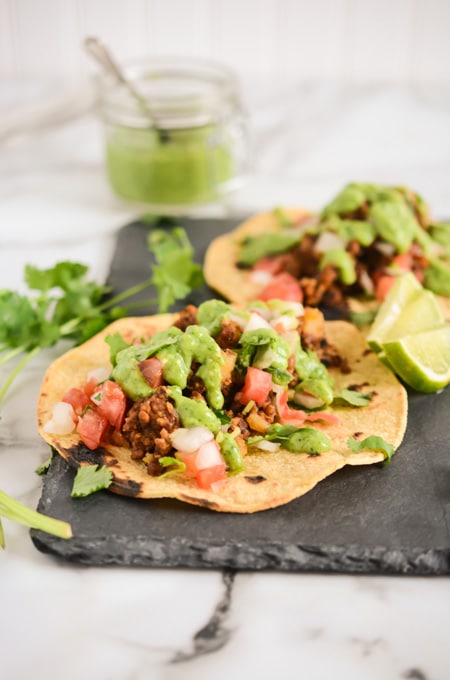 *Please note that some of the links in this post are affiliate links and I will earn a commission if you purchase through those links.*
Adapted by Mary Hatton from Cook's Illustrated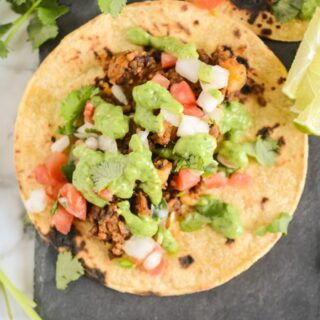 Chorizo and Potato Tacos
Chorizo and Potato Tacos using a homemade chorizo spice blend of chile powder, paprika, coriander, oregano, cayenne and all spice. Then topped with a tomatillo salsa and your favorite taco toppings.
Ingredients
SPECIAL TOOLS
12-inch nonstick skillet
Food processor or blender
CHORIZO
1 pound organic Yukon Gold potatoes, peeled and cut into 1/2-inch chunks
1 teaspoon salt
3 tablespoons vegetable oil
1 tablespoon organic ancho chile powder
¾ teaspoon salt
1 ½ teaspoons granulated sugar
1 garlic clove, minced
8 ounces organic ground pork
SAUCE
8 ounces tomatillos, husks and stems removed, rinsed well, dried and cut into 1-inch pieces
1 organic avocado, halved, pitted  and cut into 1-inch pieces
1-2 organic jalapenos stemmed, seeded and chopped
¼ cup chopped fresh organic cilantro leaves and stems
1 tablespoon fresh lime juice
1 organic garlic clove, minced
¾ teaspoon table salt
TACOS
12 6-inch organic corn tortillas
Lime wedges
Pico de gallo, optional
Marinated onions, optional
Fresh cilantro, optional
Instructions
FILLING
Boil 4 cups of water in a 12-inch nonstick skillet over high heat. Add potatoes and 1 teaspoon of salt. Reduce heat to medium and cover. Cook until potatoes are just tender, about 3 to 5 minutes. Drain the potatoes and set aside. Wipe skillet clean with paper towels.
Combine oil, chile powder, paprika, coriander, oregano, cinnamon, cayenne, all spice, ¾ teaspoon salt and ½ teaspoon pepper in the skillet. Cook over medium heat until the mixture is bubbling and is fragrant. Remove from the heat and carefully stir in the vinegar, sugar and garlic. Let stand until the steam recedes and skillet cools slightly, about 5 minutes. Add pork to the skillet. Mash and mix with a rubber spatula until the spice mixture is evenly incorporated into the pork.
Return the skillet to medium-high heat and cook, continuing to mash and stir until pork has broken down into fine crumbles and juices are bubbling, about 3 minutes.
Stir in potatoes and cover, reduce the heat to low. Cook until the potatoes are fully softened and have soaked up most of the pork juices, about 6 to 8 minutes, stirring halfway through cooking. Turn off the heat and using a spatula, mash about one-eighth of the potatoes. Stir mixture until mashed potatoes are evenly distributed. Cover and keep warm.
SAUCE
Process all the Sauce ingredients in a food processor until smooth, about 1 minute. Scrap down the sides of the bowl as necessary. Transfer to a serving bowl.
TACOS
Heat tortillas in a microwave for about 30 seconds or until warm. Or on a gas stove top, over low heat carefully char tortillas on both sides to your liking. Spoon filling into the center of each tortilla and serve with lime wedges and you choice of condiments.
Notes
*Nutrition information is an estimate and will vary. Nutrition estimate does not include taco toppings.*
Nutrition Information:
Yield:

4
Serving Size:

3 tacos
Amount Per Serving:
Calories:

588
Total Fat:

33g
Saturated Fat:

6g
Cholesterol:

42mg
Sodium:

1086mg
Carbohydrates:

60g
Fiber:

13g
Sugar:

6g
Protein:

18g
You May Also Like: