Here is a new recipe I tried this week. Very delicious. Everything I have made from a Tish Boyle recipe has been great!!! Happy Baking!!!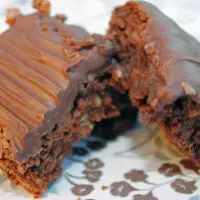 Chocolate Hazelnut Brownies with Milk Chocolate Hazelnut Frosting
Ingredients
CHOCOLATE HAZELNUT BROWNIES
3 ounces bittersweet chocolate, coarsely chopped
1/2 cup unsalted butter
2 large eggs
3/4 cup plus 2 tablespoons granulated sugar
2 tbsp Italian hazelnut liqueur, such as Frangelico
1/2 cup all-purpose flour
1 cup skinless hazelnuts, toasted and coarsely chopped
MILK CHOCOLATE HAZELNUT FROSTING
5 ounces Lindt milk chocolate, finely chopped
1 tbsp unsweetened alkalized cocoa powder
1/3 cup heavy cream
1 tbsp Italian hazelnut liqueur, such as Frangelico
Instructions
1. MAKE THE BROWNIES
Preheat the oven to 350 F. Butter the bottom and sides of an 8 inch
square baking pan. Line the bottom of the pan with parchment or waxed paper
and coat the paper with butter.
Place the chocolate and the butter in the top of a double broiler over
hot, not simmering water. Stir the mixture until it's completely melted and
smooth. Remove the top part of the double broiler from the bottom and allow
the mixture to cool.
In a medium bowl, whisk together the eggs and sugar. Whisk in the cooled
chocolate and the hazelnut liqueur. With a rubber spatula, stir in the flour
until just blended. Stir in the hazelnuts. Scrape the batter into the
prepared pan. Smooth over the top with a rubber spatula. Bake the brownies
for 25-30 minutes, or until a toothpick inserted in the center comes out
with a few moist crumbs clinging to it. Cool the brownies on a wire rack for
minutes. Run a paring knife around the edges of the pan and carefully
invert the brownies onto a flat surface. Peel off the paper, and then
reinvert the brownies onto a cooling rack. Cool completely.
5. MAKE THE FROSTING
Place the chocolate in a medium bowl. Sift the cocoa powder over the
chocolate. In a small saucepan or in the microwave, bring the cream to a
boil. Pour the hot cream over the chocolate and gently whisk until smooth.
Stir in the hazelnuts liqueur and allow the mixture to cool to a spreadable
consistency, about 2 hours.
Using a metal spatula, spread the frosting over the top of the brownies.
Using a long serrated knife, trim approximately 1/4 to 1/2 inch off each
side. Cut the brownies into 9 squares. Store in an airtight container.