Let me start out by saying I am not a fan of Asian food, at least not from any of the restraints here. The dishes are usually too salty for my liking. But when I make it at home I absolutely love it! And it doesn't hurt that it's super healthy and fairly low in sodium in comparison to what you would get at a Chinese restaurant.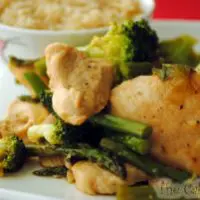 Chicken, Asparagus and Broccoli Stir-Fry
Ingredients
2 tablespoons Asian sesame oil, divided
2 garlic cloves, chopped
1 bunch asparagus, trimmed and sliced into 1 ½ inch pieces
2 cups broccoli florets
6 tablespoons low sodium chicken broth, divided
1 ¼ pounds skinless chicken breast, thinly sliced crosswise
4 large green onions, chopped
3 tablespoons hoisin sauce
1 tablespoon oyster sauce
Instructions
Heat 1 tablespoon of sesame oil in a large nonstick skillet over medium-high heat. Add garlic and stir for about 30 seconds. Add sliced asparagus, broccoli florets and 4 tablespoons of the chicken broth. Cover and cook until veggies are crisp and tender, about 3 minutes. Transfer vegetables to a bowl and cover to keep warm.
Add the remaining 1 tablespoon of sesame oil to the same skillet. Sprinkle chicken with salt and pepper, then add the chicken and green onions to the skillet. Stir-fry until chicken is just cooked through, about 3 minutes. Mix in hoisin sauce, oyster sauce, vegetables and the remaining 2 tablespoons of chicken broth. Toss until heated through and evenly coated with sauce, about 1 minute. Season to taste with salt and pepper.
Nutrition Information:
Serving Size:

1
Amount Per Serving:
Calories:

274
Total Fat:

11g
Saturated Fat:

2g
Cholesterol:

81mg
Sodium:

539mg
Carbohydrates:

10g
Fiber:

2g
Sugar:

6g
Protein:

32g