I am always pleasantly surprised when I mix fruit with savory meals. It's hard for me to grasp food that's usually meant for sweet dishes going into savory dishes. Slowly but surely, that way of thinking is diminishing as I am branching out and trying new things I wouldn't normally eat.
This recipe comes from Bon Appetit magazine the January 2012 issue. I changed it up just a tad by adding a Serrano pepper into the beans, as well as using Eden Organic canned black beans. They do cost more but they aren't packed with additives and are BPA free!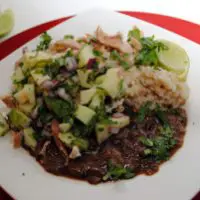 Black Beans and Rice with Chicken and Apple Salsa
Ingredients
1 cup chopped, peeled Granny Smith apple
½ cup chopped cilantro
1/3 cup finely chopped red onion, divided
1 teaspoon (or more) fresh lime juice
1/3 cup finely chopped green bell pepper
2 tablespoons vegetable oil
3 garlic cloves, minced
1 ½ teaspoon chili powder
1 teaspoon ground coriander
¾ teaspoon cumin
3 cups low-salt chicken broth
2 15-oz cans black beans, rinsed and drained
1 Serrano pepper, seeded and chopped
Kosher salt and freshly ground black pepper
4 cups cooked brown rice
1 2-3 pound rotisserie chicken, skin discarded and meat shredded
4-6 lime wedges
Instructions
Combine apple, ¼ cup cilantro, 2 tablespoons onion, and 1 teaspoon lime juice in a small bowl, toss to coat. Set apple salsa aside.
Combine remaining onion, bell pepper, and oil in a large skillet. Cook over medium heat, stirring often, until completely softened, 6-7 minutes. Add garlic and chili powder, ground coriander and cumin; stir constantly for 2 minutes. Stir in broth, beans and Serrano pepper, bring to a boil.
Simmer briskly, mashing some of the beans with the back of a spoon and stirring often, until sauce is thickened, 8-10 minutes. Season with salt, pepper and more lime juice, if desired.
Divide rice and beans among plates. Top with some chicken and apple salsa. Garnish with remaining ¼ cup cilantro and lime wedges.
Nutrition Information:
Serving Size:

1
Amount Per Serving:
Calories:

884
Total Fat:

32g
Saturated Fat:

8g
Cholesterol:

187mg
Sodium:

1904mg
Carbohydrates:

87g
Fiber:

16g
Sugar:

9g
Protein:

64g