I found this recipe in Clean Eating magazine the June 2011 issue. I kept the recipe pretty much the same. I did however, double it. My husband and I like bigger portions than what this magazine usually gives us. My husband is 6 foot and 4 inches tall and I am 5 foot and 9 inches tall and well, we need more calories than the average person. At least that's what I am telling myself.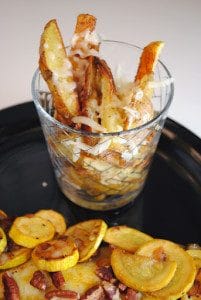 Print
Baked Parmesan Fries
Yield 4
Ingredients
2 pounds Yukon gold or red potatoes, scrubbed and cut into ½ inch thick strips
2 tablespoons olive oil
1 tablespoons Italian seasoning
1 teaspoon garlic powder
½ teaspoon freshly ground black pepper
Sea salt, to taste
½ cup Parmesan cheese, shredded
Instructions
Preheat oven to 425 F. Line a large baking sheet with non-stick foil. Place potatoes on a baking sheet and drizzle evenly with oil and sprinkle with Italian seasoning, garlic powder and pepper. Toss to coat, then arrange potatoes in a single layer. Bake in center of the oven for 20 minutes, than flip and stir, and bake for about 15 more minutes, or until lightly golden.
Remove from oven. Sprinkle with salt and Parmesan cheese. Serve immediately.
Courses Main
Cuisine American
Nutrition Facts
Serving Size 1
Amount Per Serving

Calories 270

% Daily Value

Total Fat 14 g

22%

Saturated Fat 5 g

25%

Cholesterol 22 mg

7%

Sodium 578 mg

24%

Total Carbohydrates 26 g

9%

Dietary Fiber 4 g

16%

Sugars 2 g

Protein 12 g

24%
* Percent Daily Values are based on a 2,000 calorie diet. Your daily values may be higher or lower depending on your calorie needs.